Food
Surf or turf, hot or not, these recipes hit the spot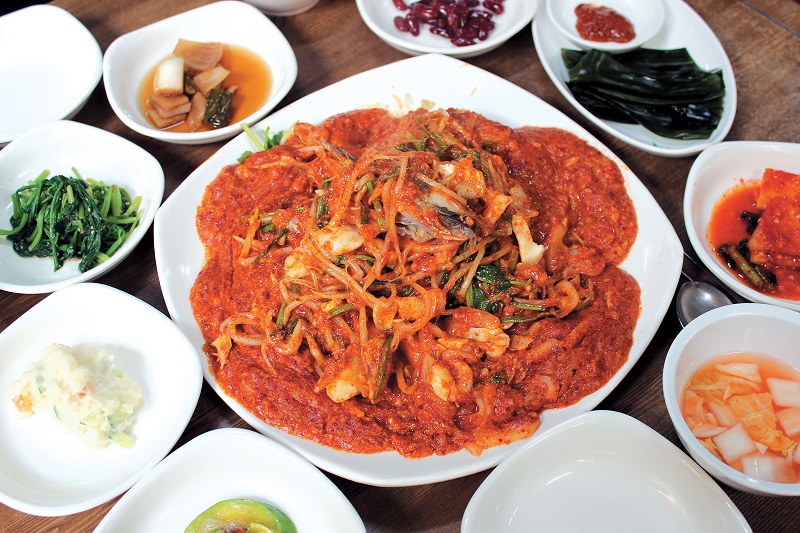 Have you ever tried raw beef? While it might seem unusual to some western tastes, various styles of uncooked beef are enjoyed throughout the world and especially here in Busan, where yukhoe (Korean-style minced raw beef) maintains considerable popularity among many carnivores.
 This month, Dynamic Busan wants meat-eating readers to give this delicious dining option a try. If the idea of beef never kissed by flame is still a little too bold a choice for some, however, we are recommending some equally scrumptious agwijjim (braised spicy monkfish stew), as well.
 Together, these two Korean specialties are favored throughout the country but might seem unusual to some foreign tourists. However, those who take a leap of food faith into tasty territory are sure to be well-rewarded. Let's dive in together.
■ Choga Hanwoo (초가한우)

Delicious raw beef bibimbap is served at Choga Hanwoo
 Choga Hanwoo (which translated into English means a straw-thatched roof and Korean beef), with its massive size, unique exterior and classically-styled interior, easily attracts attention even before diners take their first bites.
 Here, customers can purchase fresh hanwoo, Korean beef, on the first floor and then enjoy their choices on the second floor.
 Various cuts of beef including galbi kkotsal and anchangsal are used to make sogogi gukbap (boiled beef soup) with rice, raw beef bibimbap (rice mixed with vegetables) and more. The meat is always fresh and its high quality guarantees patrons an excellent meal, whether they favor their beef cooked or not.
 The dongjang (community head) in Suyeong-dong (neighborhood) recommends Choga Hanwoo's raw beef bibimbap, which costs 9,000 won. Diners are served a large bowl full of bean sprouts, radish shreds, spinach and seaweed flakes, with the star of the show, the seasoned raw beef, resting on top. This filling meal comes with banchan (side dishes), ample stir-fried beef and beef soup, as well.
 Those who come for lunch between 11 a.m. and 3 p.m. can take advantage of the restaurant's 10,000 won lunch menu option, which offers lettuce leaves for wrapping, as well as a comforting bowl of either cold noodles or doenjang jjigae (bean paste stew).
-Address: 719, Suyeong-ro, Suyeong-gu
-How to get there: Suyeong Station (Metro lines 2 and 3), exit 3. Walk straight for three minutes.
-Hours: 11 a.m. to 11 p.m. daily
■ Songee (송이)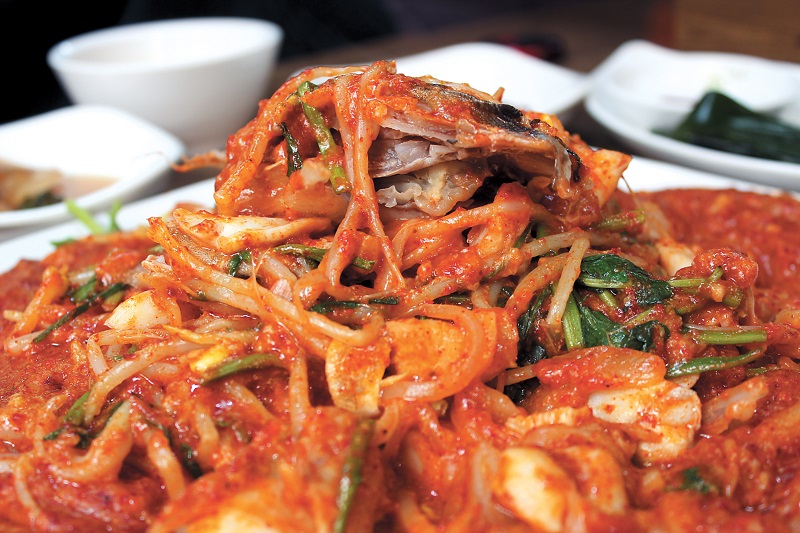 Agwijjim, braised spicy monkfish stew, is the main event at Songee in Gwangan.
 Busan, with its proximity to the ocean, is justifiably well-known for its abundance of available seafood. There are many types of fish to be enjoyed here, as well as many ways that fish can be prepared and served. Whether fresh or fried, boiled or braised, there truly are many dishes of fishes to feed every face.
 Agwijjim isn't as well-recognized a dish as others, however, even for Koreans. That does not mean monk-fish, bold in flavor and characteristics, should not be considered, especially at Songee in Gwangan.
 Historically, monkfish wasn't a fish Koreans ate on a regular basis. But, when chefs in Masan made agwijjim for the first time, they decided to try steaming as a way to bring out the best tastes and textures to this unusual sea-dweller. It worked, and the dish found its way to Busan.
 The Gwangan-dong community head praises Songee's agwijjim (35,000 won for enough food to feed three-to-four hungry patrons) for its plentiful, tender meat. "Monkfish marinated with thickened spicy sauces will make your mouth water," the community head said, noting spice levels can be adjusted according to preference. He also recommended diners order extra noodles made of potatoes to mix with the sauce.
 Many order monkfish soup, as well. Either way, anyone tucking in to a meal at Songee is certain to leave stuffed and satisfied.
-Address: 23, Gwangseo-ro 10beon-gil, Suyeong-gu
-How to get there: Suyeong Station (Metro lines 2 and 3), exit 10. Enter the alley on the right alongside Coffee Bean Cafe. Walk one more block and turn left.
-Hours: 9:30 a.m. to 9:30 p.m. daily