Food
Fresh noodles, made with heart, for smiling mouths
[Recommended Local Eateries] Handmade noodles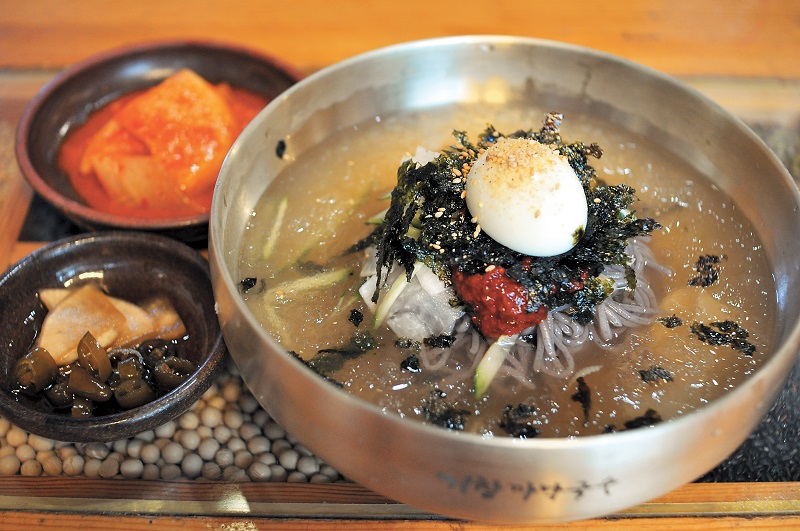 Most noodle dishes at Geochang Kkamakguksu, whether served hot or cold, cost 6,000 won and come with a selection of various side dishes.
 For many, a bowl of noodles carries a spirit of the east, specifically East Asian countries like Japan, China and Korea, where they have enjoyed long culinary histories.
 This month, Dynamic Busan celebrates two restaurants specializing in handmade noodles. Paired with unique sauces and quality broths, their noodles get people talking, and slurping, bowl after bowl.
■ Geochang Kkamakguksu (거창까막국수)
 Geochang Kkamakguksu's dedication to their product is evident in how involved the restaurant is in every step, from milling their hand-crafted noodles, drying them, cooking them and ultimately served to their hungry, loyal customers. Geochang Kkamakguksu is a rare modern example of a restaurant that puts forth a considerable amount of effort in respecting and maintaining traditional methods when making their food.

Noodles drying at Geochang Kkamakguksu
 The restaurant's dedication to tradition can be seen as soon as one arrives. Freshly-made noodles can be seen hanging for drying in a nice breeze. Neither preservatives or additives are used in these noodles, meaning they are about as fresh as one can get. A particular treat is when grains like brown rice, mung beans, soybeans, black rice and more are ground up to become the restaurant's famous black noodles.
 Most noodle dishes cost 6,000 won and come in a number of varieties, including cold noodles, noodles in hot soup, perilla leaf noodles and spicy noodles. Besides noodles, a lot of pride comes from the restaurant's selection of banchan (side dishes), which include locally-grown gochu-garu (red pepper powder) and Jeju-grown radishes for their kkakdugi (radish kimchi).
 Other dishes available for groups include bossam (boiled pork slices), ddeok galbi (grilled short rib patties), and kamja mandu (potato dumplings). Takeout is also available.
-Address: 53, Gwajeong-ro 42beon-gil, Suyeong-gu
-How to get there: Mangmi Station (Metro line 3), exit 2. Walk straight five minutes. Turn left at the alley next to a CU convenience store. The restaurant is nearby.
-Hours: 10 a.m. to 9 p.m. Closed Sundays on every second and fourth week of the month.
■ Happy Noodles (행복한 국수)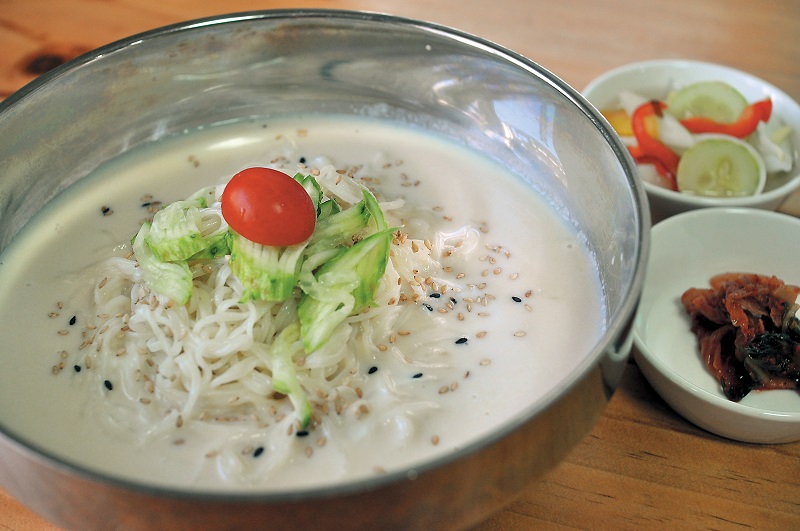 A bowl of Kongpuchino at Happy Noodles
 Take a stroll down several roads in Bugok-dong (neighborhood) to find a variety of quaint businesses occupying what once were primarily residences. One of these, Happy Noodles, has gained a cult-like following among its most passionate customers. While it can be difficult to find the first time, diners won't lose their ways again once they've gotten a taste.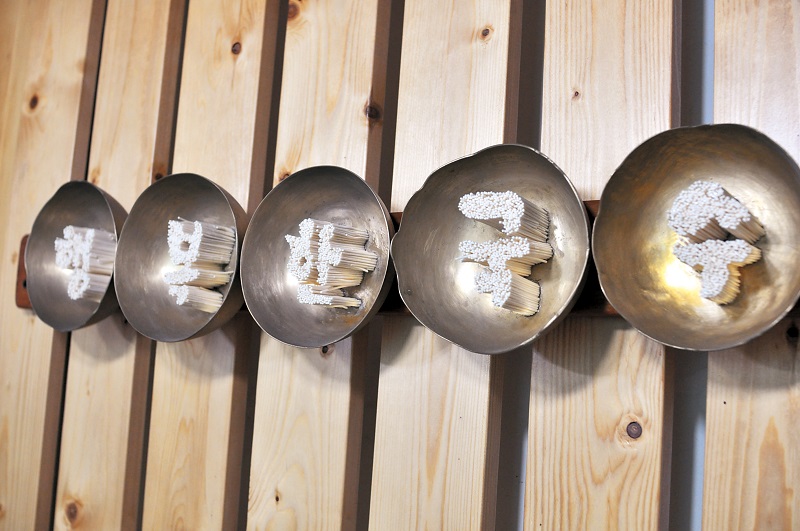 Happy Noodles, spelled out in Korean.
 The dongjang (community head) of the area notes the owner and chef runs both the restaurant and a factory where he makes these noodles daily. "The name of this restaurant is true, because everyone is filled with happiness after eating noodles here," the community head said.
 Besides getting a great bowl of food, the dongjang calls Happy Noodles a "noodle museum," where people can check out noodle-related antiques like a wooden roller and noodle-maker.
 One of the most popular menu items at Happy Noodles is their kongpuchino noodles for 6,000 won. If the unique name makes you think of a certain coffee drink, you're not far off. The dish was amusingly-named after cappuccino using kong, the Korean word for beans. Kongpuchino noodles, made from finely ground, homegrown beans, goes down as smoothly as a delicious caffeinated beverage. Bibimkuksu (cold noodles and mixed vegetables in a spicy sauce), also for 6,000 won, is another favored flavor.
 Whatever meal is ordered, customers are likely to leave Happy Noodles as happy as its name suggests. Unless, of course, they try to go for dinner; the restaurant is only open 11 a.m. to 3 p.m. and is closed on Sundays.
-Address: 31, Muhaksong-ro, Geumjeong-gu
-How to get there: Jangjeon Station (Metro line 1), exit 2. Walk about five minutes toward Oncheoncheon Stream. Turn left into the alley next to Samsung Church (삼성교회). Walk until you reach the main road, then cross the road at the SK gas station. Walk one more block and turn left onto Muhaksong-ro.