Food
Long loyalty a testament to culinary quality
[Recommended Local Eateries] Time-tested restaurants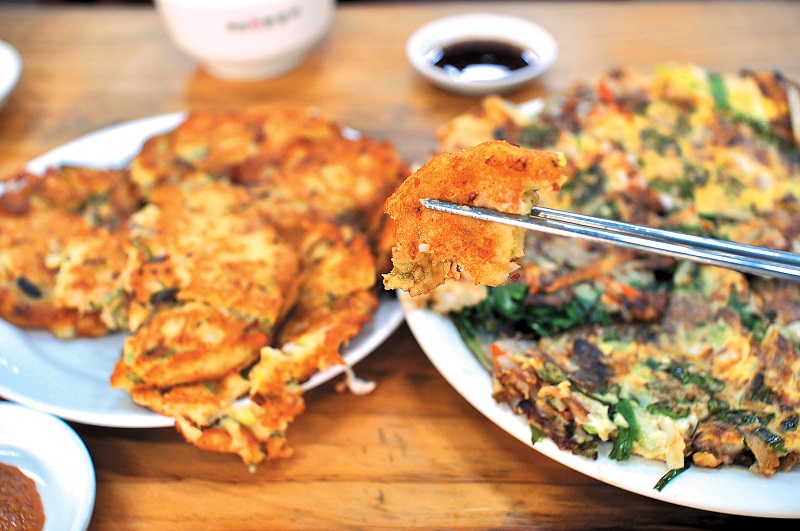 Beomil Bindaetteok has only two main items on its menu, which has not deterred customers from coming back again and again.

 Restaurants that have weathered time, the economy and fickle passing trends are restaurants worth inves-tigating.
 A restaurant that is able to stay open from generation to generation not only hones its recipes, but also creates passionately-loyal customers.
 This issue of Dynamic Busan features a pair of restaurants with long histories that date back many, many years. Explore their menus and start your own tasty tradition.
■ Beomil Bindaetteok (범일빈대떡)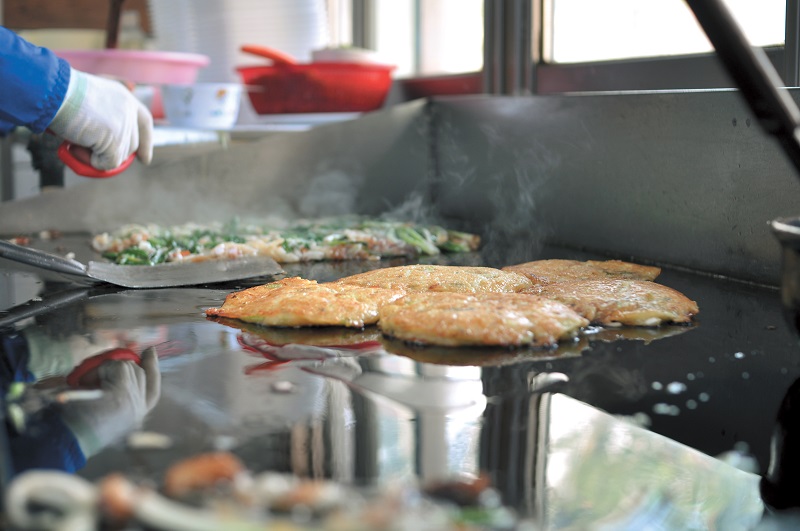 Frying bindetteok
 Bindaetteok (mung-bean pancake) and pajeon (scallion pancake) are two of the most popular Korean rainy day foods. The reason? The sound of rain reminds people of the sizzle of frying. It's quintessential comfort food.
 Beomil-dong (neighborhood) was one of a number of refugee towns in Busan during the Korean War. The Ministry of Transportation was established in Beomil-dong and many factories were built, which in turn brought many laborers. Restaurants that could offer nourishing food at affordable prices saw a niche and over the years found this to be a very welcoming home.
 People still brave the rain and venture out to the area, where customers line up for seats at one of several bindaetteok restaurants, including Beomil Bindaetteok, the favorite of the Beomil-dong dongjang (community head). First opened at Gukje Market in the early 1980s, the res-taurant moved to Beomil-dong 25 years ago.
 There's only two main items on Beomil Bindaetteok's menu: Nokdu bindaetteok, which includes chopped pork belly and spicy peppers in addition to the mung beans for 7,000 won, and haemul pajeon (seafood scallion pancake) for 9,000 won. All pancakes are cooked to order, resulting in meals that are crispy and piping hot. A bottle of smooth makgeolli (fermented rice wine) is the traditional ac-companiment, especially at the end of a long rainy day, where the sound of rain drops falling on roof tops calls to the hungry masses en masse, like a dinner bell.
- Address: 519, Jungang-daero, Dong-gu
- How to get there: Beomil Station (Metro line 1), exit 7. Walk behind Hyundai Department Store and cross the pedestrian overpass. Turn left and walk a couple minutes before seeing the restaurant across the street. Or, buses 17 or 67 in front of Lotte Department store in Seomyeon. Get off at Beomgok intersections bus stop (beomgeok gyocharo).
- Hours: 3 p.m. to midnight daily.
■ Yetnal Omakjip (옛날오막집)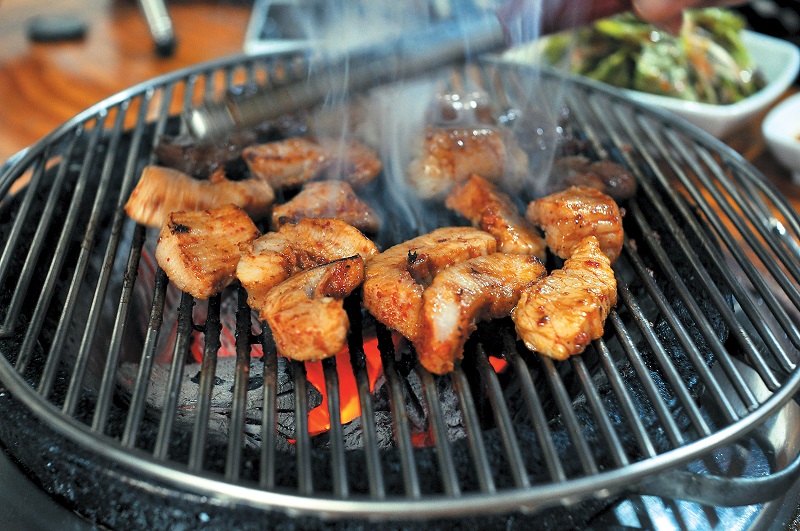 Charcoal-grilled meats at Yetnal Omakjib
 Taste the tradition in every meal served at Yetnal Omakjip (ancient hut from a long time ago), which has been open in Dongdaesin-dong (neighborhood) since 1958. Specializing in grilled offal such as tripe, Yetnal Omakjip has continued an unbroken tradition that has spawned many regular customers.
 The dongjang of this area said the restaurant's name derived from its original design, a thatched hut. Many longtime residents of the area hold the restaurant in such high esteem that it has for years been the go-to choice for special occasions such as graduations and anniversaries.
 For those who have not had a lot of experience with consuming offal such as tripe, Yetnal Omakjip offers a great first impression for these iron rich meats, which are cleaned thoroughly before cooking. It was here that the consumption of grilled tripe and other organ meats was popularized in Busan, and Yetnal Omakjip continues to lead the pack among other, newer restaurants.

Doenjang jjigae is a great way to end a meal
 Grilled tripe marinated in a sweet and spicy sauce gives diners a crispy and soft texture with aromatic, full flavor. The meat is grilled over charcoal, which imparts a smoky flavor that goes extremely well with a little soju (Korean liquor). Additional food to try at Yetnal Omakjip includes stir fried rice with lamb as well as "country style" doenjang jjigae (fermented soybean paste soup), which is cooked over charcoal at the table. An assortment of offal costs about 25,000 won.
- Address: 14, Gudeok-ro 274beon-gil, Seo-gu
- How to get there: Dongdaesin Station (Metro line 1), exit 7. Walk straight about three minutes.
- Hours: Noon to 10 p.m. Closed Mondays.