Enjoy Busan
Strolling Seomyeon's streets
Route: Young Kwang Book Store, Lotte Department Store, Ginkgo Tree Path, Jeonpo Cafe Street
Time: about two hours
Seomyeon is always bustling with people going to and fro, for shopping, entertainment and eating. With all this activity, it's no wonder that Seomyeon is also the subway's largest transfer hub, with an average of 76,000 passengers traveling to or passing through Seomyeon on a daily basis. So, what does the area have to offer for a walking tour?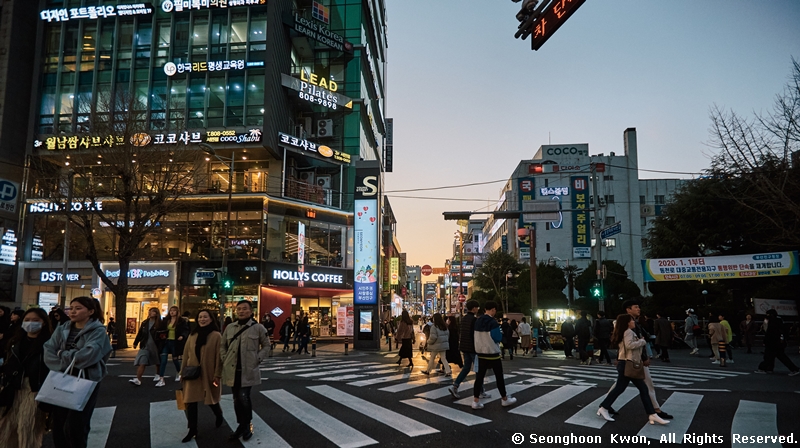 △ Seomyeon's innumerable neon lights are illuminated in the evening, providing a stunning urban spectacle that matches its vibrant nightlife scene for thousands of people
Young Kwang Book Store
You can start the walk at a spot well-known by Busanites: Young Kwang Bookstore. The shop is a famous spot of the city that first opened its doors to the public in 1968. Young Kwang has survived a lot, including competition from another popular bookstore at the time (Dongbo Bookstore, which closed in 2010), the opening of large-scale chain bookstores and the advent of the Internet and reading devices like the Kindle, both of which have slowed the sales of hardcover and paperback books throughout the years. Young Kwang Bookstore lives on in 2020 as a meeting point for many.
● How to get there: Seomyeon Station (metro line 2), exit 9. Follow the street until you reach the bookstore.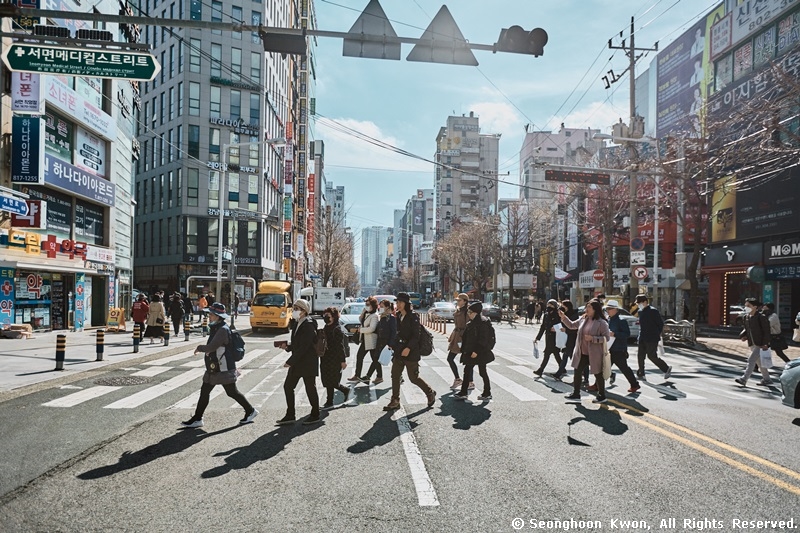 △ Many of the city's commercial, art, medical and entertainment hubs are located in Seomyeon.

Lotte Department Store and Tteokbokki Street​
Once you've set off from Young Kwang Bookstore, look out for an icon of Seomyeon: Lotte Department Store. This high-end shopping center has a complicated history in Busan. Before it first opened for business in 1995, Busanites were happy to shop at Taehwa Shopping, now known as Judies Taehwa. Citizens harbored some concerns about the potential for Lotte Department Store to wipe out small businesses nearby. As a result, Taehwa Shopping expanded beyond its means to the point of bankruptcy, inadvertently sending shoppers to its new, giant competitor.
Since then, Lotte Department Store has opened branches in Gwangbok-dong (neighborhood), Dongnae and Centum City. But Seomyeon is the original location, and it is a must-see for anyone visiting Busan. The department store is connected to a Lotte Hotel and Seven Luck Casino and is accessible either below or above ground.
From the department store, you can find one of many tteokbokki alleys. Tteokbokki is a popular snack made of rice cakes and a usually spicy red sauce, often served with fish cakes. With increased activity in the area due to Lotte's presence, the Seomyeon area began a rapid period of development and expansion, with new restaurants and food carts appearing to feed hungry shoppers, visitng tourists and new residents. The food carts stay open practically until dawn and are a perfect late-night snack for the city's more nocturnal folk.

△ Participants in Walking Busan with You after a great day out.
Theater and Hagwon District
If you cross the street from the back alley of Lotte Department Store, you'll end up in Seomyeon Market, a historic area filled with delicious long-standing old restaurants. Dwaeji gukbap (soup made with pork and a well-seasoned broth) and kalguksu (handmade knife-cut noodles made with wheat) are classic choices for lunch. This part of town has been populated a long time; many of the elderly people you'll see in and around the area have been there since childhood.
Going into the underground walkway, you'll come across Seomyeon's underground shopping center, one of the most popular centers of commerce in Korea. Keep an eye open for low prices on unique clothing and cosmetics you won't find anywhere else!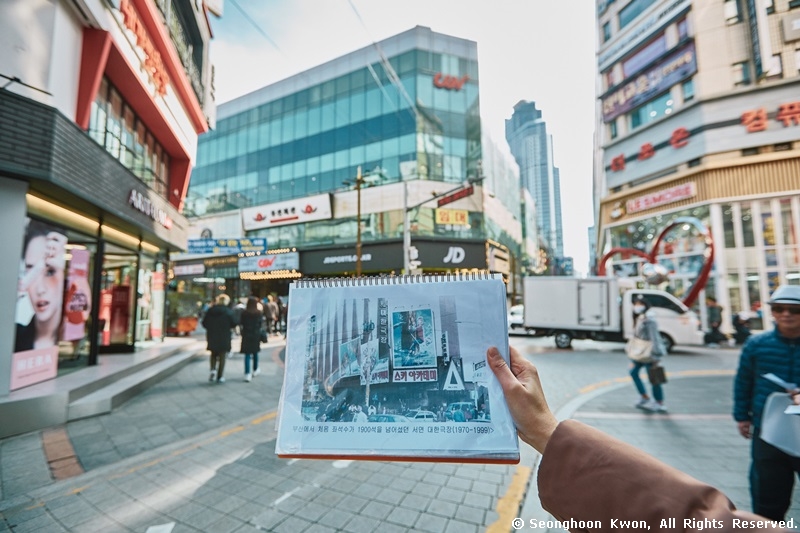 △ The old theater and hagwon district looks totally different now.
Once you've walked the length of the shopping center and emerge on the other side, you'll find yourself in the city's former district for theaters and hagwons (private after-school learning centers). Once popular for both facets of society, the concentration of theaters and hagwons has died out somewhat, due to modern multiplex cinemas and the prevalence of online education.
Ginkgo Tree Road, Jeonpo Cafe Street and the Busan Coffee Museum
In contrast to the dense, sprawling urban setting of Seomyeon, the spacious Ginkgo Tree Road gives way to nature. The ginkgo trees fill up in the summer and turn yellow in the autumn, and they are accompanied with markets selling handmade goods during most weekends.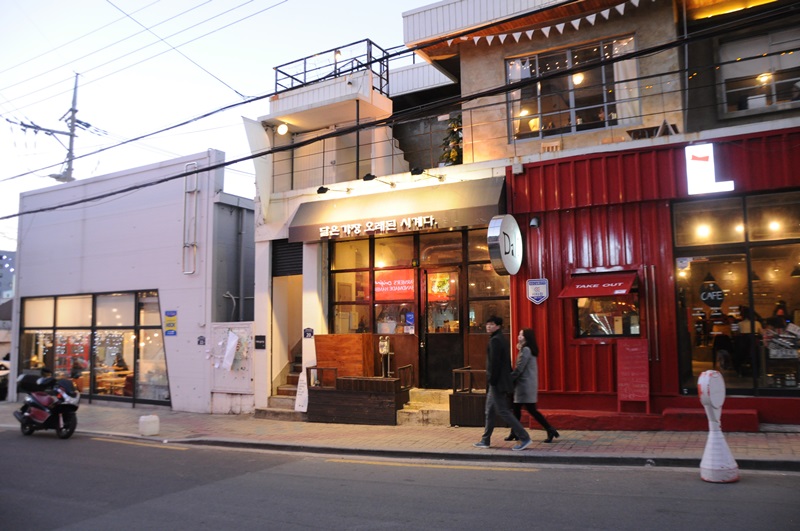 △ There's no shortage of choice for coffee on Jeonpo Cafe Street.
If you continue down the road long enough, you'll stumble into Jeonpo Cafe Street, which gained fame in 2010. In its early days, the street was home to many hardware stores. This all changed with a decline in sales of tools and other such items, and soon these shops were replaced with around 30 cafes.
These havens for caffeine were more than happy to take advantage of their unique hardware-store interiors and decorated their establishments accordingly and modestly. In fact, many of these cafes have enough space for just four tables, but what these cafes lack in space, they more than make up for in coziness. If you don't believe us, just ask CNN; it selected Jeonpo Cafe Street as one of 50 must-visit locations in Korea.
Around the corner, the Busan Coffee Museum is also an impressive Busan attraction. The owner, who has a passion for traveling around the world to collect rare and old coffee machines, runs the museum free of charge and often holds tasting events. Interestingly, the Coffee Museum is part of a trend of new privately-run museums opening up.