Enjoy Busan
Sanbokdoros: a look to the past and hope for the future
Have you ever seen a large cluster of houses on the side of one of Busan's mountains? Those densely packed areas are san-bokdoros, mountainous neighborhoods and villages with meandering paths that originated during the Korean War. They have a long history and are part of what make Busan such a unique city.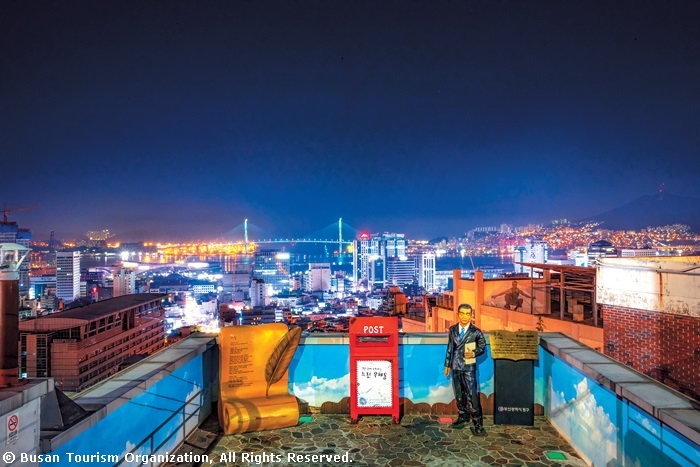 △ Go to the Yu Chihwan Postbox Observatory to mail a letter to a loved one and to experience how brightly Busanhang Port and Youngdo sparkle at night.

When refugees were fleeing to Busan during the war, they had difficulty finding places to live. The refugees had no choice but to climb the towering mountains to build their homes. In shacks on steep hillsides, these people lived in poverty. As time went on, however, these roads were transformed into a space for young artists. Come with us as we explore the Dong-gu (district) sanbokdoros near Busan Station!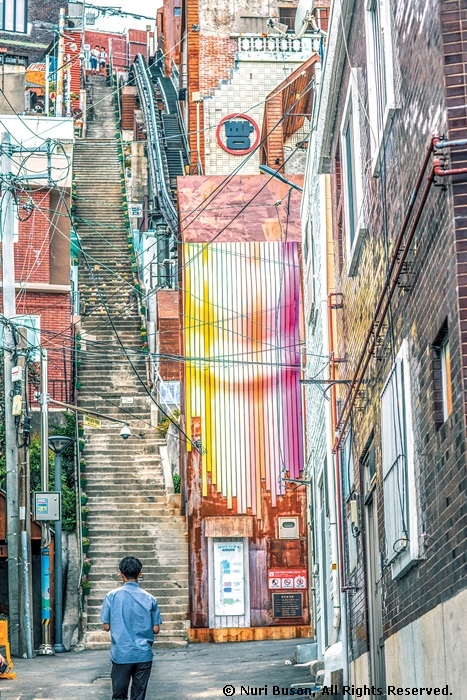 △ Climb the 168 stairs and take in their artwork and flowers.
168 Stairs
Although it may not sound like it, the 168 Stairs is the fastest way to get from Busanhang Port to the main road on foot, and it's also a definitive example of what a sanbokdoro looks like.
The local historical site is a narrow, steep staircase that cuts through colorful homes built shoulder to shoulder. Murals and flowers decorate the houses and provide a scenic backdrop to an area that was once gloomy and poverty-stricken. In short, the staircase is a symbol of Busan's meteoric growth over the last several decades.
After a stop at a cafe in the middle of the stairs, pay a visit to the observatory, named after famed poet Kim Minbu, for a panoramic view of the sky and city. There's also a store selling toys, dolls, candies and other accessories at the top, as well as an opportunity to make your own dalgona (Korean sugar sponge candy).
If you feel uncertain of your ability to climb 168 stairs, you can take the monorail, which is available free of charge.
How to get there: Busan Station (metro line 1), exit 7. Walk 10 minutes. It's located at the back of Choryang Elementary School.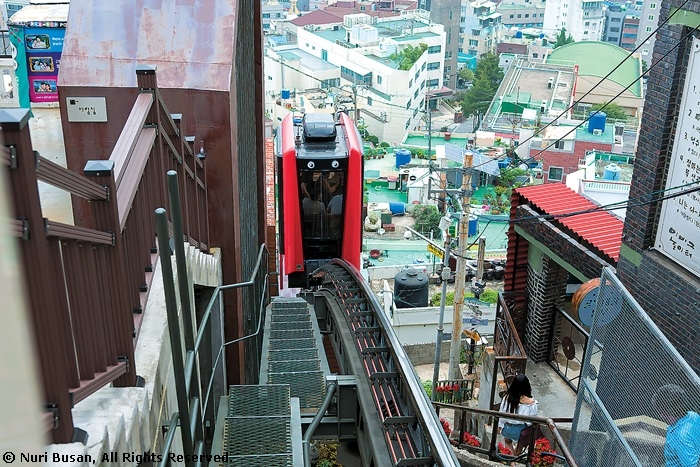 △ If you can't climb 168 stairs, go ahead and take the monorail.
Gallery Sujeong (갤러리 수정)
Gallery Sujeong is a photo gallery converted from a 50-year-old apartment. The gallery itself is an old building and is a symbol how far the city has come in the decades since the Korean War ended. While there, you can enjoy a self-serve snack bar as you look around.
Since the gallery is not commercially run, please feel free to give the space an anonymous donation of 1,000 won in an easy-to-find box. The gallery changes its photos frequently, so there's great revisit value to be found here.
How to get there: Choryang Station (metro line 1), exit 1. Take bus 52 at the Choryang Market Entrance bus stop and get off at Sujeong 4-dong station.
Address: Sujeong Gongwon Nam-ro 28, Dong-gu

△ Gallery Sujeong is a photo gallery made from a 50-year-old building.
Yu Chihwan Postbox Observatory (유치환 우체통 전망대)
The Yu Chihwan Postbox Observatory is located in the middle of Dong-gu's sanbokdoro. It was built in order to honor poet and educator Yu Chihwan, who died in the district in 1967. For the uninitiated, Yu was one of the most famous poets in Korea in the early 1900s. He was known for penning around 5,000 love letters to the same woman over the course of 20 years, which have since become part of his respected legacy.
If you wish to honor Yu, his life and his work, you can post a letter to yourself or anyone else, at the Yu Chihwan Postbox Observatory, which provides a splendid view of Busanhang Port with a statue of Yu and a postbox.
There's a catch, however, which is also the cute gimmick of the observatory: After putting your letter in the postbox, it will be delivered to your recipient after one year.
Next to the postbox is Sting House, a cafe selling drinks and postcards. Downstairs to the left from the postbox, you will find the cafe Poet's Room (시인의 방). Both spots are good places to write to your special someone.
How to: get there: Busan Station (metro line 1), exit 7. Take bus 22 at the Kookmin Bank bus stop and get off at the Busan Computer Science High School.
Address 577, Mangyang-ro, Dong-gu (Sting House), 2F, 2, Mangyang-ro 580beon-gil, Dong-gu (Poet's Room)
Hours: 9:30 a.m. to 11 p.m. (Sting House), 10 a.m. to 7 p.m. (Poet's Room)
Diorama of History (역사의 디오라마)
Dioramas are miniatures of real places or events that are usually found in museums. Taking this idea one
step further, the Diorama of History observatory provides citizens with a view of the city that looks quite a bit like a diorama. With panoramic views of Bukhang Port, Sinseondae Wharf, Yongdusan Park and more, it's as if you are looking at a miniatiurized version of Busan.
With no high-rise buildings or electrical power lines blocking your view, all you are left with is a clear view of the city. The space itself is small, but Diorama of History is a good place to finish your trip to all the city's sanbokdoros. You can enjoy the panorama with a cup of coffee.
Diorama of History is a local observatory, so if you wish to climb to the top of it in order to take in a wonderful view of the city, grab a bus and head on over.
How to get there: Take bus 28, 86, 186 or 190 and get off at Yeongju Sageori bus stop.
Address: 93, Yeongju-ro, Jung-gu, Busan

△ Busan from Choryang 845, a space with a grand view.
Choryang 845 (초량845)
After a long walk along many stairs and winding paths, it's only natural to get hungry. Once you start to feel your stomach growling, head on over to Choryang 845, a restaurant built by remodeling an old factory that serves great Korean cuisine. Enjoy meat and soup with side dishes made with seasonal vegetables. The restaurant buys ingredients at Bujeon Market every day.
In addition to Korean food, you can order basil cream pasta, toast, coffee and other Wesetern food items. You can check the meals available on Choryang 845's social media every day. To complete the experience, Choryang 845 provides a giant window that makes up the entirety of one of the establishment's walls, in order to make it easy to see an uninterrupted view of Busanhang Port no matter where you decide to sit.
Meals at Choryang 845 will usually cost you about 13,000 won, but pasta goes for 16,000 won. Prices vary depending on cost of ingredients.
How to get there: Busan Station (metro line 1), exit 7. Take bus 22 at the Kookmin Bank bus stop and get off at Busan Computer Science High School. Walk five minutes.
Address: Mangyang-ro 533beon-gil, Dong-gu
Hours: 11 a.m. to 9 p.m. Closed on Wednesday.
Instagram: choryang 845