Enjoy Busan
The ancient origins and modern traditions of Chuseok
Chuseok, the Korean equivalent to Western Thanksgiving, is fast approaching. Falling this year on Friday, Sept. 13, the day was known as Hangawi in archaic Korean, which means "the great middle of autumn." On this day in the lunar calendar, the largest moon of the year rises. The significance of the holiday originates from old agrarian societies on the peninsula celebrating the harvest. When crops and fruits cultivated earlier in the year ripened, they were harvested. Families woke up early on Hangawi and gave offerings of food, wine and songpyeon (half-moon-shaped rice cakes), which would have been made with the recently harvested rice.
Modern Chuseok retains every bit of significance to society as Hangawi did for people of the past. Citizens usually busy with work and school take three days off to travel, wear hanbok (Korean traditional dress) and spend time with family members. During this time, they enjoy food and traditional games. This holiday, for those staying in town and those coming to see friends and family, Busan will offer many opportunities to experience traditional Korean culture through performances at museums, parks and the Busan National Gugak Center.
Busan Museum
Busan Museum will operate normally during Chuseok and will provide visitors with special programs. There will be cultural performances, as well as a folk game area where people can spin tops and play Yutnori (a traditional board game), Jegichagi (similar to hacky sack) and Tuho (arrow throwing, similar to horseshoes).
◆ Information : 051-610-7111, museum.busan.go.kr
◆ How to get there : Daeyeon Station (Metro line 2), exit 3. Go straight for four minutes.
Busan National Gugak Center
The Busan National Gugak Center will feature its seasonal performance "Autumn Evening" at its outdoor venue at 4 p.m. on Sept. 13, the day of the holiday. They will be performing folk songs, samulnori (a traditional percussion quartet), dancing with lion masks and walking on tightropes. The performances are free, and you do not need a reservation to attend.
◆ Information : 051-811-0114, busan.gugak.go.kr
◆ How to get there : Yangjeong Station (Metro line 1), exit 5. Take bus 63 and get off the Busan National Gugak Center stop.
Busan Citizens Park
The Busan Citizens Park will set up four six-meter-tall giant swings on the Hialeah Grass Plaza from Sept. 7 to 22; a perfect opportunity for children to have fun, as well as a chance for adults to regain some of their childhood playfulness. There will also be a space for folk games, both casual and competitive from Sept. 12 to 15. At the competitive games, there will be prizes at stake! Additionally, the park will organize the Fifth Street Art Festival from Sept. 7 to 22. This will feature gukak (Korean classicial music), singing, dancing and magic shows.
◆ Information : 051-850-6000, citizenpark.or.kr
◆ How to get there : Bujeon Station (Metro line 2) exit 1. Take the Busanjin-gu 1 village bus and get off at Busan Citizens Park stop.
Busan Traditional Culture Center
The Busan Traditional Culture Center gives citizens unique opportunities to learn about a wide array of Korean culture. It's a venue that provides year-round cultural experiences, teaching visitors about traditional manners, more folk games, traditional recipes and even delivering a Korean tea ceremony. Those who wish to pursue the traditional manners program will have the opportunity to learn about Korea's roots in Confucianism, ways to respect elderly people and important manners that everyone needs for daily life in Korea.
If you are interested in learning about Korean cuisine, the traditional recipe class is a must, since you'll have the opportunity to learn how to make classic foods like rice cake, tea confectioneries, Buddhist food and kimchi. You can apply for each program either by phone or through the official website at bsjeontong.org. All programs are free of charge.
◆ Information : 051-240-4161, bsjeontong.org
◆ How to get there : Seodaesin Station (Metro line 1), exit 3. Go across the street. Take the Seo-gu 1 village bus and get off at Godeok Kkot Village stop.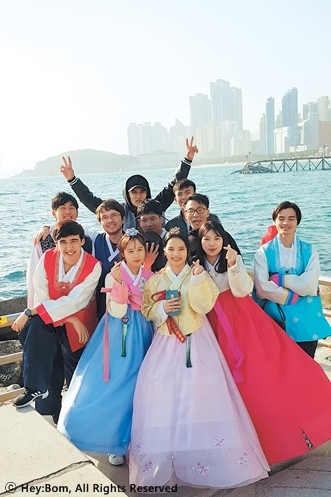 Hanbok Experiences
Hanbok consists of a jeogori (jacket), a chima (skirt) for women and baji (pants) for men. Although hanbok was the traditional daily dress in the days of the Joseon Dynasty, modern Koreans typically wear it for special occasions. There are many centers in Busan where you can wear hanbok, including the Busan Exhibition and Convention Center (BEXCO). At BEXCO, you can don clothing from kings to commoners free of charge. If you get confused about the parts that go together, a friendly guide will be there to help you out. Of course, you can take all the pictures you want.
◆ Hours : 10 a.m. to 5 p.m. Closed on Mondays.
◆ Information : 070-8840-1472
◆ How to get there : Centum City Station (Metro line 2), exit 1. Go to BEXCO
There is also HeyBom. HeyBom is a rental shop and premium hanbok shop where you can take pictures in a studio and on the building's roof. The highlight, however, is having a professional photographer take snapshots of you and your friends in hanbok with beautiful Haeundae Beach and the Mipo Railway in the background. HeyBom's hanbok rental fee is a reasonable 15,000 won for one hour, including accessories and bags. Snapshots should be reserved separately.
◆ Information : 051-747-1146, Instagram @hey_bom_hanbok
◆ How to get there : Jung-dong Station (Metro line 2), exit 5. Go straight for five minutes.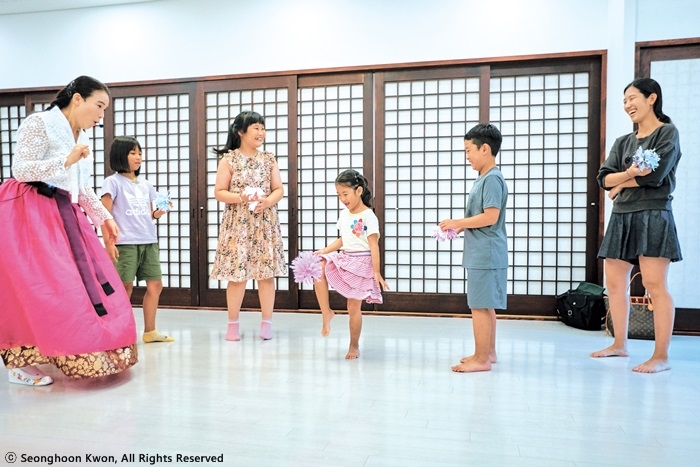 Let's learn traditional games!
Since there are a lot of chances to play traditional games this Chuseok, take a look at what they are and how to play them.
▷ Tuho : Tuho is a game played by throwing blue and red arrows into a bottle at a distance. In the past, royal families would play Tuho with their families and when foreign envoys would visit the peninsula.
▷ Yutnori : Yutnori is a traditional board game. The player that moves the fastest is declared the winner at the game's end.
▷ Jegichagi : Jegichagi is played in a similar fashion to hacky sack. Players try to kick a jegi, which looks a bit like a badminton shuttlecock, with the inside of their foot. The winner is the player who kicks the jegi the most without letting it fall to the ground.
▷ Ddakji-chigi : Like pogs or milk caps, a throwing player tries to throw his tile so that it makes the other player's tile flip over. If that player is successful, he or she gets to keep it.
▷ Top spinning : Tops are spun by whipping them with a rod.