Enjoy Busan
Trips to Yeongdo never get old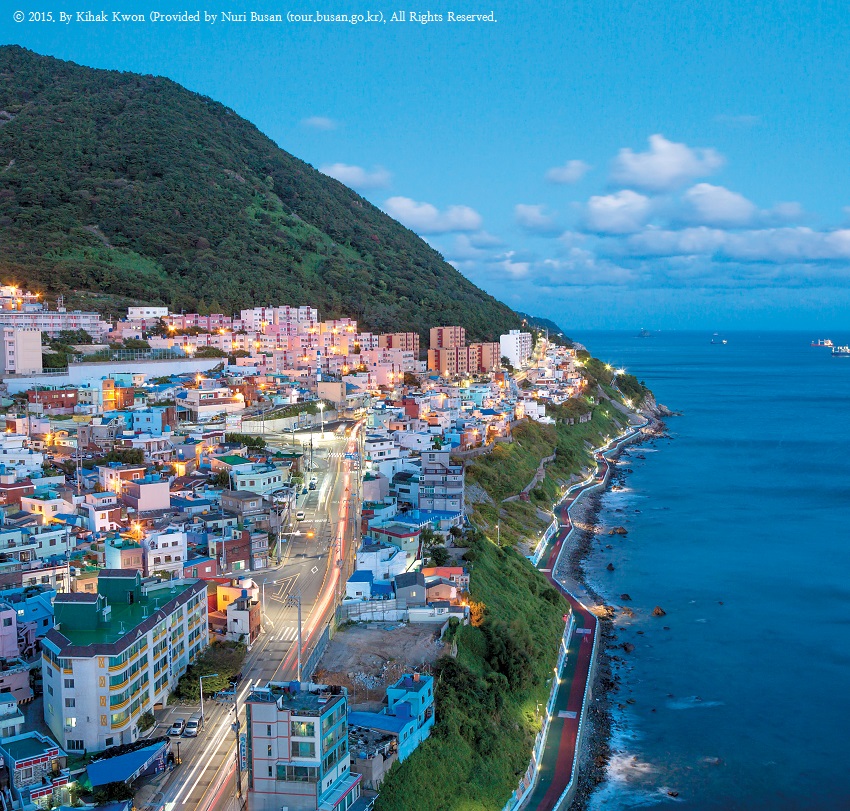 A great way to enjoy Huinnyeoul Culture Village is along this gorgeous seacoast pathway.
Unlike upon the mainland, Yeongdo is a district that consists only of islands. There are no metro trains that come here. There are only networks of old roads that in some parts are so convoluted as to confuse even longtime taxi drivers. It is an interesting place with a lot of stories. One legend says an old woman living in Bongnaesan Mountain protects people. Not only are there legends, there are inhabitants of another island. Apparently so many people from Jeju Island have come to Yeongdo that a branch of Jeju Bank operates here, as well.
These stories and more helped to make Yeongdo such a unique place. Why don't you find out for yourself? The island is easily available to explore from the mainland via four bridges. Instead of taking a vehicle there, however, how about we head to Yeongdo by walking across the Yeongdodaegyo Bridge, located near the Gwangbok branch of Lotte Department Store? Exercise and adventure all in one package!
Recently, tourists have started to pay more attention to this curious island. Not only are luscious sea views available from all corners, several attractions have put it high on many "must visit" lists, including Huinnyeoul Culture Village and the Jeoryoung Coastal Walk, one of the best walkways for visitors to relax and soak up the big blue sea.
One of the most popular walking routes takes visitors around the island from Namhang-dong (neighborhood) to the famous Taejongdae Park. Participants can check out various stores along the way that provide unique products and experiences, as well. Of course, no afternoon would be complete without a handsome cafe or two that provide some delicious coffee to enjoy while reading a book or just staring dreamily out to sea.
​
Huinnyeoul Culture Village
​
Intimate alleys can be found throughout Huinnyeoul Culture Village.

This area of Yeongdo excels in its simplicity. There is not one specific thing that needs to be checked out. Rather, it is best experienced as a whole. Huinnyeoul Culture Village remains an absolute must for those heading to the island as one can explore the dramatic lives and interests of a small, simple neighborhood here. The village got its first star turn as the backdrop to the 2013 movie The Attorney. Before even that, artists around 2011 began to take residence in what had began to turn into a decaying village. They have brought it back to life through their paintings on many walls. With their efforts, the number of visitors to Huinnyeoul Culture Village has risen considerably, despite it not being the most easy to get to destination. In addition, the village has been featured a number of times on television, which has further increased its popularity.
The village was named huinnyeoul (white river) because the water drops falling down from the foot of Bongnaesan Mountain seemed white. Such a scene in which waves create white foam is very impressive. The front of the village affords visitors the view of a number of ships including deep-sea fishing vessels and freight vessels, which are anchored on the sea for repairs and supplies.
At the information center in the middle of the village, visitors can check out the film site of the movie, The Attorney, as well as purchase some souvenirs such as postcards and handkerchiefs made by local residents. Those who want to enjoy an excellent stroll can go down the steep stairs linked with the Jeoryoung Coastal Walk.
Another attraction is Huinnyeoul Jumbang, a small store operated by locals. The store provides a special place, which is very popular for locals, because visitors can eat noodles on the stone walls along with the sea views. It is a popular idea to take a photo of someone enjoying noodles with the sea in the background.
-How to get there: Nampo Station (Metro line 1), exit 6. Take buses 7, 71 or 508 and get off at the Busan Healthcare High School (부산보건고) stop to find the village entrance. Or, take buses 6, 9, 82 or 85 and get off at the Huinnyeoul Culture Village (흰여울문화마을) stop. When you go down to the three-way intersection, you can find the village.
-Please note! This is a village where residents live. Therefore, visitors should be careful not to infringe on the privacy of its residents or make too much unnecessary noise. Be respectful.
​
Jeoryoung Coastal Walk
​
A view through the new coastal tunnel.
The beautiful sea waits for you. Jeoryoung Coastal Walk is one great way to get there.
Jeoryoung Coastal Walk is part of the Galmaetgil suite of walking courses, which have been developed through city efforts. The coastal walk is three kilometers and connects from Namhang-dong to Taejongdae Park.
Those who partake should allocate about two hours to walk around the entire road so they can look upon a beautiful backdrop filled with rolling waves, pebbles and strange rocks and bizarre stones.
Additionally, Jeoryoung Coastal Walk was selected as one of the most beautiful nuri-gil (beautiful trail routes) nationwide. On a clear day, visitors can see Songdo Island across the way and Tsushima Island in Japan.
This trail course starts from Bando Bora Apartment (반도보라아파트). Visitors can find the entrance when they go down to the beach at the rotary in Yeongseon-dong. The entrance features various paintings such as a mosaic representing the island as well as haenyeo (the women divers). Its steep stairs are piano shaped with a plethora of colors. Explorers can also discover the Haenyeo-chon, a village constructed by women divers from Jeju where visitors can eat fresh seafood caught by the haenyeo themselves.
​
Taejongdae Park

​
Keep walking along the coastal way and you will eventually arrive at Taejeongdae Park.
This park was designated as a national cultural asset in Korea in part for its wonderful landscape of coastal cliffs, interesting topography and curious stones. The park has been honored with inclusion on the "100 Must-Visit Tourism Spots of Korea" list by the Korea Tourism Organization four times.
Taejongdae was named after King Taejong Muyeol, who had united the three kingdoms as one. He was deeply moved by the coastal scenery and enjoyed bow shooting, so this park was named Taejongdae in his honor.
There are densely-packed trees in the park's center and an easily-accessible route around its perimeter. Visitors to the park can see Busan's Oryukdo Island and Tsushima Island in Japan from here, as well. Beautiful woods feature giant pine trees, oddly formed rocks and strangely shaped stones and visitors can even enjoy a cruise along the perimeter where they can easily see amazing backdrops such as Achi Island.
The best way to experience Taejongdae is on your two feet. But, should you want a different way to see it all, visitors can ride the Danubi Train, a service which allows passengers to hop on and off from any stop as many times as they want with one low-priced ticket (3,000 won for adults, 2,000 won for teens, 1,000 won for children). The train route runs from the entrance of the park to the observatory.
After touring the park, why not enjoy some fresh seafood in a nearby pojangmacha (street food restaurant)? The way to eat this Korean-style seafood is simple but those who partake will experience some pretty awesome food, especially should your shellfish cooked right in its shell get topped with ample seasoning, onion and cheese. Plates of shellfish typically cost 40,000 to 70,000 won.
-How to get there: Busan Station (Metro line 1), exit 7. Take buses 66, 88 or 101 and get off at Taejongdae (태종대) stop or Taejongdae Oncheon (태종대온천) stop. Or, Nampo Station (Metro line 1), exit 6. Take buses 8, 30, 66, 88 or 186 and get off at Taejongdae stop.
​
Cafe options on Yeongdo Island
In recent years, "Yeongdo cafe" (#영도카페) has become a popular search phrase for purveyors of Instagram. Here are just a few of our recently favorite finds.
■Sonmokseoga
​
​A lovely view from Sonmokseoga.
This beautiful cafe near Huinnyeoul Culture Village allows visitors to enjoy a piping hot cup of coffee while reading their favorite book. The first floor is a bookstore while the second floor is the home to this cafe. Besides sales, the cafe/bookstore also holds public readings and performances on a regular basis. This cultural space is operated by a husband and wife team who have been an editorial cartoonist and poet, respectively. The cafe is housed in a remodeled house with a cozy, wood-imbued atmosphere that is perfect for long afternoons lingering over delicious caffeinated beverages and delicious prose.
-Hours: 11 a.m. to sunset
-Address: 307, Huinnyeoul-gil, Yeongdo-gu
-How to get there: Nampo Station (Metro line 1), exit 6. Take buses 7 or 71 at Yeongdodaegyo Bridge (영도대교). Get off at Huinnyeoul Culture Village (흰여울문화마을) stop. You can see the cafe near Yeongseon Apartment.
-Instagram: @sonmokseoga
■ Sinki Cafe
Sinki Cafe has since 2016 become known for its beautiful view, which earned it a loyal following soon after its debut. Sinki Industry, a stationary maker, renovated its old factory here, transforming it into a cafe and office. Its industrial container box exterior clashes artistically with an interior that features subtle, minimalist black and white tones. Besides the cafe on the second and third floors and a fourth-floor office, a stationary store for Sinki Industry products is also located in the building. The highlight of the building is its lovely rooftop. Located high up Bongnaesan Mountain, Sinki's top floor overlooks Busan Harbor Bridge and the sea off Yeongdo.
-Hours: 11 a.m. to 11 p.m.
-Address: 2, Wachi-ro 51beon-gil, Yeongdo-gu
-How to get there: Nampo Station (Metro line 1), exit 6. Take bus 9 at the Yeongdodaegyo Bridge (영도대교) and get off at the Lotte Nakcheondae (롯데낙천대) stop. The cafe is ahead.
-Instagram: @sinki.industry
■B. TONIC
This cafe features wall surfaces made of glass, providing an interesting aesthetic that allows visitors a very unique view of Busan Port. The interior is very simple and clean with its white and mint colors. B. TONIC is especially excellent at sunset, when one can appreciate the beautiful evening glow and colorful night view of the port.
​-Hours: 11 a.m. to 11 p.m., daily
-Address: 35, Haeyang-ro 247beon-gil, Yeongdo-gu
-How to get there: Nampo Station (Metro line 1), exit 6. Take bus 66 and get off at the Michang Oil Industry (미창석유) stop. Cross the street and walk 400 meters. The B. TONIC cafe is located in a six-story building.
-Instagram: @cafe_btonic