Enjoy Busan
Old train stations, new experiences found on Haeridan-gil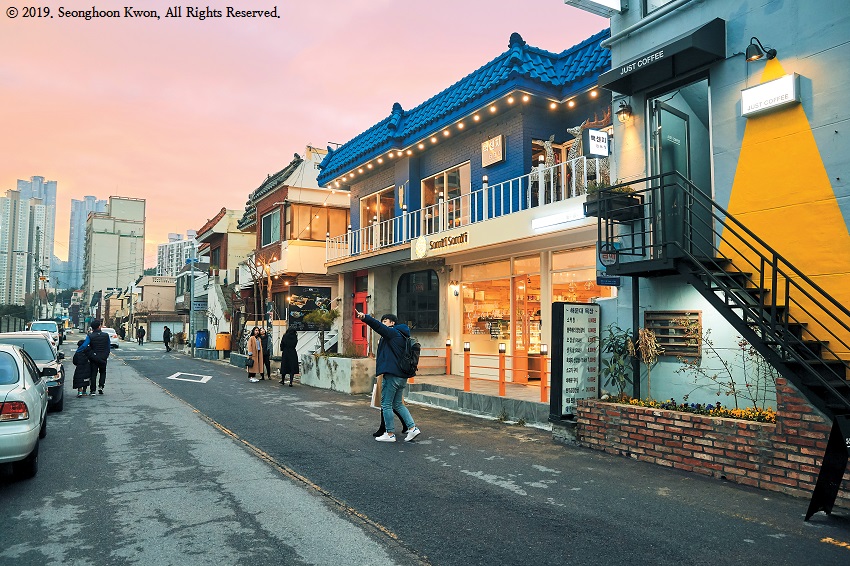 All walks of life have been flocking to Haeridan-gil to check out its cute coffee shops, eclectic restaurants and unique themes.
Shed a tear for Haeundae train station, which has not been in operation for several years. But, don't weep for long.
Haeridan-gil is one of the latest cafe street areas to receive ample buzz following the runaway success of Jeonpo Cafe Street earlier this decade. Haeridan-gil's take on the concept provides a somewhat different atmosphere than what many expect from Haeundae. Indeed, this section of Haeundae behind the train station leads visitors to a whole other town. Seoul? Not quite, but Haeridan-gil was inspired by the popular Kyungridan-gil in Itaewon. But, make no mistake: this is Busan through and through.
Cute and quaint shops are lined up alongside cozy houses and small apartment buildings, instead of the crowds and massive skyscrapers found in much of the rest of busy Haeundae.

Plenty of people are partaking these days in Haeridan-gil journeys.

It has been a boon for new business owners because of the area's relatively low rents. There are today between 20 and 30 shops in the area that comprises Haeridan-gil. Stores are generally small, so it is pretty normal to see lines of customers waiting outside. Most stores close by 7 p.m. and many are closed one or two days each week.
Haeridan-gil was also recently chosen as a "Top 10 Busan Hot Seller" for 2018 by the Busan Development Institute and has been recognized as a successful example of urban regeneration. Haeundae-gu (district) continues putting a lot of effort into the project through several committees, as well as enacting an ordinance to prevent over gentrification, which has been known to cause longtime residents to be driven out of the area in favor of too many new businesses.

-How to get there: Haeundae Station (Metro line 2), exit 4. The closed Haeundae train station can be seen on the right. Go behind the closed station to find an alley to enter. Businesses can be found lined up on both sides of the alleys after passing the nearby railway and entrance.
Where to go in Haeridan-gil

A couple chats over some drinks in a Haeridan-gil establishment.

More than 50,000 posts related to Haeridan-gil can be found on Instagram, which means there are plenty of opinions on what's recommended! For reference, try the hashtag #해리단길 (Haeridan-gil). Besides coffee, Haeridan-gil has many restaurants for ban-ban curry (a popular option for getting half, ban, orders of two different varieties), fried tofu and rice balls, grilled sushi, Italian food, ramen, pizza and more.
There is also a wide variety of dessert options including cakes, doughnuts, cookies, croissants and more. Business signs are often small and sometimes a little hidden, so remember to be diligent, determined and curious on your journey!
■ Moru Pound
Moru Pound specializes in Japanese-style pound cakes. Look for its white building, wooden chairs and wire lettering on its sign. It's a small shop, so many people opt for takeout. But, its attic is a cute place for a few visitors to linger over a cup of coffee and a piece of tasty cake. Different pound cake varieties include vanilla, matcha (the Japanese word for green tea), chocolate, chestnut and more. Come back in spring to check out their limited edition cherry blossom pound cake! A slice costs between 2,000 and 3,000 won. Enjoy one with an order of refreshingly recommended sogeum wooyu (salted milk).
-Address: 11, Udong 1-ro 38beon-gil, Haeundae-gu
-Hours: 11 a.m. to 6 p.m. Wednesday through Sunday. Closed Mondays and Tuesdays.
-Instagram: @moru_pound
■ Yellow Spoon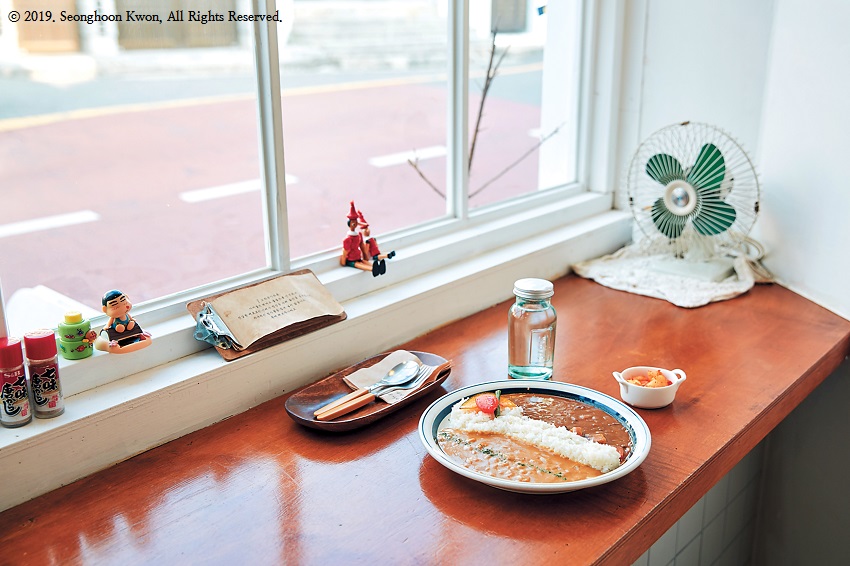 Ordering your curry "ban-ban" style gives you two tasty choices.

This place offers comforting curry in a Japanese homemade style. Like Moru Pound, Yellow Spoon also opened around the time of Haeridan-gil's formation a couple years ago. Yellow Spoon prides itself on serving food that contains no artificial additives. Their most popular dish is ban-ban curry, which includes beef tomato and creamy shrimp curry. Other menu items include stir-fried rice, croquettes and tonkatsu (pork cutlet).
-Address: 51, Udong 2-ro, Haeundae-gu
-Hours: 11:30 a.m. to 9 p.m. Tuesday through Sunday. Closed Mondays.
-Instagram: @yellow_spoon_haeundae
■ ho i Kitsune
This restaurant specializes in fried tofu, called yubu in Korean. Ingredients that can be found inside rolled yubu can include avocado, fish roe, burdock root and more. New varieties are presented every day. Enjoy 10 delicious pieces of rolled yubu for 10,000 won, and of course don't forget to order a side of udon noodle soup!
-Address: 11, Udong 1-ro 38beon-gil, Haeundae-gu
-Hours: 11 a.m. to 6 p.m. Tuesday through Sunday (break time is from 3 to 4 p.m.). Closed Mondays.
-Instagram: @ho_kitsune
■ Hara Neko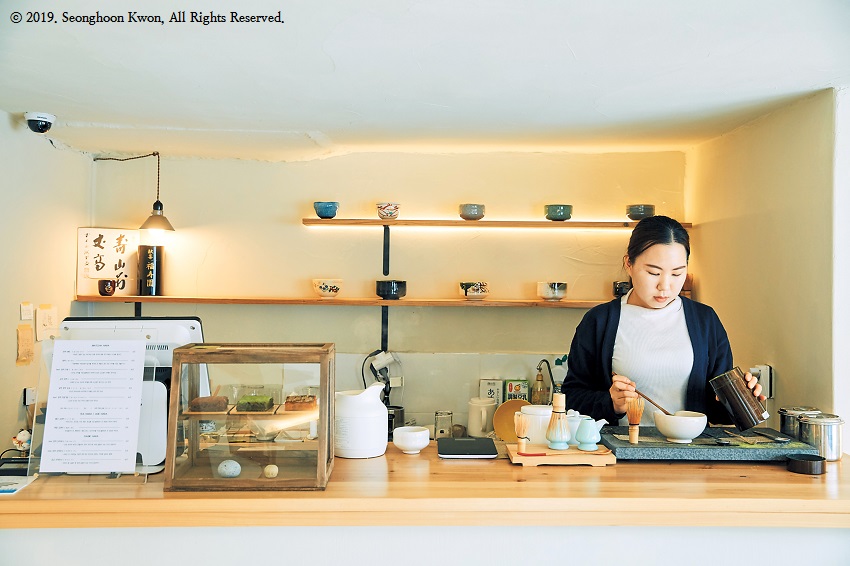 An employee at Hara Neko takes her time preparing an order.

Located next to Moru Pound, Hara Neko specializes in matcha, the Japanese-style green tea. Menu items include milk drinks, avocado drinks, madeleine-style cookies and more. Their small store lets in a lot of sunlight and there are many cute little cat props adorning many corners.
-Address: 11, Udong 1-ro 38beon-gil, Haeundae-gu
-Hours: 10 a.m. to 8 p.m. Tuesday through Sunday. Closed Mondays.
-Instagram: @haraneko_shop
■ Noe Bakery
Yellow Spoon might have the color in its name, but Noe Bakery has it in its soul. Come here for its yellow exterior and yellow bowls, stay for its delicious doughnuts, scones, cookies and more. While everything is yummy, be sure to check out their red velvet doughnut, which includes a healthy dollop of cream cheese on top. Most doughnuts available at Noe Bakery cost between 3,000 and 4,000 won.
-Address: 25, Udong 1-ro 20beonga-gil, Haeundae-gu
-Hours: 8 a.m. to 4 p.m. Tuesday through Friday. Closed Sundays and Mondays.
-Instagram: @noe_bakery
■ Lake Coffee Bar
This establishment has a dark emerald-colored exterior that is most pleasing to the eye. It is fairly large compared to many other businesses in the Haeridan-gil area. Flat brown coffee is a popular menu item here, which is served at this fine business with a stylish sheet of sugar that can be dropped and allowed to melt into the rich coffee.
-Address: 12, Udong 1-ro 38beon-gil, Haeundae-gu
-Hours: 9 a.m. to 6 p.m. Tuesday through Sunday. Closed Mondays.
-Instagram: @lake_coffeebar
■ O.Coffee
This coffee shop is located right behind the closed Haeundae train station. Their selections are simple but effective. Terrine, a cake with a mousse-like consistency that can be made sweet or savory, include matcha and chocolate. A simple cup of coffee would make a lovely accompaniment.
-Address: 27-31, Udong 1-ro 20beonga-gil, Haeundae-gu
-Hours: Noon to 9 p.m. Monday through Saturday. 11 a.m. to 6 p.m. Sundays.
-Instagram: @o.coffee_
■ Feather Croissanterie
This French-style bakery is located opposite Hara Neko. Feather Croissanterie's products stay true to its name, with treats that are crispy and light. Croissants are their main fare, but they also offer dessert breads, ham and cheese breads, cinnamon buns and more. This is a takeout only establishment.
-Address: 1, Udong 1-ro 38beon-gil, Haeundae-gu
-Hours: 1 p.m. to 6 p.m. Wednesday through Friday
-Instagram: @feather_croissanterie
■ SomYi SomYi
This business specializes in lovingly-crafted cakes that are made with high quality ingredients such as milk whipped cream, fine chocolates, French butter and more. Popular menu items include chocolate mousse, carrot cake and a delightful Earl Grey tart. Children are not permitted inside SomYi SomYi.
-Address: 37, Udong 1-ro 20beon-gil, Haeundae-gu
-Hours: 11 a.m. to 7 p.m., daily. Closed Thursdays.
-Information: "somyisomyi" on Kakaotalk
Other places in the area to visit
■ Mipo railway
This is a special place where people can take a long walk along 4.8kms of decommissioned railway that runs alongside the sea. The course runs from Haeundae Mipo through Songjeong Station. Given there are no passing cars, businesses and the like, this is a great way to enjoy some quiet in this busy city. The mural village at the end of the railway track in Cheongsapo makes for a great conclusion to your journey.
-How to get there: Jungdong Station (Metro line 2), exit 5. Go straight and walk down toward the right from Mipo Ogeori (five-way intersection) to reach the entrance of Mipo Railway.
■ Cheongsapo Observation Deck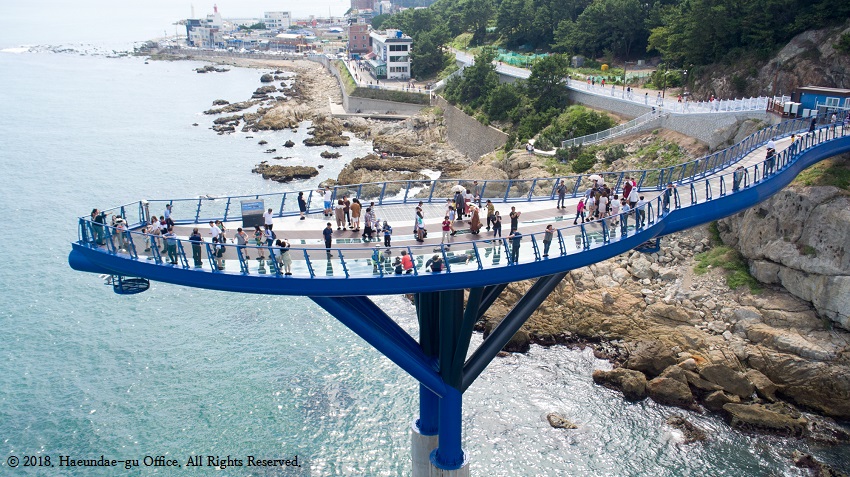 Cheongsapo is a fishing village located between Haeundae and Songjeong. The Cheongsapo Observation Deck opened in 2017 and is the third skywalk on the sea in Busan. This deck is 20 meters tall and 72.5 meters long, stretching out from the ocean cliff. A half-moon-shaped tempered glass floor is built at the end of deck to allow visitors an interesting view.
-How to get there: Jangsan Station (Metro line 2), exit 7. Take minibus 2 and get off at the last stop, Cheongsapo. Walk toward Songjeong for about 400 meters before reaching the observation deck.
■ Haeundae Market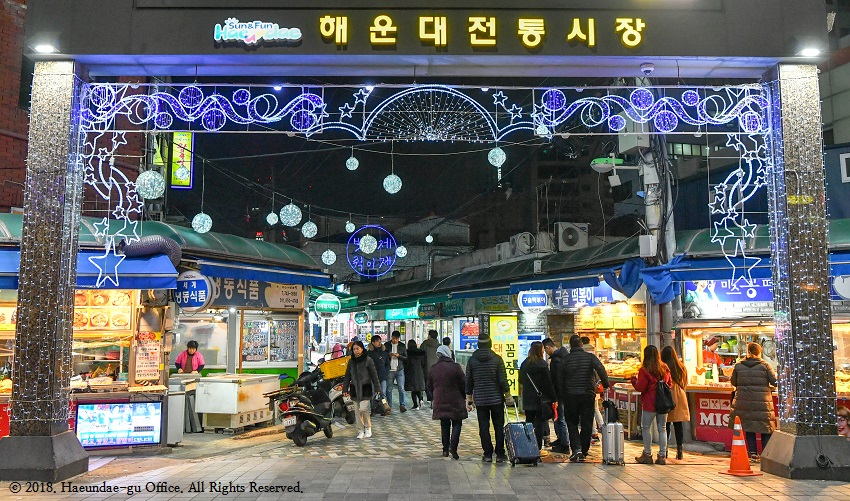 Haeundae is best known as Busan's most famous tourism spot, full of modern skyscrapers, a sprawling beach and lots and lots of people from around the world. But, it's still also home to many locals. To get a taste of that local scene, be sure to check out Haeundae Market. Located on the left side of Gunam-ro, the big pedestrian road leading to Haeundae Beach, one can easily find this market's entrance. The signature seafood specialty here is grilled jangeo (sea eel). Many restaurants offering grilled sea eel have called Haeundae Market home for a long time. For folks looking for something a little more snack-centric, tteokbokki (rice cakes and fish cakes in a hot and spicy sauce) and kalguksu (hand-made noodle soup) are also prominently featured in the market area. Most restaurants offer menus in several languages, including English, Chinese and Japanese, meaning Haeundae Market is definitely a place first-time tourists can explore without fear.
-How to get there: Haeundae Station (Metro line 2), exit 3. Walk toward the beach for about 400 meters and find the market entrance on the left.