Enjoy Busan
Winter is no match for these interesting indoor activities

Students try their hands at crafting clocks at the woodcraft workshop at Busan Citizens Park.

When it gets super cold outside, it is not easy to find the motivation to do things in the great outdoors. We understand and can sympathize with your plight. But, just because the mercury keeps dipping down doesn't mean you have to bow out until spring!
A diverse variety of programs are waiting for visitors to entertain themselves well through these cold winter months. These include a number of handicraft workshops, ice skating, book browsing and more. How will you choose? Why choose? Try them all!
Busan Citizens Park Art Workshop
A cultural center is waiting in the middle of Busan Citizens Park.
It used to be a sergeant's accommodations when the current park served as the Camp Hialeah American military facility. But, you would be forgiven for finding that hard to believe considering how the area exists today. The cultural center operates five workshops for textiles, engraving, metal, pottery and wood crafting. Anyone can check it out! Up to 40 participants can participate at one time. Will you be one of them?
-How to get there: Bujeon Station (Metro line 1), exit 7. Turn left at Busan Bank and walk toward the park. Or, Yangjeong Station (Metro line 1), exit 6 and take bus 63. Get off at the Busan Citizens Park bus stop.
-Information: citizenpark.or.kr/04_int/int08_1.asp
■ Woodcraft workshop

A creative person colors a piece of plywood.

A sturdy, heavy wooden desk sits majestically by the window, immediately attracting attention from visitors. Creative wood projects made by students occupy the walls, including a wooden clock, wooden spoon, tray and more. But, don't just admire. You can make them, too! Each session typically takes about two hours. More in-depth sessions are also available for those that are serious about stepping up their wood working game, though.
-Price: 15,000 won per participant; classes require at least two or three participants in order to be conducted
-Reservation: ajkq10@hanmail.net or 051-817-4177 (Korean only)
■ Metal workshop
What do you want to make in metal? While you won't be building cars or airplanes, this metal workshop will allow participants to craft key chains, mirrors, bag hooks and more. Does this sound like fun? It should! Because, it is.
As a welcome bonus, this program is available in English. Working with metals in order to make a special accessory requires a high level of care and concentration. Are you up to the challenge?
-Price: 20,000 to 50,000 won per person, depending on program
-Reservation: handymetalsmith@naver.com, 051-804-2639
■ Pottery workshop
Working with the earth can be very calming and deeply meditative. Find your inner peace by participating in this pottery workshop. Visitors to the pottery workshop can create cups, plates and other pieces of earthenware that they can then take home and cherish. What a fun way to spend an afternoon with friends!
-Price: 15,000 to 20,000 won, depending on program
-Reservation: 051-809-7705 (Korean only)
■ Engraving workshop
Express yourself on your very own t-shirt, bag, handkerchief and more! Collage and stenciling are available in this fun and exciting engraving workshop, which has participants take their very own photos or other works of art and sees them transferred onto another medium.
-Price: 15,000 to 40,000 won, depending on program
-Reservation: 051-467-3965 (Korean only)
■ Textile workshop
Every tiny stitch done by hand requires so much effort. Participate in this noble work by creating a variety of crafts including brooches, t-shirts, aprons, coasters and more. Currently, the most popular items being made by students are rabbits made of socks. The next rabbit made could be yours! Additionally, benetjeogori (Korean traditional clothes for babies) have been quite popular projects. Each of the programs lasts about two hours.
-Price: 15,000 to 40,000 won, depending on programs
-Reservation: 051-809-7705 (Korean only)
Ice rink
■ Namgu Ice Skating Rink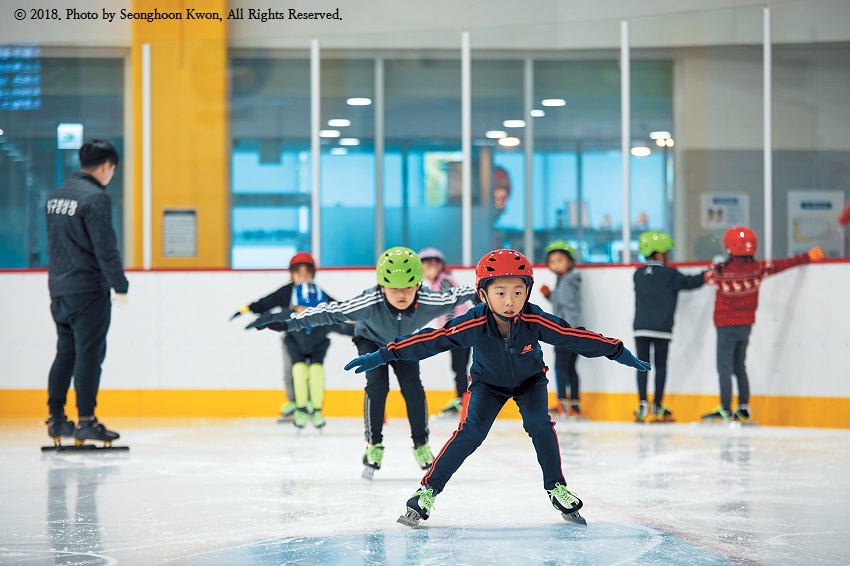 Lessons are available at the Namgu Ice Skating Rink.

The recently opened Namgu Ice Skating Rink is ready to welcome any and all folks looking for outdoor excitement without actually going outside. The facility opened in May near the Baegunpo Sports Park. The 4,000 square-meter, 200-person capacity rink conforms to international ice skating rink standards of 61-by-30 meters and is only the second internationally compliant rink in Busan, joining the Bukgu indoor ice skating rink. Visitors to the Namgu Ice Skating Rink can enjoy not only leisurely ice skating but also participate in various lessons, including speed skating and free skating.
-Price: Adults, 8,000 won; teens, 7,000 won; kids, 6,000 won. Skate rental, 3,000 won. Helmet rentals are free.
-How to get there: Kyungsung University/Pukyong National University Station (Metro line 2), exit 5. Take bus 22 or 39 and get off at Baegunpo Sports Park (백운포체육공원 정류장) or Namgu Indoor Ice Rink (남구실내빙상장).
■ Shinsegae Centum City Ice Rink
Shinsegae, while known primarily for its copious shopping opportunities, also has a pretty impressive indoor skating rink, as well. Up to 500 people can skate around the 2,800 square-meter rink at one time. Go during the day or night, because anytime is just right. Lessons are available for figure skating, speed skating and more.
-Price: 12,000 won for adults; 9,000 won for children during weekdays. Skate rental, 3,000 won.
-How to get there: Centum City Station (Metro line 2). Follow the underground connection to the department store. The skating rink is on the fourth floor.
F1963
F1963 is a successful example of adaptive reuse. The former wire factory has been transformed into an awesome art complex. What once produced wire ropes for almost 50 years now produces delicious coffee, beers and provides a venue for artwork, books, music and plants.
-How to get there: Mangmi Station (Metro line 3), exit 1. Take mini bus 2 and get off at the Sanjeong Apartment bus stop. Or, Suyeong Station (Metro lines 2 and 3), exit 5. Take bus 54 at the nearby Suyeong Intersection bus stop, also get off at the Sanjeong Apartment bus stop. Go uphill until you reach F1963.
-Information: f1963.org/en
■ YES24 Used Bookstore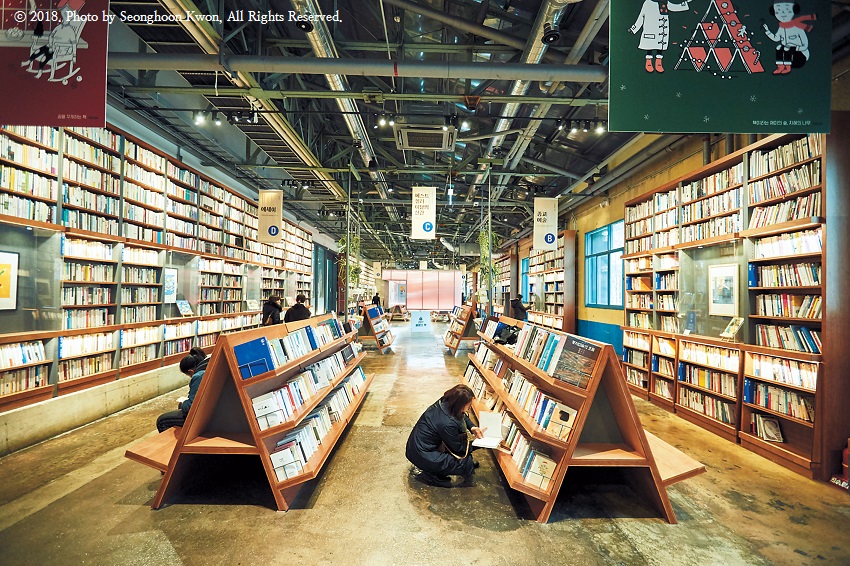 YES24 is filled to bursting with more than 200,000 books.

This is much more than just your ordinary bookstore. Besides the written word, YES24 offers stationary, accessories, toys, records and more. But, make no mistake: this is first and forefront a bookstore, one that offers more than 200,000 of them within its 500 square meters.
In addition to all of this, there are many other things offered, as well. These include the ability to sell your old books, meet authors, performances related to certain books and more. Out of print books, foreign books and others not usually easy to find are also available. Take your time and linger among the many wonderful books.
-Hours: 11 a.m. to 8 p.m. weekdays; 11 a.m. to 9 p.m. weekends
■ Garden in Forest Works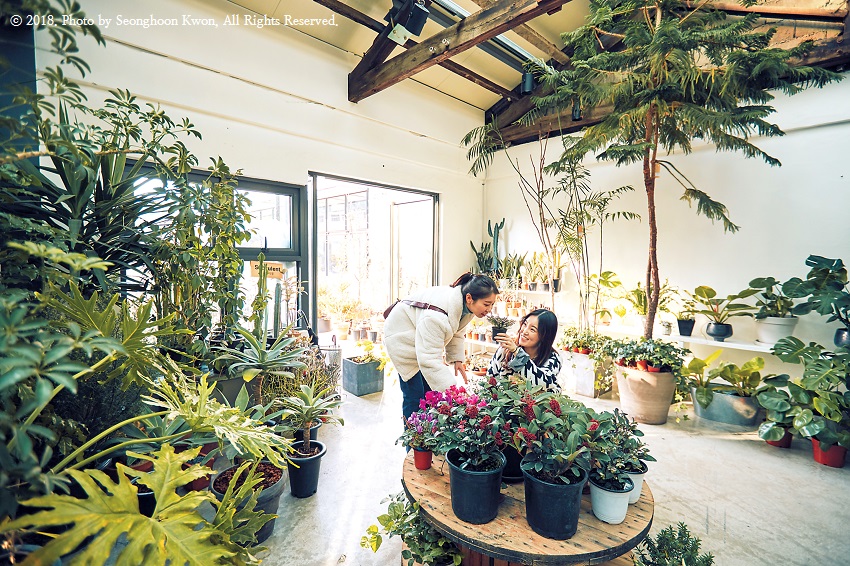 Satisfy any flora or fauna need at Garden in Forest Works.

The Garden in Forest Works area has been built within F1963 to link nature to the urban landscape that is busy Busan. People can purchase a variety of horticultural goods here including flowers, potting soil, flower pots, trees, fertilizer and more. Gardening programs are also available. People can enjoy the warmth from the facility's greenhouse and humble snacks like organic tea, organic salad, rice balls and more are available for purchase.
-Hours: 10 a.m. to 6 p.m. Tuesday to Sunday; closed Mondays
-Information: instagram.com/gnf_works
■ Sukcheon Hall
While F1963 is now a lovely art space, its past life as an industrial factory has not been completely erased. Exposed ceilings and big pipes remain intact, but this space's modern interior design will instantly remind you it is now a place for performance. The layout and design of Sukcheon Hall, a 600-seat performance space, can be arranged depending on the needs of any specific performance. The space was opened last year with a series of performances by the New World Philharmonic Orchestra and lauded conductor Nanse Geum. A number of future exhibitions are planned, including the conclusion of a excellent exhibition on 27 examples of reinvented foreign closed industrial facilities that will run until Dec 23. Tate Modern from England, Speicherstadt from Germany, The High Line from New York, Noritake Garden from Japan and more are being highlighted in the exhibition. Entrance is free.
-Hours: 10 a.m. through 6 p.m., everyday except Monday
■ Terarosa
Despite its large size, Terarosa is also a very warm and inviting spot. Large tables made of steel provide relaxation and an opportunity for study and the coffee is sublime. Terarosa originated in Gangneung and has since expanded across the nation. Its location in F1963, however, is the only one in Busan. Its made-to-order, hand-drip coffee is brewed from a wide range of coffee beans including Guatemala Tulio and Ethiopia Yirga-cheffee. The shop also offers delicious desserts like croissants, scones, pound cake, cookies, tiramisu and tarts.
-Hours: 9 a.m. to 9 p.m. daily
■ Praha 993
By now, you have checked out some books. Maybe you have enjoyed some art. You relaxed among plants and even got a cup of coffee during your entertaining excursion to F1963. What could possibly be left to do? Grab yourself a beer and some tasty Czech Republic grub, of course. Launched in 2017, Praha 993 bring Czech-style beer to Korea. Varieties range from pilsners (which originated in the Czech Republic) and stouts to India Pale Ales and seasonal specialties like pumpkin ale that are brewed on-site. These pair well with an assortment of both Czech-inspired and pub-familiar meals including fish and chips and Koleno, a savory slow-roasted pork knee that is a quintessential Czech feast. Praha 993 also has a location in Seomyeon.
-Information: praha993.com