Enjoy Busan
Cultural experiences to help get more out of your Korean life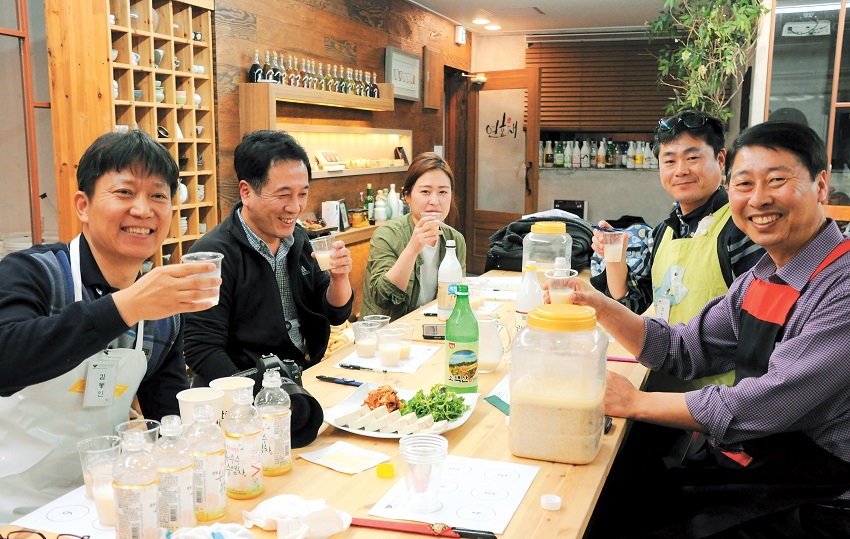 Participants at Yeonyojae not only get to make their own makgeolli, they can also sample a few varieties from across Korea.

Busan has designated various activities throughout the city as cultural experience recommendations biennially since 2008. These have included traditional foods, tea ceremonies, temple stays, taekwondo, handicrafts and more. With their official designations, the city has sought to make experiencing these activities easier for tourists by offering various tour packages and promotional materials.
One more way to make checking all this great stuff out even easier? Reading this month's Dynamic Busan.
Temple stay

Participants from one of Beomeosa Temple's temple stay program.


A temple stay experience does not simply mean checking out a temple, not talking, maybe doing a few bows and calling it a day. Overnight stays at Korean temples offer participants far more. The experience is certainly not so intense that only seasoned Buddhist practitioners would dare attempt it. But an overnight temple stay is potentially more than many have ever experienced.
Every temple in Busan hosts a variety of temple stay programs, ranging in duration and immersion. Beomeosa Temple is perhaps the most well-known temple in Busan. It has been operating temple stay programs on its beautiful Geumjeongsan Mountain campus for 10 years.
Reservation inquiries and communication in English are available. Up to 40 participants can sign up for the temple's weekly stay programs, which vary depending on the season. All programs, however, contain meditation, temple tours, learning proper Buddhist temple etiquette, making Buddhist prayer beads, balwoo gongyang (communal Buddhist meal service), yebul (ceremonial chanting service) and more. Participants will be given loose-fitting Buddhist temple clothing to wear during their visit. A tour through the temple grounds affords participants a lot of quiet, contemplative reflection. This is further enhanced by the beauty that can be seen all around, including dancheong, the traditional multicolored paintwork on many temple buildings. The air up in the mountains is fresher, while bird calls have replaced the sounds of a million cars honking their horns.
Are you already calm from reading this? Just imagine what it's like in person. Balwoo gongyang is one of the highlights of any temple stay. Temple food is very humble but extremely comforting. The vegetarian meal is served, and eaten, in silence. Yebul and meditation are conducted in the very early morning the following day. A leisurely walk to Geumsaem Spring concludes the program.
-Price: 70,000 won
-Reservation: eng.templestay.com includes a list of all participating temples, including Beomeosa. For Beomeosa, click "Busan, Gyeongnam" in the map and find "Beomeosa" in the list.
-Information: 051-508-5726; beomeosa@templestay.com
-How to get there: Beomeosa Station (Metro line 1), exits 5 or 7. Walk five-to-10 minutes along Cheongnyongyejeon-ro. Take bus 90 at the Beomeosa Entrance stop (범어사 입구) and get off at Beomeosa Ticket Office stop (범어사 매표소).
Hands-on eomuk making program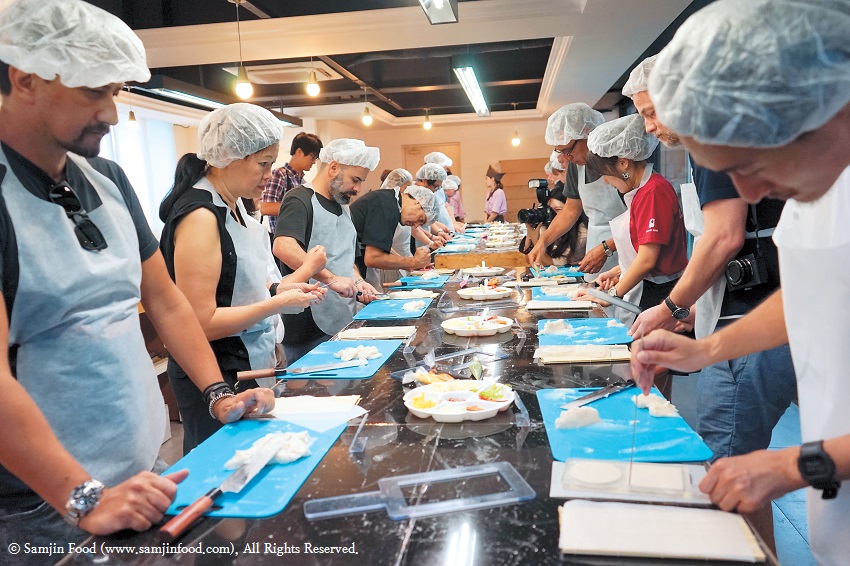 An eomuk making session at Samjin Eomuk Experiential Center.

Eomuk shops are often places where tourists visit at least once before leaving Busan. Busan eomuk (fish cake) is well-known across the nation. Small eomuk factories emerged around Yeongdo-gu (district) and in Bupyeong-dong (neighborhood) in Jung-gu, making these the epicenters of the "Busan Eomuk" brand. In recent years, some companies have strayed a bit from the standard white fish and breading blend and have produced eomuk that have mixed perilla leaf and crab meat, to high praise.
The most popular eomuk comes from Samjin Eomuk in Yeongdo-gu. Samjin Eomuk is a third generation family business that opened in 1953. Samjin Eomuk's experiential program is run on the second floor in their main shop. It offers great opportunities for visitors to not only try some famous Busan eomuk but also to try making some and learn about eomuk's place in Busan history. About 2,000 people participate monthly in the eomuk making program, with most foreign participants hailing from Japan and China. But, everyone is welcome and encouraged to check it out.
Advance booking is required for the experiential program, which is held three times a day on weekdays, six times a day on weekends. Lessons are straightforward and even foreign tourists without much Korean language knowledge can follow along and have fun.
-Price: 15,000 won per person; classes can only run if at least two people reserve in advance; group discounts available.
-Reservation: samjinstory.com (Korean); or send an inquiry to samjin5468@hanmail.net. Only weekend experiential programs can be booked through the website.
-How to get there: Nampo Station (Metro line 1), exit 6. Take buses 82, 85 or 113 from the nearest bus stop and get off at Yeongdo Post Office stop. Enter the alley next to the "U Square" store located next to Paris Baguette and walk straight three blocks. The main shop is located on the right.
Making makgeolli
Do you like makgeolli, that milky, pleasant alcoholic Korean beverage that pairs so well on rainy days with pajeon (scallion pancake)? If you like it so much, why not consider making a bottle's worth of the tasty beverage yourself?
Fans of this mildly-sweet traditional alcoholic drink can actually whip up their own batches at two Busan locations. Yeonyojae in Munhyeon-dong and Sanseong Village both run regular makgeolli making events. Now, this would definitely make for one memorable first date!
■ Yeonyojae
This "fermentation school," as it is known offers an assortment of interesting experiential programs. Visitors will learn about the meaning and history of makgeolli as well as being able to get their hands dirty in the process. Steam the rice, cool it down, add water and yeast powder, then let it age a week. Finally, sift out any residual solids, and you've made your own makgeolli. Drink up! But, wait, there's more! Participants at Yeonyojae can also taste an assortment of other makgeolli varieties from across the nation. Additional programs at the center include making masks, hand crafting soaps, fermenting vinegars and more. Yeonyojae's website offers information in multiple languages, including English.
-Price: 30,000 to 50,000 per person
-Reservation: ynjschool.com, click on "experience" or email ynj@ynjschool.com
■ Sanseong Village Makgeolli
One of Busan's most famous makgeolli brands is made in Sanseong Village, located in the tranquility that surrounds Geumjeongsanseong Fortress, up on Geumjeongsan Mountain.
Residents of this area have created delicious fermented rice wine since the time of the Joseon Dynasty. The area's fresh air and clean water are certainly reasons to visit. But, most really come for the makgeolli.
Sanseong Village sticks to a 500-year-old method for making makgeolli. All participants can even crush the nuruk (yeast disk used in the fermentation process) to break it apart, which is always a fun attraction. Other activities including making earthenware and natural dye are also available in this quaint, historical village.
-Price: 20,000 per person
-Reservation: sanseong.invil.org (Korean)
-How to get there: Oncheonjang Station (Metro line 1), exit 5. Cross the overpass from the station. Walk out of the back of the HUB Sky building and take bus 203 to the Geumsung-dong Office (금성동주민센터) stop. The makgeolli experiential village can be found opposite the Saemaeul finance firm entrance.
Taekwondo experiential program

Get a kick out of the experiential classes at Daeyoung Taekwondo.

Taekwondo is the Korean art of self defense. It was introduced as a demonstration sport during the 1988 Olympic games in Seoul and in 2000 in Sydney, Australia, as an official Olympic event. Now, laypeople can get a taste for what taekwondo is all about, as well. It is an experience not soon to be forgotten.
Daeyoung Taekwondo offers an experiential class for foreigners to learn the martial art. It has been certified as a Busan City and Korea Tourism Organization-certified cultural experiential center. At about 330 square meters, Daeyoung Taekwondo can accommodate around 70 students. Lessons at the taekwondo center can be provided in Korean, English, Chinese and Spanish.
Each class lasts about one hour. Participants will wear uniforms provided by the center and learn basic taekwondo postures, positions, kicks and more. A certificate of participation will be given at the end of the class. Experiential programs are available Mondays, Wednesdays and Fridays.
-Price: 30,000 won
-Reservation: 010-5016-6044 (English), 010-6333-5286 (Spanish and Korean); blog.naver.com/dycyk/221354519453; dycyk@naver.com.
-How to get there: Namcheon Station (Metro line 2), exit 3. Walk straight and turn left at the next corner. Continue straight and cross the overpass at a KB Bank. Daeyoung Taekwondo is on the 10th floor of the building next to NH Bank.
Trejang


Trejang offers various Korean traditional food-making classes.

A humble, tile-roofed house near Mandeok Station has dozens of jangdok (Korean ethnic earthenware) in front and fermented soybeans dangling on the rail. Does all of this interesting culture sound inviting? You better believe it does.
This is an experiential center for visitors as well as a shop where visitors can purhcase soy sauce, soybean paste, red pepper paste, kimchi, bibimbap, pajeon and more. Visitors can make Korean traditional foods and experience Korean culture here.
The most popular program that Trejang currently offers is by far making Dongnae-style pajeon. Ingredients like spring onion, egg, and seafood are added to batter and fried. Unlike most other pajeon styles, Dongnae-style pajeon is dipped in a sauce made from red pepper paste and vinegar, rather than the typical soy sauce. Dongnae-style pajeon has a chewier texture, as well.
Once the program finishes, participants can share a Korean meal of seasoned vegetables and kimchi. Groups of up to 10 people can enjoy the program. Advance booking is required.
-Price: Starting at 20,000 won
-Reservation: 051-513-1777 (Korean); visit trejang.com or email kwonsosug@hanmail.net.
-How to get there: Mandeok Station (Metro line 3), exit 3. Take minibus 8 and get off at Hanshin Apartment main gate (한신아파트 정문) stop. Follow an uphill road, pass by a hospital, then walk up another 100 meters. It is located on the left. A group of jangdok can be found in the front yard of the house.