Enjoy Busan
Set a course toward Busan's best ways to enjoy autumn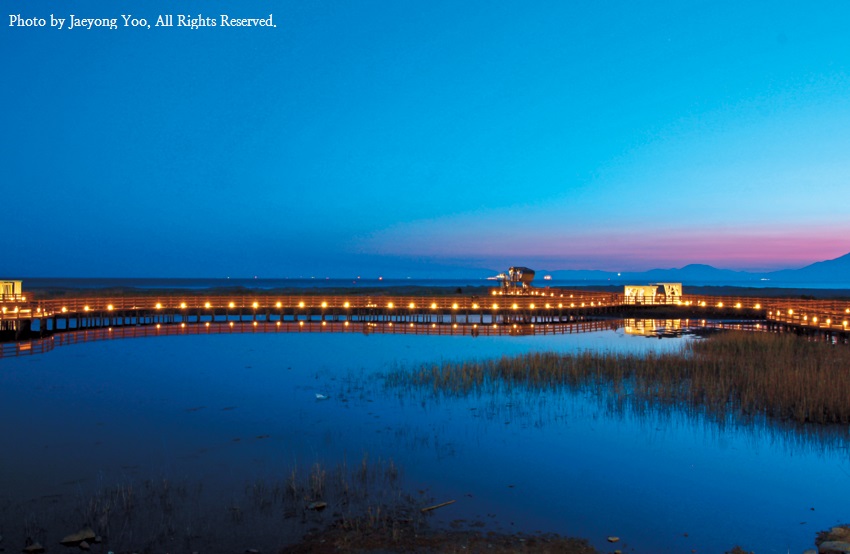 The Gouni Ecological Trail near Dadaepo Beach is highly recommended any time of day, but especially when the sun is going down.

Keen for autumn entertainment? Busan has you covered.
Whether you fancy a lovely stroll amid beautiful trees and handmade goods or an invigorating hike in the mountains, it's available right now. Come with Dynamic Busan on a lovely adventure.
Dongcheon Ginkgo Tree Street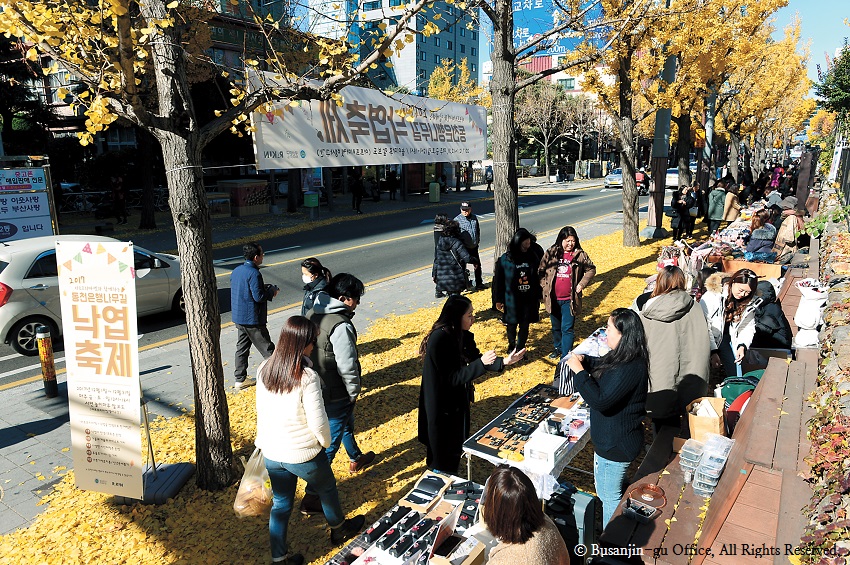 Many handmade goods are for sale at the Dongcheon-ro art market.
Ginkgo trees serve as a natural separation between Jeonpo-dong (neighborhood) and Seomyeon along this busy street. In total, 740 meters encompass Dongcheon Ginkgo Tree Street, which begins at the Seomyeon NC Department Store and ends at Gyeongnam Technical High School.

Beyond the school is an extended walkway that was opened in 2015. The formerly four-lane portion of Dongcheon-ro that runs parallel the Sharp apartment complex was reduced to two lanes, allowing a more pleasurable walking experience (and a few more ginkgo trees to boot).
Besides wider sidewalks, various sculptures and fountains can be enjoyed in this area, as well. Drivers should take note, however, that a bus-only lane is set during rush hour times and that slower speed limits are required at all times. This area also enjoys easy access to the popular Jeonpo Cafe Street area.
Peak ginkgo tree season can be enjoyed in mid-October. Don't mind its particular, pungent smell! The yellowish ginkgo tree leaves are an incredible sight as they begin to fall to the ground. It's such an awesome scene that a ginkgo tree festival is held there every December.
-How to get there: Seomyeon Station (Metro lines 1 and 2), exit 3. Walk straight three minutes and cross the street at the intersection facing Seomyeon NC Department Store. Dongcheon Gingko Tree Street begins from there.
■ Art market
While admiring all the ginkgo trees, be sure to check out the art market that stretches from Seomyeon NC Department Store to Norimaru, the former Jungang Middle School. The market, which features about 50 booths offering handmade accessories, art and more, operates from noon to 6 p.m. Saturdays and Sundays through December.
■ Jeonpo Cafe Street
After checking out those ginkgo trees and the many artistic booths along Dongcheon-ro, head into the famous Jeonpo Cafe Street area. Several sign markers will point the way. More than 100 coffee shops, dessert cafes, restaurants and more have put this area on many must-visit lists for both Busan residents and out-of-towners since 2010.
In addition to the usual merriments, a festival is planned for the area Oct. 20 and 21. More information about Jeonpo Cafe Street can be found in our "Enjoy Busan" section on our website, busan.go.kr/dynamic.
Geumjeongsanseong Fortress Trail

From the summit of Godangbong on Geumjeongsan Mountain.

Sanseong-gil (road) is an awesome hiking course, created along the ridge of the mountain at about 800 meters. One can enjoy the forest, reeds and peaceful rustle of leaves when a pleasant breeze passes through.
Nature lovers are in for a treat from the end of October through the beginning of November. Beautiful fall foliage will reach its peak at this time. Godang-bong Peak in particular is highly recommended. Panoramic views of Busan from this peak are breathtaking.
Geumjeongsanseong Fortress is believed to have been formed during the Three Kingdoms period, more than a 1,000 years ago. At 18 kilometers, it is the largest mountain fortress in the country. For those looking for an easier hike, start behind Beomeosa Temple and head to the north gate of Geumjeongsanseong, then to Godangbong Peak and finally descend to the east gate. It takes about three hours. Those who would rather explore this area not through hiking can try the Geumgang Park cable car.
-How to get there: Beomeosa Station (Metro Line 1), exit 5 or 7. Take bus 90 from the nearby Beomeosa entrance bus stop and get off at the Beomeosa ticket office bus stop.
■ Beomeosa Temple
Arguably Busan's most-famous temple with the longest history. Relish in the beauty of plentiful fall foliage extending from the temple's entrance inward. Experience Korean Buddhist culture with three-story Stone Pagodas, Iljumun (One Pillar Gate), Daeungjeon Hall and more. A gingko tree on site is believed to be more than 500 years old.
■ Sanseong Village
Geumseong-dong in Geumjeong-gu is well-known for Sanseong Village.
It produces makgeolli (fermented rice wine), which visitors can help to make and help themselves to a taste. While heading off the mountain, check out one of several restaurants serving black goat bulgogi and duck bulgogi, both of which pair nicely with creamy makgeolli.
Dadaepo Beach and ecological trail

Gorgeous reeds draw many to Dadaepo Beach during sunset.

Dadaepo Beach is deservedly well known for its breathtaking sunset views. But, that is not all this area has to offer.
The well-maintained beach-side park that opened in recent years has become a must-visit, even when it's not beach season. A beautiful promenade has also been built between the sandy beach and bustling walkway lining the road nearby. There is a forest inside the park and fields for various outdoor sports.
The Gouni Ecological Trail is located on the right side of the beach. This 650-meter wooden path runs above the shallow part of the sea. Saha-gu has planted thousands of trees in this area since 2008 with the purpose of restoring the mud flat's ecosystem by forming a forest. Thanks to these efforts, visitors now can enjoy even more nature here.
-How to get there: Dadaepo Beach Station (Metro line 1), exits 2 or 4. Walk toward the entrance of the park on the right side of Dadaepo Beach.
■ The Sunset Fountain of Dream
Water columns as high as 55 meters in the air rise from the biggest ground fountain in the world.
Those who visit The Sunset Fountain of Dream during the day can enjoy a wet respite by running through its majestic streams. Come evening, colorful lights and booming music turn it into an exciting spectacle. Many styles are represented, including classical, pop, rock and more. Once the music show finishes, you can jump back into the water.
-Hours: Fountain shows begin at 7:30 p.m. in April, September and October and at 8 p.m. May through August. Additional performances are held on weekends and public holidays.
■ Molundae
Looking for a little exercise but not interested in climbing a huge mountain? Head to Molundae.
Located toward the left side of Dadaepo Beach, this modest hillside area offers both a little exercise and a lot of natural beauty. Once an island, sedimentation eventually connected it to the main land.
The smell of dense pine trees and the salty ocean will envelop all who explore Molundae's charming courses. Anyone can easily complete a circuit around the former island between one hour and 90 minutes.
■ Amisan Mountain Observatory Park
Some of Busan's finest, most awe-inspiring nature including deltas, rivers and migratory birds can be found along the Nakdong Estuary Delta. Amisan Mountain Observatory Park is the perfect place to check it all out.
Dadaepo's famous sunsets can be thoroughly enjoyed through Amisan's glass window, which is sure to put almost everyone in a peaceful state of mind. The panorama view of the Nakdonggang River from Amisan's rooftop is a particular highlight not to be missed.
To get to Amisan Mountain Observatory Park, walk straight from Dadaepo Station, exit 1. It is located opposite Gouni Ecological Trail.-
-Hours: 9 a.m. to 6 p.m. Entry available until 5 p.m. Closed Mondays.
Dongnae Eupseong Fortress Trail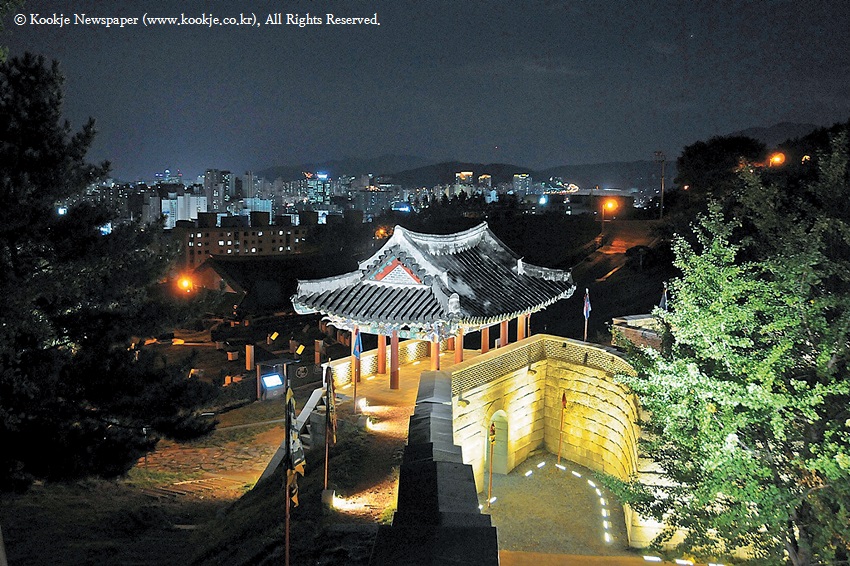 Dongnae Eupseong is particularly nice to visit in the evening.

The historical Eupseong-gil area encompasses much of Dongnae-gu (district) including Myeongnyun-dong, Bokcheon-dong and Allak-dong. While the current Dongnae is but a district in Busan, it once played an incredibly important role as a fortress during the Joseon Dynasty era.
A history hall is available to visit at Suan Station (Metro line 4), which offers more information on the Japanese invasion of Korea for which Dongnae Eup-seong is most famous. Human bones and weaponry were excavated during the process of constructing Suan Station, which opened in 2011. The museum was built to honor the area's rich history.
From Suan Station, head out of exit 5 and walk until you see the Office of Military Affairs, where military officials stayed, Dongnae-bu Government Office which is located in the front area of Dongnae Market and Songgongdan Altar, where one can honor the victims of the war of Dongnae Eupseong.
Walk toward the mountain along the rear of Dong-nae market for 10 minutes and find Bokcheon-dong Ancient Tombs. Located next to Woosung Apartment Complex, these tombs house over 10,000 relics from the Three Kingdoms period more than 1,000 years ago. They are important evidence as to where the culture of the Gaya civilization of this part of Korea can be found.
Dongnae Eupseong is situated behind Bokcheon Museum. With a total length of 1.9 kilometers, it's an impressive structure. The pathway has been formed along the fortress. Walk toward Dongnaehyanggyo Confucian School after passing Seojangdae Command Post along the Eupseong-gil. A festival is held every October with events such as musical reenactments of the battle of Dongnae Eupseong as well as opportunities to experience customs from the Joseon Dynasty.
-How to get there: Suan Station (Metro line 4), exit 5. Turn right at GS25 and walk straight 400 meters. Walk 500 meters more along Bokcheon-ro.
■ Bokcheon Museum
Excavated relics found within the Bokcheon-dong Ancient Tombs are kept and exhibited in the museum. These relics have been lovingly maintained, allowing the public an excellent opportunity to experience the culture of Korea's Iron Age. Visitors can see earthenware, metal armor, gilt-bronze crowns and from the tombs of the ruling elite before the sixth century.
-Hours: 9 a.m. to 6 p.m., weekdays (last entry is at 5 p.m.); 9 a.m. to 9 p.m. Saturdays; closed Mondays.
■ Dongnae Market
Dongnae was Busan's center of economics and culture prior to the opening of the port near Busan Station during the late 19th century. This historical area is believed to have housed a marketplace all the way back to the Joseon Dynasty era. Today, it sells lauded Dongnae-style pajeon (Korean-style pancakes), other Korean snack foods, vegetables, fruits and more.