Enjoy Busan
Hot indoor activities for cold January
 It's not always easy to get outside in the winter, whether or not it's about the weather or simply personal preference. Toasty ondol (under the floor) heating, a favorite over-sized sweater and a hot cup of apple cider are sometimes just too inviting to ignore.
For those brave enough to brave the great outdoors, Dynamic Busan offers some great activities that do not require one to spend too much time outside-just the time it takes to get from one location to another. Indoor activities like climbing, archery and virtual reality experiences are great when the floor heating's turned off and the cider has gone cold.
Indoor rock climbing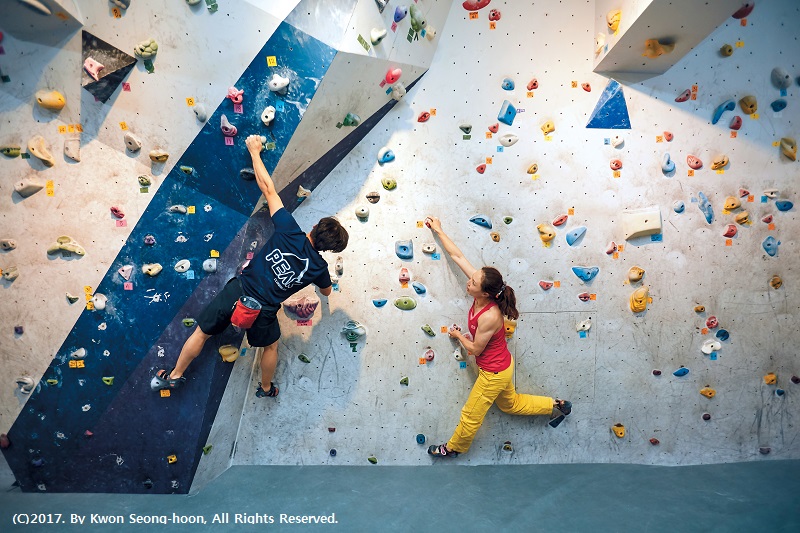 Indoor rock climbing is a fun and fit way to forget about the foul cold winter for a while. While it does require a certain level of fitness, climbing is great for many ages. All you need to get started is the right equipment, comfortable sportswear and a positive attitude.
Indoor rock climbing requires participants to move to the top of an assembled structure utilizing many colored grips placed in varying spots along the artificial rock face. Harnesses are attached to climbers and mattresses are on the floor to ensure safety. Beginners especially are given ample instruction and support from instructors.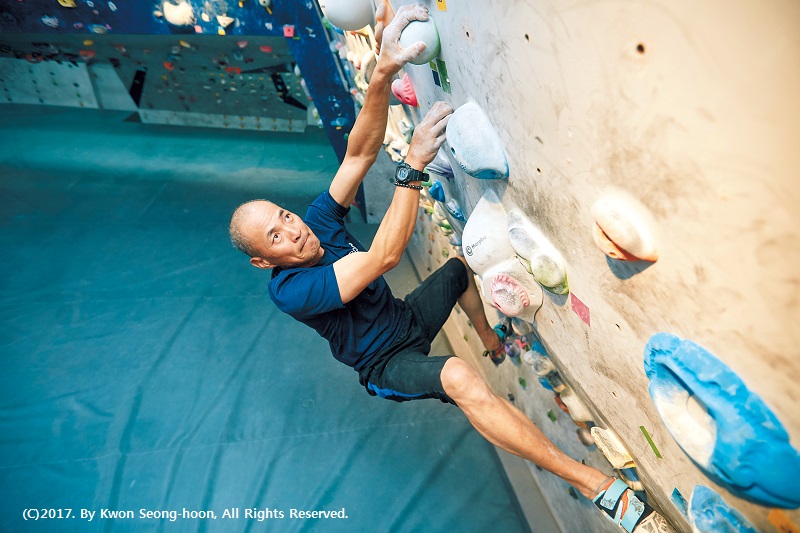 Sports climbing has been named an official event for the Tokyo Olympics in 2020, and its popularity has increased in turn. There is no doubt its myriad benefits, including increased concentration and strength gains, make it a great way to have fun.
- Outdoor Climbing: Located next to Dongnae Cultural Center. Call 051-550-4348 (Korean). Reservations are required. Climbers must be equipped with rock climbing shoes, harness, helmet and rope. Four hours are allowed per ticket, which cost 2,000 won for adults, 1,000 won for teenagers.
- Do Climbing: With branches in the Kyungsung University area and Sasang. Detailed information can be found at facebook.com/doclimbing and on Instagram, @doclimbinggym.
- The Power Climb: Information for their Pusan National University branch can be found on Instagram, @thepowerclimb.
Indoor archery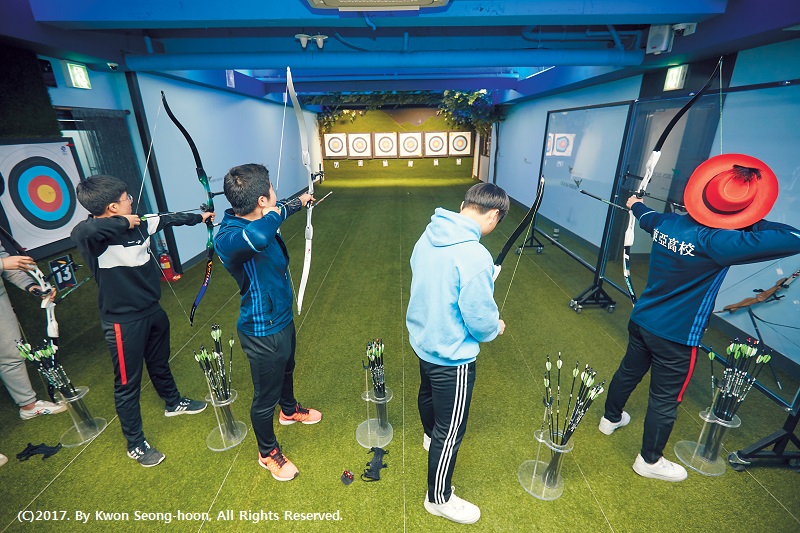 Indoor archery centers are another interesting way to spend some time during winter. Have you ever wanted to hit the bull's eye of a target or split another's arrow like Robin Hood? While we can't guarantee either of those outcomes, we're pretty confident a few rounds at an indoor archery course will make for an enjoyable time, even for those who've never picked up a bow and arrow before.
Indoor archery centers throughout Busan provide detailed instructions for participants including what position to maintain when drawing a bow, how to wear equipment and how to shoot. Bows, arrows, targets and helmets are available for hire. Customized equipment suitable for even absolute beginners can also be provided.
- Robin Hood The Archery Field: Basement 1 of the Nampo Hotel Foret building. Get off at Nampo Station (Metro line 1), exit 7. Walk three minutes toward Nampo Hotel Foret.
- Winner Archery Cafe: Fourth floor of the Lotteria building in front of Pusan National University. Instagram, @winner_archery_cafe.
- Real Archery: Eighth floor in the McDonald's building, located in front of Kyungsung University/Pukyong National University Station (Metro line 2), exit 5. Instagram, @real_archery_ks.
National Maritime Museum
■ Fish feeding show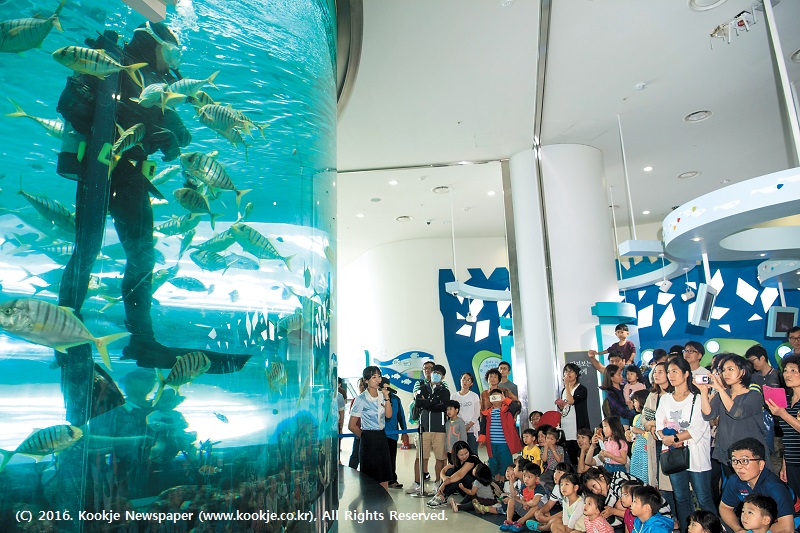 Yeongdo's National Maritime Museum is a great place for families to enjoy a fun-filled afternoon with their exhibitions, aquariums, marine libraries and other sea-related attractions.
The aquarium on the third floor is the museum's most popular attraction. A beautiful marine ecosystem has been recreated in a 360-ton cylindrical tank. There are sea turtles, hound sharks, stingray, a variety of tropical fishes and coral, among other sea life. One may even have a chance to see specialized aquarium employees, known as aquarists, feeding fishes. Go at 10:25 a.m. and 3:35 p.m. to see employees feed from the top of the tank. At 11:40 a.m., an aquarist dives in to feed the fishes directly. A school of fish following the path of the aquarist's feeding line is quite a sight.
- Admission: Free
- Hours: 9 a.m. to 6 p.m. weekdays, until 7 p.m. on weekends. Closed on Mondays (if a public holiday is on Monday, the museum is open on that Monday and closed the following Tuesday).
■ Board game cafe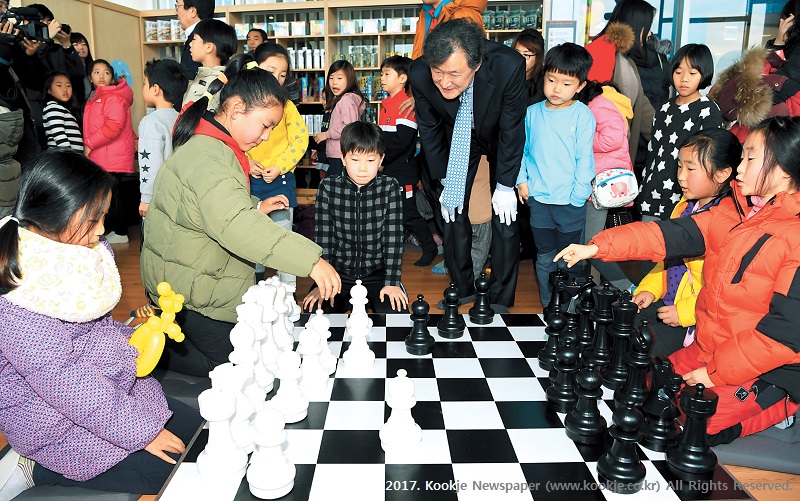 Anyone can have a ton of fun with some simple tools like dice and a game board. At the newly-opened Boardrang Cafe, folks can take a break from their National Maritime Museum activities to enjoy a nice cup of coffee and some fun board games.
 Boardrang, located on the museum's first floor, is charmingly-decorated with colorful items, low tables and nearly 30 kinds of games available for patrons.
- How to get there: Nampo Station (Metro line 1), exit 6. Take bus 66 or 186. A shuttle bus is also available from Busan Station (Metro line 1), exit 3 every hour from 10 a.m. to 4 p.m. weekdays, until 5 p.m. weekends.
- Information: knmm.or.kr/eng
Busan Museum of Movies
"Get ready... 5, 4, 3, 2, 1... run!"
So says the instruction from your Busan Museum of Movies guide. At her command, you are able to see an image of your body move as if floating in the air like a scene from The Matrix.
The museum, located near Yongdusan Mountain Park in Nampo-dong (neighborhood), is where you can be part of a movie.
Exhibitions including those on Korean film history are available as well as experiential facilities on the third and fourth floors.
Learn about special techniques in filmmaking, such as the "time slice" method, shooting simultaneously with a number of cameras at different angles, and "chroma key," which can overlay effects on a green or blue background. People can also directly participate in dubbing, editing and experiencing virtual reality.
"Hightech Cinema Hall" is the most popular section, where people can experience virtual reality movies. Dinosaurs will appear right in front of you when you put special goggles on, and you will feel as if dinosaurs are approaching you as you move your head from left to right.
- Admission: 10,000 won general tickets, 7,000 won for Busan citizens (identification card is required to check address).
- Hours: 9 a.m. to 6 p.m. Closed on Mondays and national holidays.
- How to get there: Jungang station (Metro line 1), exit 1. Walk straight toward Yongdusan Mountain Park for five minutes.
- Information: busanbom.kr (multiple language options available)