Enjoy Busan
These bookstores are real page-turners
 Does the creeping chill of December make you feel like a bear about to hibernate for the winter? Resist the urge to shut yourself away for the next several months and find warmth in a good book.
Sure, you can enjoy a book at home. But, why not explore some of the excellent altars to the written word Busan has to offer instead? From large franchises to newly-opened shops, to the timeless Bosudong Bookstore Alley, Dynamic Busan this month features several ways to convince your inner bookworm to turn the page on a new adventure.
Bosudong Bookstore Alley

■ Bosudong Bookstore Alley
With a narrow alleyway to guide patrons, book stores both great and small face each other on both sides. So many books are crammed into scores of shops lining Bosudong Bookstore Alley, an iconic location in old Busan.
Stepping into the alley, one may feel like time has stopped. Following the outbreak of the Korean War, which resulted in an armistice agreement with the north in 1953, books from the United States military bases and those of refugees were widely circulated. This is how Bosudong Bookstore Alley found its footing in Busan.
The glory days for the alley were between the 1960s and 1980s, when about 80 used bookstores occupied this relic of the past. As the number of visitors sharply declined in the early 2000s, a number of shops closed their doors. Renewed interest and investment in the alley in recent years, however, has brought this unique attraction into a new age, as cafes and art galleries join book stores, creating a wider appeal for the alley. Such interest has even resulted in the area being used as a setting in a recent television drama.
The area merchant association has been holding a variety of events to revitalize business in the alley such as festivals, discount events, antique book exhibitions, art and humanities classes, bazaars and meet-and-greets with authors. Out-of-print books, antique books and lower-priced new publications are all available here. Finding scribbles or graffiti in ancient tomes can also be fun, as it serves as a doorway to the past.
-How to get there: Jungang Station (Metro line 1), exit 7. Walk straight along Daecheong-ro (street) for about 15 to 20 minutes. Or, take bus 81 near exit 3 of Choryang Station (Metro line 1) or exit 7 of Busan Station (Metro line 1) and get off at the Bosudong Bookstore Alley (보수동 책방 골목) bus stop.
Neighborhood stores, unique concepts
■ Bookstore Forest
This cute little store along the Oncheoncheon Stream street in Dongnae-gu (district) offers reading material and doubles as a graphic design studio.
The store features books with a focus on design and art-related books including architecture, film, fine art and many other fields, so a visit can be interesting even without buying something. Korean and foreign books are available, with house-made eco-friendly bags and bookmarks for sale.
-Hours: 11 a.m. to 7 p.m. Tuesday through Friday; 1 to 7 p.m. Saturday; closed Sundays and Mondays.
-How to get there: Allak Station (Donghae Line), exit 1. Go behind Ttuiranchae (뜨란채) to find the store in the alley next to Hanseong Girin (한성 기린).
-Information: Instagram @forestbooks_studio
■ Our Bookstore (우리글방)
A healthy-sized book cafe located in the middle of Bosudong Bookstore Alley, Our Bookstore recently combined with a cafe after about 20 years.
Books can be seen piled in places here and there amid staircases leading both up to the second floor and into the basement, where the cafe is located. Tens of thousands of books, records, CDs and postcards crowd the shelves and walls. The bookstore's unique interior has attracted both locals and out-of-towners for years. It is packed with the owner's extensive collections of various genres including humanities, social studies, science and art. This shop's comfortable atmosphere and its weathered products conjure up a grandmother's cozy study room.
-Hours: from 10 a.m. to 7 p.m.
-How to get there: Take bus 81 and get off at the Bosudong Bookstore Alley bus stop. It is located in the middle of the alley.
Newly-opened large bookstores
■ YES24 Bookstore F1963 branch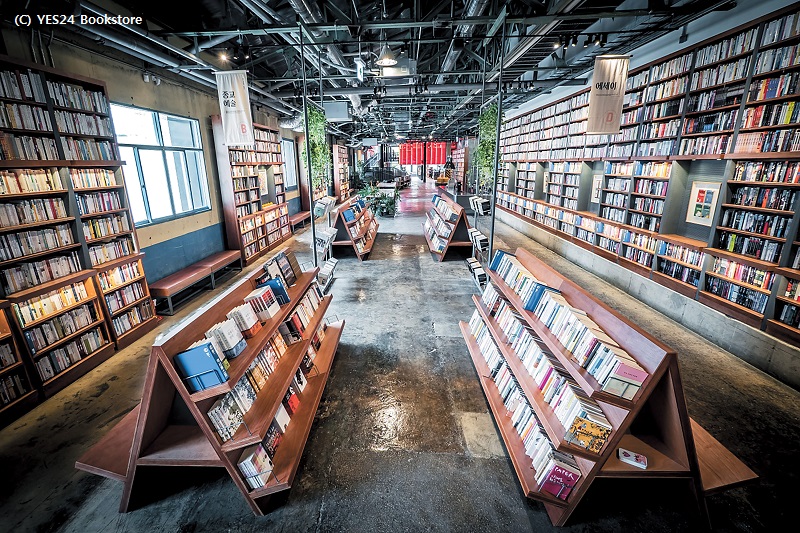 F1963 in Mangmi-dong has gone through another transformation after gaining public attention thanks to its successful conversion from an old factory to an art and culture center. YES24, a franchised used bookstore, recently joined this interesting location.
Korea's largest used bookstore, measuring 16,500 square meters, the F1963 location of YES24 holds nearly 200,000 used books including rare volumes of out-of-print books and foreign vintage books, CDs, DVDs, blu-ray discs and book related goods.
 Its interior is also proving a draw for visitors. Typecasting machines and printers are on display and the principles of working machines are explained through animations. There is also a gallery where books are displayed on inclined bookshelves. There's even a kids area for families.
-Hours: 10:30 a.m. to 8:30 p.m.
-Information: Instagram @yes24_bookstore
-How to get there: Mangmi Station (Metro line 3), exit 1. Take mini bus 2 and get off at the Sanjeong Apartment bus stop. Or, Suyeong Station (Metro lines 2 and 3), exit 5. Take bus 54 at the nearby Suyeong Intersection bus stop, also get off at the Sanjeong Apartment bus stop. Go uphill toward F1963.
■ Eternal Journey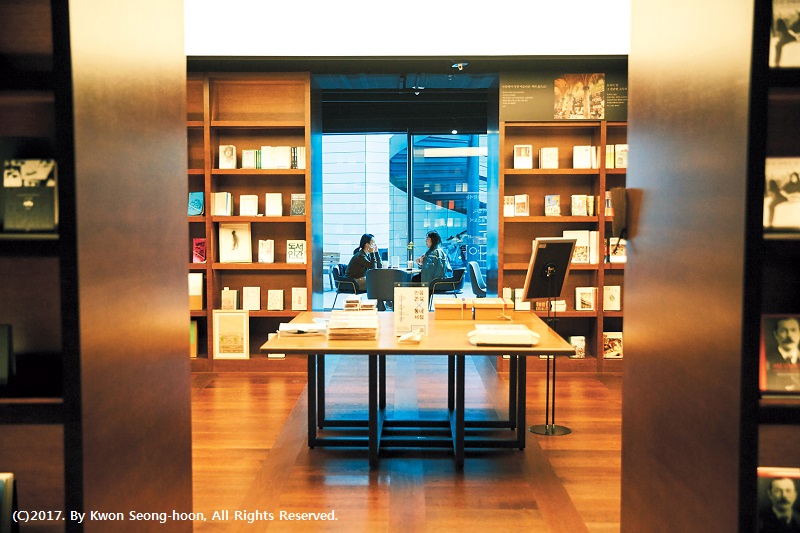 While the newly-opened Hilton Busan hotel in the Ananti Cove entertainment complex has been getting loads of buzz, the Eternal Journey bookstore is not too far behind.
Opened in July, Korea's largest resort complex provides a beautiful view along the Gijang coast. In this resort town where walkways and restaurants are also located, Eternal Journey boasts 1,855 square meters of literary entertainment. Its name signifies it as a space for timeless adventure through reading.
Books are displayed to allow every title to be seen, as opposed to being densely packed, like in many bookstores. Content is displayed according to about 50 themes of figures, sea, environment and others. Many books unavailable elsewhere can be found here.
-Hours: Noon to 9 p.m. weekdays, 9 a.m. to 9 p.m. weekends.
-Information: facebook.com/eternaljourney.life/
-How to get there: OSIRIA Station (Donghae Line). Take a taxi, which only costs the starting rate.