Enjoy Busan
Creativity, tranquility available in autumn
Welcome autumn with special programs available in Busan. Pictured above are participants in a temple stay at Beomeosa Temple.
Planning a visit to Busan this autumn? If you are looking for some truly unique experiences, might suggest a little bit of calm and creative energy during your travels? Mountain temple stays and makgeolli making programs are two opportunities to try something different this season. Below, check out our recommendations for temple stays throughout the city, as well as a pair of fun and informative makgeolli making programs. Have fun and enjoy your time in Busan!
Temple stay programs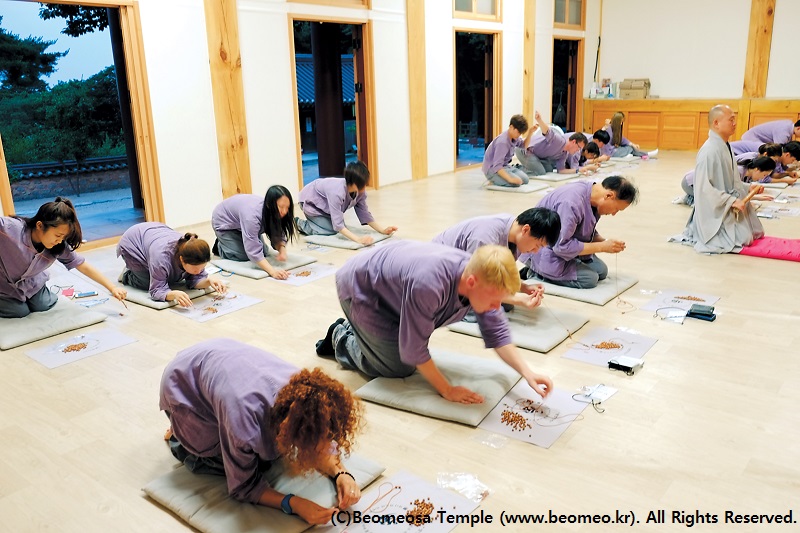 Summer can be a busy, exciting time, full of outdoor adventures and high energy. Now that it is just a memory, and before winter clamps down for a shivering spell, take advantage of pleasant, calm-inducing temperatures with serene activities like a temple stay. The best part is you do not need to venture too far afield to find a temple stay program to suit your needs and interests.
The sound of moktak (wooden percussion instrument used for chanting by Buddhist clergy) wakes the sleepy temple amid the deep calm and quiet of the mountain. Does this sound like a great way to find some peace this season?
Public awareness for temple stays has reached a fever pitch in recent years. It's no wonder people are seeking out avenues toward calm. In our hectic modern lives, many seek ways to make sense of all the noise. A few days or, if you have the time, longer participating in a temple stay program might be the answer.
Busan has several options available right here in the city. Beomeosa Temple is perhaps the most well-known, among both Koreans and foreign residents and visitors. But, there are other temple stay programs for you to explore, as well. These programs include temple tours, Buddhist culture and etiquette classes, meditation, wish making and balwoo gongyang (communal Buddhist meal service). Participants can also have friendly conversations with monks and learn about tea ceremonies during some temple stays.
 For many, leaving the steel and concrete of the city for the delicate wooden and tiled temple buildings puts them at ease as soon as they arrive. Participants can also enjoy calm, serene forest and garden walks, absorbing the peace such things bring. Fresh air will clear your head when you walk along a dirt path while wearing simple and comfortable clothes that are provided by the temple.
 Learn about bowing etiquette and immerse yourself in meditation with incense burning practice. This unique experience will help you focus during meditation. The balwoo gongyang meal service will serve as a humble reminder to not leave even a grain of rice after taking only the right amount of simple and wholesome vegetarian temple food and rinsing the remaining rice in the bowl. This meal service helps people realize how valuable food is.
 Beomeosa Temple has offered a temple stay program for so long that it has become synonymous with temple stays in Busan. The copious autumn-tingled leaves found around this mountain temple frames the fulfilling experience. Some might recognize Hongbeopsa Temple for the gigantic Buddha statue that dominates their facility. But, this Geumjeong-gu (district) temple located a short drive from Nopo Station on metro line 1 also offers a great temple stay for families or groups of friends as private rooms can be provided. Busanjin-gu's Sangwayngsa Temple, best known for its massive annual lantern festival, has extensive and colorful temple grounds. The temple runs various themed programs for children as well as programs that focus on reflection and meditation. Seonamsa Temple, in Buam-dong (neighborhood), Busanjin-gu, recently completed its new temple stay building, offering a modern facility. Participants sit around a monk at the center, talk and participate in meditation practice.
 A temple stay can really be a great opportunity to find a little respite in what is too often a chaotic modern world.
-Information: For Beomeosa temple stay, visit beomeo.kr/eng_templestay (English). Reservations for Beomeosa and other temple stays in Korea can also be made at eng.templestay.com.
Makgeolli making
 Learning the history and practice of makgeolli making, and even getting our hands dirty by making a batch ourselves, is an awesome, very culturally unique way for people from various walks of life, communities and cultures to get together to express a mutual creative passion.
 Makgeolli is a deep part of Busan's history. This fermented rice wine's origins trace back to the Joseon Dynasty era when people began to brew it at Geumjeongsanseong Fortress, located 800 meters up on the top of Mt. Geumjeong here in Busan. The lightly-carbonated, mildly-alcoholic beverage, with its milky, pleasant taste, has been passed down for generations.
 Making yeast-fermented liquor can be a cumbersome task because the finished product is very much influenced by its environment. This has not stopped producers such as Geumjeongsanseong Fortress from making makgeolli.
 Geumjeongsanseong Fortress, as well as Yeonyojae in Munhyeon-dong (neighborhood), are two locations that provide people with hands-on makgeolli making programs in Busan.
 Geumjeongsanseong makgeolli has a strong flavor, pleasant scent and a clean aftertaste. They have honed their makgeolli making skills over generations, sticking to the traditional methods that have continued to make it a popular beverage that can be enjoyed on its own or paired with food.
 Quality yeast is kneaded underfoot before being stored in a temperature and moisture-controlled environment until it is time to be used in the creation of the final product.
 Geumjeongsanseong Fortress currently runs a program for study and experience. The one-hour session includes the history of makgeolli, the makgeolli brewing process, tours of the brewery and yeast room and makgeolli sampling. Yeast kneading and makgeolli making will be added to the program in November with fees expected to be 10,000 to 20,000 won per person.
 Yeonyojae, located near the Busan International Finance Center, is also well-known as a makgeolli school that provides classes on the history and meaning of Korean makgeolli. Rice is steamed and cooled before yeast powder and water are added to mature it. Then, residues are drained and the remaining alcohol is fermented to produce the makgeolli.
 At Yeongyojae, sample a variety of makgeolli from across the nation and try to make your own. There are other experiential programs at Yeonyojae, as well, including making fermented vinegar, makgeolli mask packs and soaps.
-Information: For the Geumjeongsanseong Fortress program, send inquiries to xhtkswn@nate.com or call their manager at 051-517-0202 (not fluent in English). For Yeonyojae, call 051-636-9355 or message them on Facebook at facebook.com/yeonyojae.
A Buddhist monk conducts a Dharma talk during a temple retreat.
Kookje Newspaper
Making your own makgeolli can make for a fun and unique cultural experience.
Yeonyojae
Beomeosa
Temple stay participants assemble Buddhist mala bead bracelets.
Beomeosa
Balwoo gongyang is a meal service conducted at temple stays.
Busanilbo
The makgeolli yeast storage facility at Geumjeongsanseong Fortress.
Kookje Newspaper
Makgeolli making programs also often include tastings.
Yeonyojae