Enjoy Busan
Seomyeon's indoor winter fun will warm your spirits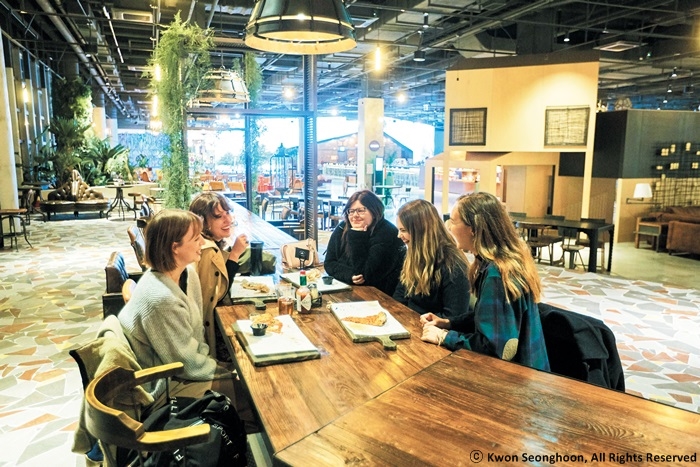 ▷ Enjoy a large space for beer and pizza, along with other items to chow down on, at Seomyeon's Q. Lounge, located on the eighth floor of Samjung Tower.
Winter and its Siberian winds approach! It's going to be cold in Busan through mid-to-late March, which is a long time to stay home just to avoid low temperatures. Thankfully, there's plenty to look forward to in our city, no matter how cold it gets. Christmas and New Year's Eve are many people's favorite holidays, what with all the presents and parties that go around. But there's a lot of December remaining until then, so where should you go this month to have fun and stay warm?

▷ There's always a long line outside of Shake Shack, so why not see what the fuss is all about?
Samjung Tower
Samjung Tower in Seomyeon has everything you need for a good time. Delicious restaurants that welcome single adults and families, shopping, a movie theatre and children's playgrounds are just some of the things to do there. Start your time at Samjung Tower with Shake Shack, Q. Lounge and the Running Man Thematic Experience Center.
Address: 672, Jungang-daero, Busanjin-gu, Busan
Website: samjungtower.com
Phone: 051-520-3600
▷ Shake Shack brings famous American hamburgers to Busan.

■ Shake Shack
There are a lot of good places to eat in Samjung Tower, but Shake Shack is the trendiest. One of the top hamburger chains in the United States, it is the first of its branches to open in Busan and Korea's first Shake Shack outside of Seoul.
Located on the first floor, up to 142 diners can fill the burger joint's tables. Featuring great food and art by renowned artist Julian Opie, Shake Shack brings its classic offerings to the city, including their Shack Stack and Smoke Shack burgers. The restaurant also gives its own take on local food, adding to their menu a dessert made with almonds, sunflower seeds, peanut caramel sauce and vanilla custard, akin to hotteok (a dough pancake filled with honey, sugar, cinnamon and nuts).
To drink, Shake Shack offers the craft beer of Busan's local Gorilla Brewing. A standard Shake Shack burger costs 6,900 won, fries run 3,900 won and milkshakes go for 5,900 won.
Hours: 11 a.m. to 10 p.m.
▷ The Q. Lounge cocktail bar comes with very talented bartenders.

■ Q. Lounge
 On the eighth floor, Q. Lounge is a versatile space featuring a cafe, a bakery, a cocktail bar, pizza and beer. At 2,644 square meters, the lounge is ornately decorated with sculptures, paintings and a small floor garden. There are many seats, as well as sofas and armchairs. Like Shake Shack, Q. Lounge also serves delicious local beer from Gorilla Brewing. Enjoy your choice of meal with an urban view of the city.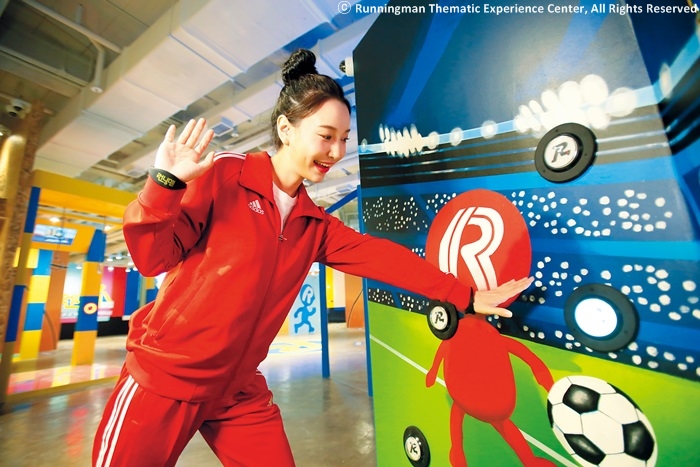 ▷ Enjoy yourself with all the games from the "Running Man" TV show.
■ Running Man Thematic Experience Center
 The Running Man Thematic Experience Center gives customers the opportunity to try their hand at the famous TV show "Running Man." Visitors can complete up to 15 missions as seen on the program, including the Running Ball, City Pursuit Battle, and two mazes. Whether you're throwing as many basketballs into a hoop as you can or doing your best to escape from a maze full of mirrors, all the fun from the TV show is available to you. It's located on the 10th floor and costs 16,000 won per person.
Hours: 10 a.m. to 8 p.m.
Website: runningman2-en.com
Game of Minds
Indoor activities don't stop with Samjung Tower. There are other venues out of the cold that Seomyeon has to offer, like the Game of Minds escape room.
In an escape room, you and your friends are locked in one or multiple areas, usually with a story or given mission, and have one hour to put your heads together to solve clues that will help you unlock the door to escape. But don't worry; if you get stuck, you are welcome to ask for a hint.
The most common escape rooms are designed as a series of logic puzzles, rather than a series of thrills or jump scares. That being said, those who do want to experience something from a horror movie can find corresponding escape rooms.
Game of Minds is one of the city's largest escape rooms. It provides visitors with Korean and English language games. A group of two must pay 45,000 won for a room. A group of three pays 60,000.
Address: 11-5 Jungang-daero, 680beonga-gil, Bujeon-dong, Busanjin-gu, Busan
Phone: 051-802-6636
Hours: 10 a.m. to 24 p.m.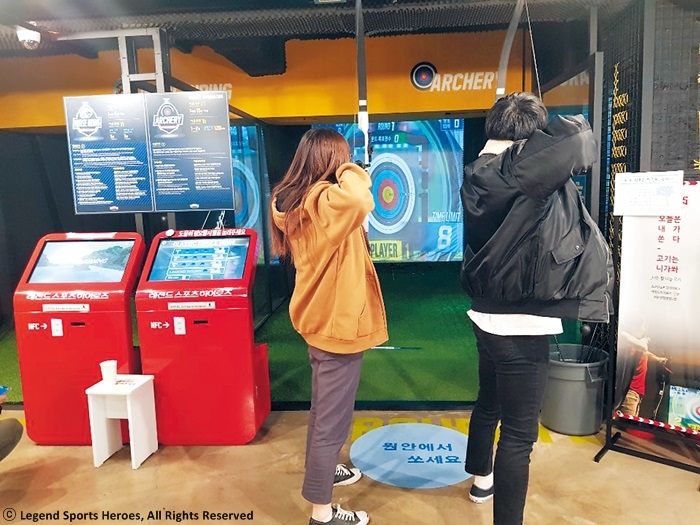 ▷ Channel your inner Robin Hood at Legend Sports Heroes.
Legend Sports Heroes
Legend Sports Heroes is the place to go for visitors to enjoy sports on screen. The sports zone, shooting zone and arcade zone all provide opportunities for virtual athletic play, either by yourself or with friends.
In the sports zone, players can take part in a game of virtual penalty kicks, using a real ball. The shooting zone gives players chances for archery. In the arcade zone, players can play all sorts of other games with their friends, including racing and fighting titles.
Payment for games is done via an NFC card that the establishment gives you upon purchase of your time. Rates for times are 13,000 won for one hour and 19,000 won for two hours. For 25,000 won, you can buy a ticket that lets you stay as long as you want. Book through Naver (booking.naver.com) to take advantage of a 20-percent discount. There are lockers available on the premises.
Address: 2F and 3F, 46-7, Jungang-daero, 692beon-gil, Busanjin-gu, Busan
Phone: 051-806-3579
Hours: 11 a.m. to midnight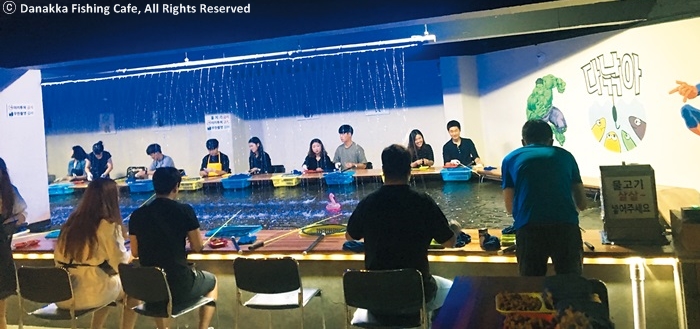 ▷ Danakka Fishing Cafe lets you fish in the middle of the city.
Danakka Fishing Cafe (다낚아 낚시카페)
Cities aren't normally the ideal place to go fishing, but at Danakka Fishing Cafe, it's possible to go fishing in the middle of town. With some rented fishing rods and an apron, all you need to do is put some simple bait on a line, throw it into the water and wait for fish to come to you while you sip on some free coffee.
If you catch a fish, you can receive prizes for it based on its species and weight. A carp is worth 100 points, while a sturgeon is 2000. If you catch a catfish, you can receive one hour of free service. Otherwise, it's just 10,000 won per hour to enjoy yourself at Danakka Fishing Cafe.
Address: 39-9, Jeonpo-daero, 209beon-gil, Busanjin-gu, Busan
Phone: 051-804-2977
Hours: Noon to 2 a.m.