Enjoy Busan
Oncheoncheon has got it going on: the stream of your dreams
Oncheoncheon Stream

Both cheery cherry blossoms and bold yellow rape flowers are on display around this time of year along the Oncheoncheon Stream.
Busan's central Oncheoncheon Stream flows from Geumjeong-gu (district) through Yeonje-gu and Dongnae-gu to the Suyeonggang River and is surrounded by both cherry blossom trees and yellow rape flowers that explode with color every spring. Hundreds of cherry blossom trees line each bank, while the yellow rape flower gardens are laid out near the bank. The stream runs 15 kilometers and ranges from 60-to-90 meters wide. It was once called Dongnaecheon Stream as it mainly flows through the Dongnae area. Spanning from Dusil Station (Metro line 1) to Togok-dong (neighborhood) in Yeonje-gu, there is plenty of real estate for visitors to partake in cherry blossom gazing.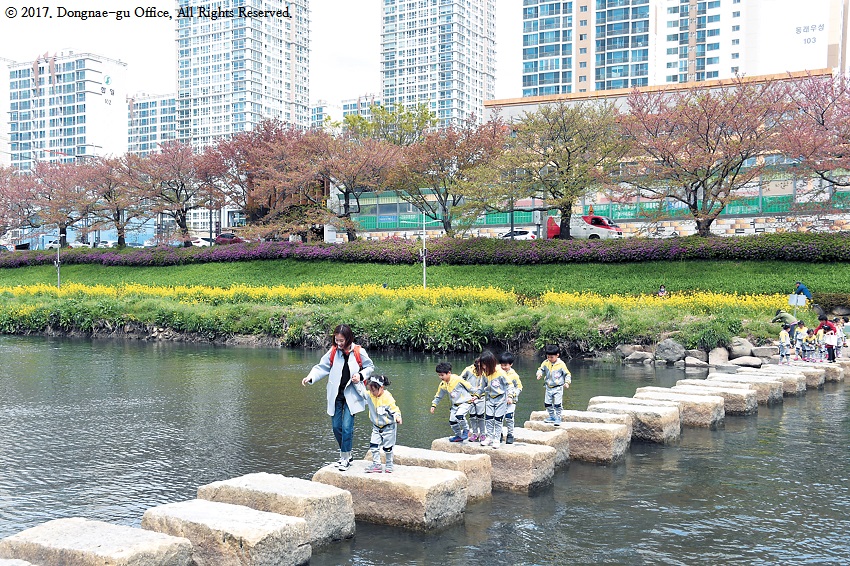 Stone bridges along Oncheoncheon Stream provide connection.

While Oncheoncheon Stream today is a lovely gem in Busan's natural portfolio, it was not always this way. The city and local government officials have been working since the late 1990s on restoring the Oncheoncheon Stream by removing concrete cover along certain portions of the stream as well as cleaning the stream itself. The results speak for themselves. Fish have been enjoying the cool water, as well as plenty of egrets and herons interested in enjoying the fish. Several otters were even spotted along the Oncheoncheon Stream recently.
Besides visitors, area residents can often be found enjoying brisk walks along the plentiful pathways bordering the stream, as well as bicyclists. Various sports facilities such as basketball courts can also be enjoyed at several spots along Oncheoncheon Stream.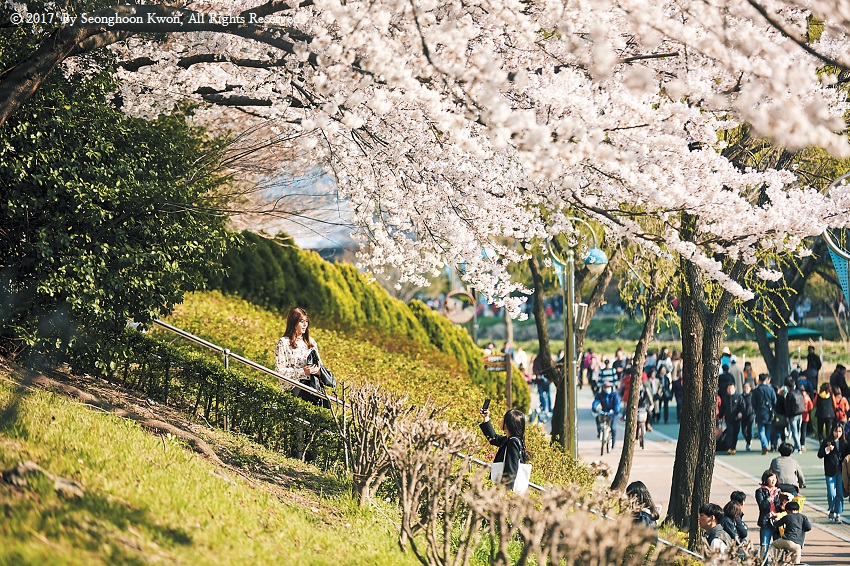 Plenty of photos get snapped along the Oncheoncheon Stream.
The stream is a perfect place for enjoying cherry blossoms flowering during their peak season of spring from the end of March to early April. While the area is a regular destination for blossom lovers of all ages, it has become particularly popular choice for local university students who are in search of spring flowers and relaxed vibes.
An evening view of Oncheoncheon Stream from above impresses.

Perhaps the most favored cherry blossom viewing spot is the route from Oncheongyo four-way intersection to Dongnaegyo Bridge. Here, visitors will enjoy good accessibility as this portion of Oncheoncheon Stream is easily-accessible from Dongnae Station and Myeongnyun Station. From this area, folks can even borrow a bike and head north to the bustling Pusan National University area, as well. Another spot to enjoy cherry blossoms lives in the area from Yeonsangyo Bridge to Allakgyo Bridge. Here, visitors can even check out the Oncheoncheon Cafe Street area, putting the perfect pin on a perfect early spring excursion.
-How to get there: Oncheonjang Station or Myeong-nyun Station (Metro line 1). Go down to the nearby stairway that leads down to the Oncheoncheon Stream. Or, Seomyeon Station (Metro lines 1 and 2), exit 7. Walk toward Lotte Department Store and take bus 110-1. Get off at Yeonangyo Bridge (연안교) stop. Go straight toward the Suyeonggang River. The route from Yeonsangyo Bridge to Allakgyo Bridge is directly ahead.
■ Information on bicycle rentals
For those looking to cover more ground on their Oncheoncheon Stream adventures, consider renting a free bike at one of several locations.
All it takes to get on your very own set of pedal-powered wheels is some form of valid identification. Head to the back of Dongnae Hwasin Apartment (동래화신아파트), which is located near Yeonangyo Bridge. The shop is open from 9 a.m. to 5 p.m, and those who partake can take a bicycle out for two hours. The service is free of charge. There is another bicycle rental shop near Dongnae Station. Take exit 4 from the station and walk toward the Oncheoncheon Artificial Falls to find a rental shop on the opposite side. This rental shop is open from spring through fall. Bicycles here can also be taken out for up two hours and must be returned to the shop by 5:10 p.m.
-Google GPS directions: (for Yeonangyo Bridge Branch) 35.193351,129.089527/ (for Dongnae Station Branch) 35.202057,129.078221

Recommendations
■ Pusan National University area
The commercial district around Pusan National University was once one of the only areas both locals and foreigners could let their collective hair down in Busan. While there are plenty of places to soak in city excitement throughout Busan these days, the PNU area remains a recommended destination for a wide variety of reasons. Being a university area, a big benefit here is that the fun comes with reasonable prices. There are many restaurants, cafes, bakeries, bars, karaoke rooms, movie theaters, department stores, clothing stores and video arcades catering to those whose budgets are quite a bit tighter.
Korean-style "toast" sandwiches, filled with eggs, cheese, shredded cabbage and more depending on preference, can be found sold on streets throughout the PNU area. Additionally, the very first location of the nationally-popular Yoogane dakgalbi (spicy stir-fried chicken) chain is located in the PNU area, as well. Besides cheap and tasty eats, the outdoor plaza around Pusan National University Metro station often holds street performances and flea markets.
-How to get there: Pusan National University Station (Metro line 1), exit 1 or 3. Go straight toward the university.
■ Oncheoncheon Cafe Street area
The Oncheoncheon Cafe Street area is a humble selection of coffee shops, bakeries and restaurants operating in a number of remodeled houses along the Oncheon-cheon Stream, specifically between Yeonsangyo Bridge and Allakgyo Bridge. This area's charm is infectious, and those who cannot help but post every moment of their lives to Instagram will need an entire afternoon to cover everything this lovely place has to offer.
Small coffee shops first began to set up shop in the area in 2011. Their numbers have only grown since. Today, there are a plethora of options not only for coffee but also salads, sandwiches, desserts, even Thai food can be found in the Oncheoncheon Cafe Street area. Come hungry, leave happy.
Please note that even though there are plenty of roads leading to the Oncheoncheon Cafe Street area, roads here tend to be pretty narrow. So, make life easier by getting there via public transportation. You will thank us for this advice later, trust us.
-How to get there: Allak Station (Donghae line), exit 1. Go left and cross the street at the parking lot. Go straight toward the Oncheoncheon Stream for 10 minutes.
■Dongnae Hot Springs
The Dongnae Hot Springs have long been known to be good for the treatment of various physical conditions including neuralgia and myalgia. It was because of these health benefits that even royals had frequented the area for generations. Now, it's your turn to reap the benefits of this natural wonder.
HurShimChung is one the finest and largest spas in all of Asia. Located at the annex of the Nongshim Hotel, HurShimChung offers various bath services including an enormous bathing area that can accommodate thousands of visitors. Many come to HurShim-Chung to enjoy various theme baths such as a cave bath, open-air bath and its famous Korean dry sauna. After purifying your body for a couple hours, enjoy a glass of cold and refreshing beer as well as some German-inspired snacks at the Hurshimchung Brau, located in the same building. This large and airy bar offers up a number of beers brewed on-site using traditional German methods. One can even often find some rollicking music performances here, as well. Hurshim-chung Brau is a great place to host celebrations including various promotions, birthday parties and other raucous celebrations.
This area of town offers up a pleasant number of other great traditional spas, as well. These include Geumcheon Park Hot Spring, Nokchun Hot Spring and Daesung Hot Spring. Consider exploring a few or all of them throughout the week!
Open-air foot baths provide comfortably hot temperatures of 63 degrees from natural spring water found deep underground. The hot springs are open daily (except Wednesdays and Fridays) at 10 a.m. to 5 p.m. March through October.
-How to get there: Oncheonjang Station (Metro line 1), exit 1. Go straight along the public parking lot for three minutes. Cross the street and go straight toward the Oncheonjang crossway and then go into the alley that is located between the Lucky Pharmacy (럭키약국) and Gallery Eyewear Store (갤러리안경). Hotel Nongshim is ahead. HurShimChung is located in the back. The open-air footbath is next to the silver wood sculpture outside. Other spas can be found along the main street.
■Yunsan Mountain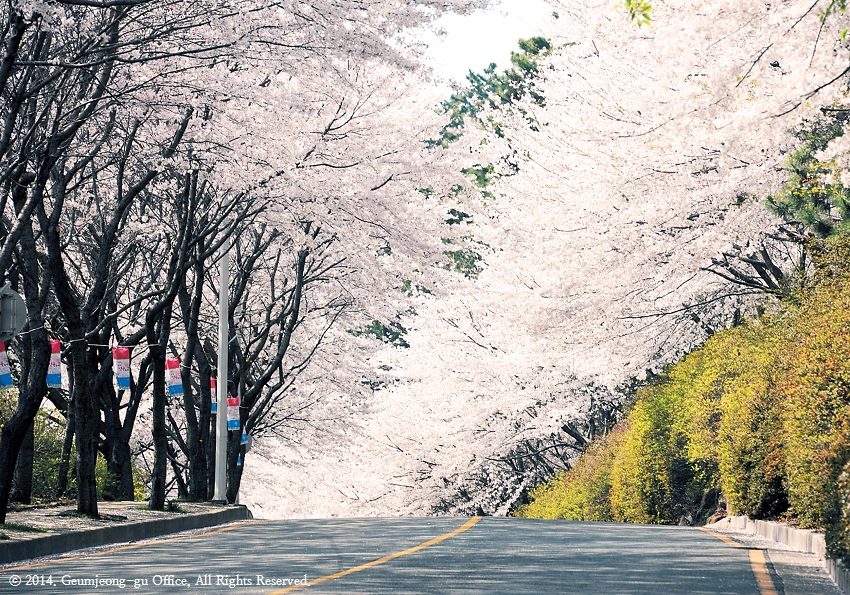 Cherry blossoms are in full bloom along Yunsan-ro in early spring.
We think Yunsan Mountain is one of the finest attractions located around the Oncheoncheon Stream. We think you will agree. And, we think you owe it to yourself to limber up those legs and get on up there for a invigorating afternoon hike. The mountain is located along the east of Bugok-dong (neighborhood). Compared to many of Busan's other more famous mountains, Yunsan is a bit smaller with an altitude of 318 meters. It is called a "round mountain" or "bald head" mountain as it resembles both a wagon wheel and a person's head, minus that lovely tuft of hair on top (like the copy editor of this fine newspaper).
In the spring when the cherry blossoms are scattered on the mountain, cherry blossom appreciation events are often held here. The mountain offers up some really beautiful nature, with pine trees, raspberry trees and wild flowers to spare. It is definitely a great place to enjoy nature, to relax, to exercise and to be inspired.
-How to get there: Oncheonjang Station (Metro line 1), exit 4. Take mini bus 6 at the public parking lot and get off at the Seogok Elementary School (서곡초등학교) stop. Go straight toward the mountain. You will find Yunsan-ro street ahead. Or, Pusan National University Station (Metro line 1), exit 2. Pass through the Prugio apartment complex located nearby and cross the main road. Go straight to the mountain through the Geumjeong Tax Office and then travel up the side road that is at Bugok Middle School. Bugokam Temple, the entrance of the mountain trail, is ahead.