Enjoy Busan
Summertime outside: the natural way to enjoy this season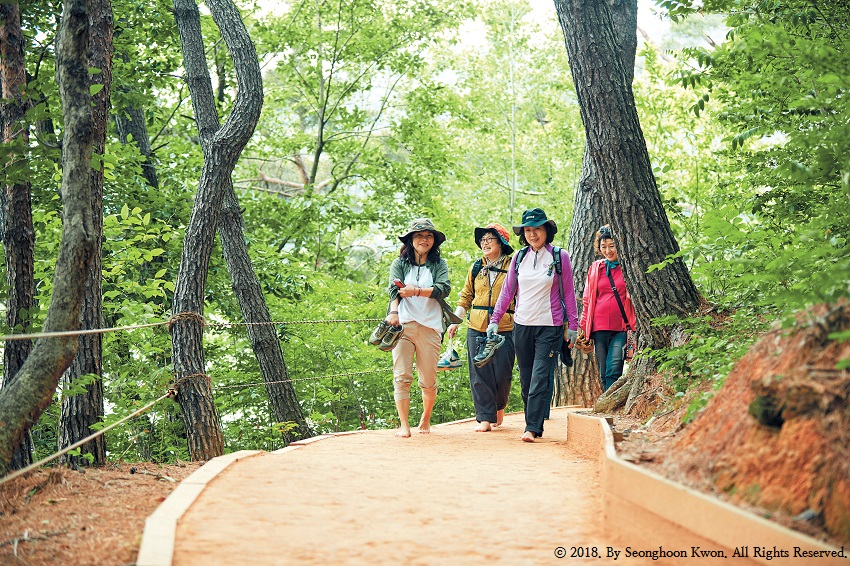 Are your feet getting a little achy in those cramped hiking sneakers? Along the red clay trail at the Hoedong Reservoir, barefoot travel is not just a fantasy.

Pack your backpacks with some water and snacks. Get those sneakers on. Don't forget your sunscreen (unless the sun's already gone down)! It's time for a natural getaway. Here are five of the finest options Busan has to offer.
Amisan Mountain Observatory Park

A gorgeous sunset, seen from Amisan Mountain Observatory Park.
Some of Busan's finest, most awe-inspiring sunsets can be found on Dadaepo Beach, in Saha-gu (district), located in the far southwestern corner of the city. Perhaps even finer are those that can be viewed close by and a bit higher up, at Amisan Mountain Observatory Park.
Located between Lotte Castle apartments and Molundae Apartment in Dadae-dong (neighborhood), Amisan Mountain Observatory Park might be the best place to view the mouth of the Nakdonggang River. The Nakdong Estuary Delta was designated as a natural monument that has allowed more than 100,000 migratory birds, including a wild goose and whooper swan to take up residence. Several sand islands were formed at a point where the Nakdonggang River and the southern sea meet, making for a most charming view.
Head to Amisan in the late afternoon, just before sunset. As the sun falls across the Nakdonggang River, a breathtaking view of blazing scarlet over the river emerges. Besides the incredible nature, exhibitions on the Nakdonggang Sand Island and migratory birds are available in the observatory building. Additionally, another observatory deck is on the rooftop to observe the Nakdonggang River. Geojedo Island, Busan Harbor, even the Sasang area can be seen from here when the weather is clear.
-Hours: 9 a.m. to 6 p.m. Entry available until 5 p.m. Closed Mondays.
-Address: 77, Dadaenakjo 2-gil, Saha-gu
-How to get there: Dadaepo Beach Station (Metro line 1), exit 1. Walk 15 minutes toward Molundae Apartment. The observatory deck can be seen after passing by the apartment.
Yongso Well-Being Park
Trees, lakes and hiking routes provide an excellent blend of both invigorating activity and mind-calming peace. Gijang's Yongso Well-Being Park is a great place to obtain all three.
Not widely known even to local residents, Yongso Well-Being Park promises a quiet place to get back to nature. With all the hustle and bustle this country's second-largest city offers, this park can feel like one is entering a totally different world. The reservoir, dam and lush, densely-packed trees at the foot of the mountains create a fairytale-like scene.
The park, opened in 2008 on what was once an agricultural reservoir, is surrounded by quiet mountains, reservoirs and lakes. An anchored ship could make for a neat photo. A fountain installed in the middle of the lake is pretty cool (pun intended), too. A wobbly bridge above a shallow part of the lake can be traversed by the bold. Or, head to the nearby playgrounds with the kids. Also check out the park's attached sporting facilities. The options are plentiful.
A wooded, well-maintained hiking path through the park takes about an hour to traverse. With nearly 60,000 trees such as metasequoia and zelkova planted along both sides of its road, peace is only as far as one's feet will take them. Additionally, pavilions, observatory decks and wild flower gardens can also be found in every corner of the park.
For those looking for lasting peace of an even more meditative method, take a trip up the mountain to find Yongeumsa Temple. However one approaches Yongho Well-Being Park, they are sure to leave refreshed.
-Address: 35, Eumnae-ro 50beon-gil, Gijang-eup, Gijang-gun
-How to get there: Haeundae Station (Metro line 2), exit 1. Take bus 39 and get off at the Gijang Elementary School (기장 초등학교) stop. Walk straight two minutes and turn left at the intersection. Walk another 10 minutes toward Seobu Jugong Apartment until you see the entrance. Or, Gwangan Station (Metro line 2), exit 1. Take bus 1003 and get off at Gijang Elementary School stop.
Namgu Uam-dong Urban Forest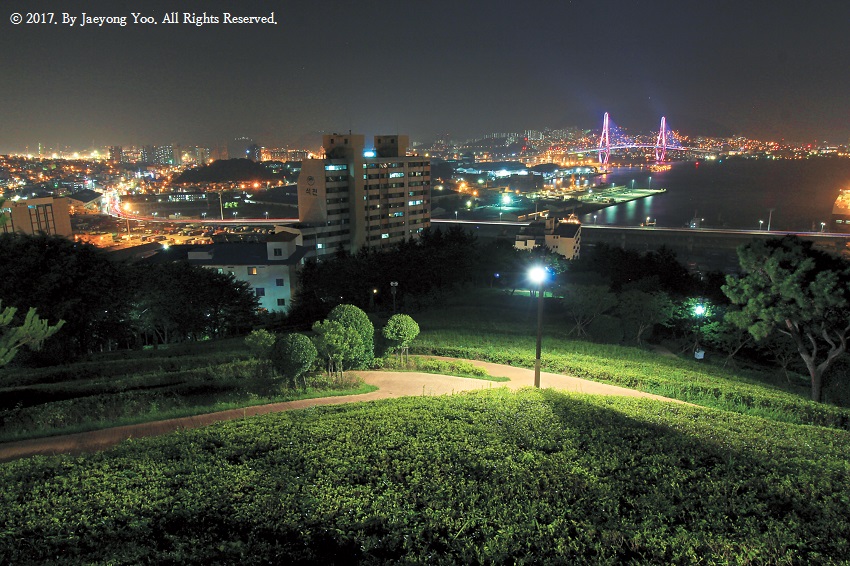 "A Lovely Night," a scene from the 2016 romantic musical La La Land, features the love struck leads played by Ryan Gosling and Emma Stone tap dancing to the film's catchy, jazz-influenced soundtrack. All of this is played out in a dreamy park, as evening descends upon the couple and the city below. Some have compared Namgu Uam-dong Urban Forest to this magical place, going as far as unofficially dubbing it "La La Land in Busan." Whether one has seen the movie or not, this park is sure to leave a lasting impression.
Open since 2011, Uam-dong Urban Forest is a small 20 square-meter oasis located in an area already starkly different than much of the rest of the city, as it is dominated by many port-side distribution businesses and their requisite freight carriers along Busan Harbor. Park designers gathered suggestions from local residents on how to get the most of the space, which included requests for rest areas for seniors, sports facilities and walking trails. Observatory decks in the upper part of the park were established, with a promenade set up on the lower part. A variety of plants including retinispora, royal azalea and camellia were planted along the promenade. Each of these plants bloom at different times of the year, allowing visitors a colorful treat no matter which season they stop by for a visit.
Busan Harbor can be seen from the top of the park, which provides a fantastic vantage point. Visit at night to truly get that "La La Land" vibe, as the lights from nearby Busan Harbor Bridge shine down romantically upon the park. Break out your tap shoes, bust out the movie soundtrack and dream of dancing the night away, with the city as your backdrop and the night sky as your audience.
-Address: 127-45, Uam-dong, Nam-gu
-How to get there: Munhyeon Station (Metro line 2), exit 1. Take minibus 5 and get off at Hanssem Daycare Center (한샘어린이집) stop. The park is located near Namgu Welfare Center.
Gudeok Culture Park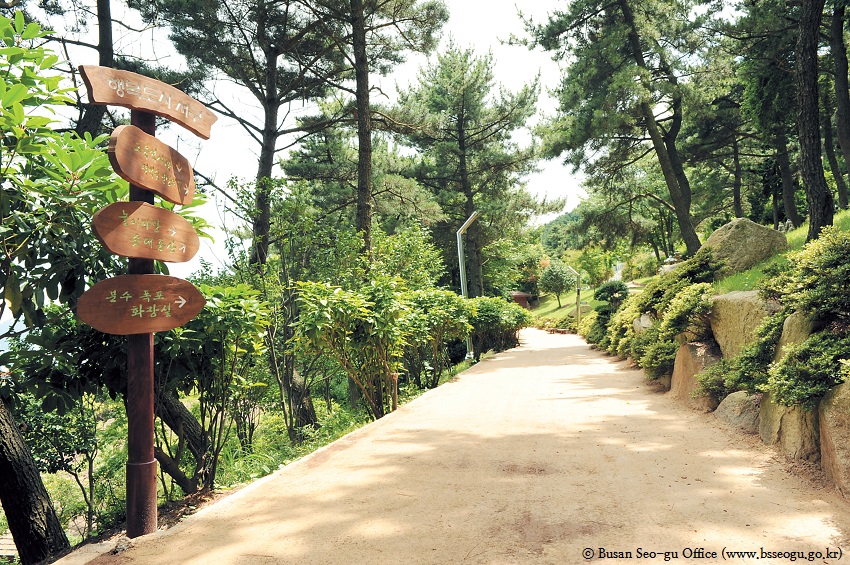 Gudeok Culture Park, located above Gudeok Tunnel in Seogu, is a place where beautiful nature and informative culture meet.
The park begins from a promenade formed along the lush forest of Gudeoksan Mountain. Besides a natural escape from modern life, it is a cultural park with several areas offering different themes. The History of Korean Education Hall, for example, offers entertaining education on the Joseon Dynasty era, Korean War and even more recent history.
There is a section of the park that recreates an old and traditional school. Hundreds of historic school materials such as school uniforms, notebooks, text-books, graduation albums and more are exhibited.
At the folk living style hall, one can witness items that were part of old Korean life, including a thatched-roof house, folk goods and more.
A free horticulture hall, one of the highlights of Gudeok Culture Park, can also be enjoyed during any visit. Its humid atmosphere, providing moderate warmth and moisture for a variety of plants, is palpable as soon as one enters the greenhouse. There are subtropical plants and sculptures made of stone arranged here and there.
A walking path through the park takes about an hour and provides a leisurely, energizing afternoon with only a little challenge. A smaller retinispora forest trail within can be traversed in about 20 minutes, when time is a bit shorter but one's desire for a natural respite is strong.
-Hours: 9 a.m. to 6 p.m from March through October; 9 a.m. to 5 p.m. from November through February. Closed Mondays.
-Address: 73, Kkonmaeul-ro 163beon-gil, Seo-gu
-How to get there: Seodaesin Station (Metro line 1), exit 3. Take mini bus 1 and get off at Gudeok Flower Village (구덕꽃마을) stop. Cross the street and follow the arrow sign's upper direction toward the mountain.
Hoedong Reservoir and Oryundae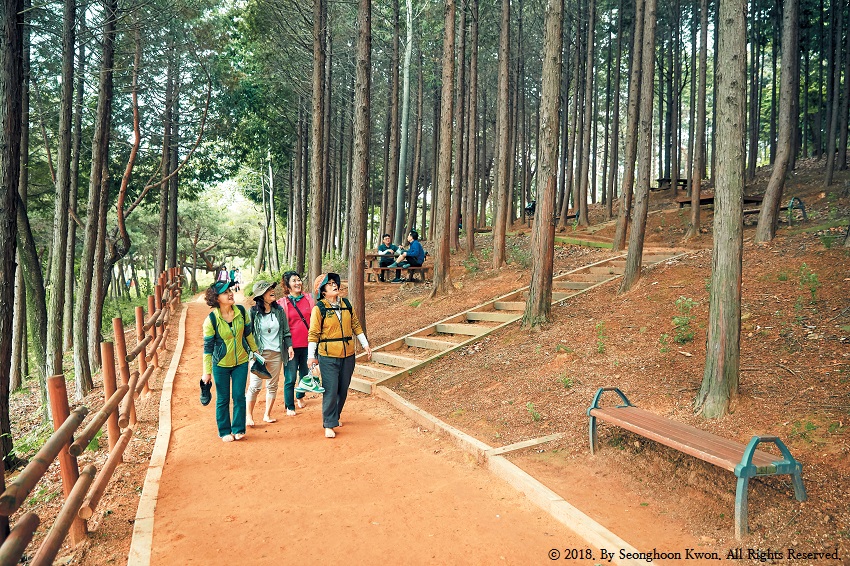 The most popular walking trail in Busan can be found in Hoedong-dong, Geumjeong-gu. The trail was created along the Hoedong Reservoir, the largest reservoir in Busan, which played an historical role as a primary drinking water source. For that reason, it was designated a conservation area, with entry banned 45 years. The ban was lifted in 2010.
Oryundae, a lakeside cliff within the area, provides a magnificent view of the reservoir area. Its name originally meant a place where five wise elderly people spent time together. People who studied there during the Joseon Dynasty era praised and admired the place and started to affectionately refer to it as Oryundae.
The lake and mountain top provide stunning scenery that can be observed from the comfort of the Oryun-dae observatory deck. The hiking trails here are well maintained and include flatlands, mountain paths, forests and lakes. The red clay forest comes highly recommended. The red clay road in the middle of the forest can even be walked upon barefoot.
*Check the map and courses for Heodong Resorvoir Trekking here: http://tour.geumjeong.go.kr/download/tour/hoedongsuwonji.pdf
-How to get to`A' course: Guseo Station (Metro line 1), exit 2. Take mini bus 3-1 and get off at Sundong Sanghyeon Village (선동상현마을) stop. Follow the hiking trail downward toward Oryundae. It takes about an hour for the accessible 4.8 km course.
-How to get to`B' course: Jangjeon Station (Metro line 1), exit 4. Take mini bus 5 and get off at the last stop, Oryun Bon-dong Village (오륜본동마을). It is recommended to climb up to Oryundae or observe the mountain scenery from the wooden deck.
-How to get to`C' course: Pusan National University of Education Station (Metro line 1), exit 2. Take bus 179. Or, Suyeong Station (Metro lines 2 and 3), exit 17. Take bus 42. Or, Yeonsan Station (Metro line 1), exit 12. Take bus 99. For all buses, get off at Hoedong-dong stop, the last stop. Walk toward the reservoir management office from the bus stop to find Hoedong Dam. Make a turn right at the entry for a great view of Oryundae and Bueongsan Mountain (부엉산) on the left. It takes three hours to complete the hike and can be challenging for beginners or veteran hikers who might be somewhat out of practice.