Enjoy Busan
Baseball season is back again!
Sajik Baseball Stadium

Sajik Stadium is always filled with enthusastic cheering.
 Baseball season is back.
 Regular season play in the KBO League began on March 27. With Busan's hometown team, the Lotte Giants, entering the playoffs last year after a five-year absence, hopes for a repeat are sky high. Join in on that enthusiasm with a day at the 27,000-seat Sajik Stadium in Sajik-dong (neighborhood). Whether a baseball fanatic or not, it's hard to not have fun here.
 The first thing newcomers often notice is how excited Lotte Giants fans are about their team. From the chants to the cheers, including those from the team's official cheering team, fan appreciation and support are enormous aspects of the experience.
 Returning players from the team's successful 2017 season are hoping to continue last year's winning ways. Meanwhile, newcomer Byunghun Min is bringing his eight years with the Doosan Bears to the team. Expectations are high but so is the energy... will you be part of the excitement?
-How to get there: Get off at Busan Sports Complex Stadium (Metro line 3), exit 9. Walk 10 to 15 minutes. The stadium is located across from Home Plus.
-Tickets: Visit ticket.giantsclub.com or buy tickets at the Sajik Stadium ticket office. All tickets are available one hour prior to the game. General admission tickets range from 8,000 to 12,000 won.
■ Cheering culture
 The KBO League has tens of thousands of passionate fans across all 10 of its teams located across the country. But, let's be serious: Busan's passionate cheering culture outshines them all, going so far as to have garnered international attention in a 2014 New York Times article.
 Giants fans cheer with unmatched energy throughout all nine innings (sometimes more!), even when the odds seem insurmountable. Busan's distinctive dialect even makes an appearance in a number of classic Giants cheers. Impress fellow Korean baseball fans when you shout "ajura (give the ball to a child)!" or "ma (hey, you!)."A stadium packed with people shouting this word is enough to deflate many opponents.
■ Cheering tools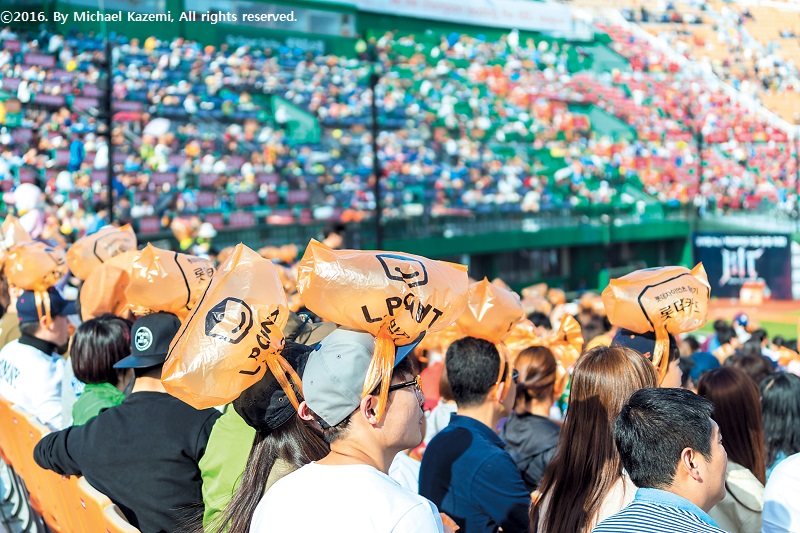 Trash bags are not used solely for trash at Sajik Stadium.
 When the orange plastic bags appear, it's time to get creative.
 Originally handed out exclusively for trash collection, these bags have since become synonymous with Lotte Giants late-game cheering. By blowing air in the bags and putting them on heads, thousands of fans turn Sajik's stands into a sea of orange. If that's not enough to cheer about, some people also tear up old newspapers and shape them to make paper flower fans that are used like cheerleader pom poms.
 If neither of these appeal to you, though, there's always good old-fashioned shouting and singing. They are often effective, too.
■ Chow down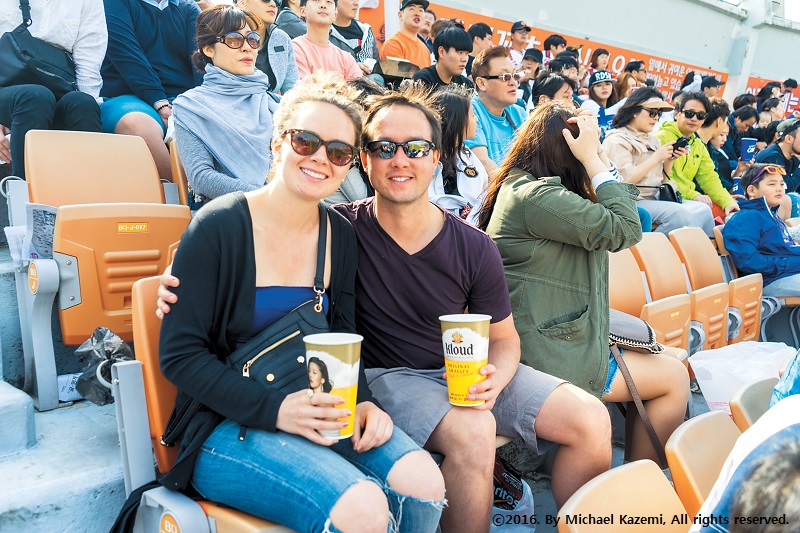 All that passion, cheering and general merrymaking can be a little difficult to maintain without proper fuel. Fortunately, fans can bring outside food into the stadium. If you've arrived empty-handed while empty-stomached, however, fear not. There are plentiful food and drink vendors within Sajik Stadium that are happy to serve both western and more Korean-styled snacks at reasonable prices, including fried chicken and beer, one of Korea's most popular flavor combinations.