Enjoy Busan
Busan Citizens Park puts a spring in your step
Busan Citizens Park

A couple enjoys a relaxing afternoon looking through some of the lovely photos that can be taken during a visit to Busan Citizens Park.
 Busan Citizens Park, as the city's largest urban park occupying more than 470,000 square meters, has quickly become one of Busan's most popular destinations for outdoor activities since opening in 2014.
 Despite its youthful appearance, there is a wealth of history at Busan Citizens Park that stretches throughout much of the 20th century. Used as a racetrack in the early 1900s during the Japanese occupation period, it later served as a United States military base known as Camp Hialeah after the Korean War. The camp was closed in 2006, with all rights to the property returning to the city.
 As its name suggests, Busan Citizens Park has been transformed from a private entity to a destination for the people. The site offers lots of wide open lawns, copious trees, rivers, fountains and children's play facilities. Amid a density of development, Busan Citizens Park is an open space oasis and a perfect destination for a full day of fun for all.
-Information: citizenpark.or.kr (Korean)
-Hours: 5 a.m. to midnight daily
■ Relaxation destination
 Fancy a picnic? Head to the gigantic grass square in the middle of Busan Citizens Park. An area of about 40,000 square meters is waiting to welcome people, picnic blankets, tasty springtime snacking, an after-noon siesta and even perhaps a pickup game of Frisbee if you're feeling sporty.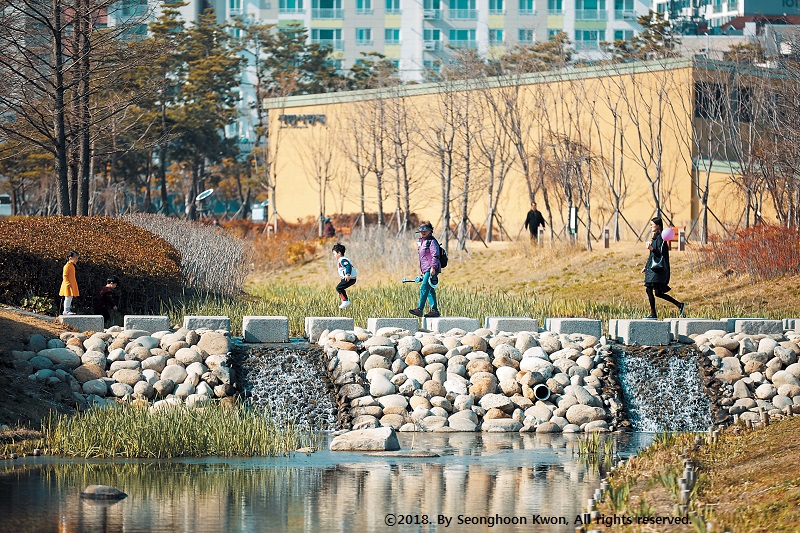 The stone bridge at Busan Citizens Park enjoys plenty of visitors throughout the day.
 Following one of several walking trails is another relaxing way to enjoy Busan Citizens Park. Various species of trees including button, ginkgo, zelkova, cherry blossom and pine can be found throughout the park. There are even tree decks and benches surrounding an artificial river for people to enjoy the sound of gentle water streams.
■ Art market
 An art market is held every Saturday along the park's forest trail from April through November. Between 10 and 20 local artists from Busan and throughout the region offer a number of metal accessories, pottery, wood crafts, paintings and more.
 Please note: the Busan Citizens Park art market is held from 2 to 6 p.m. during the spring only and will be open at different times during the summer and fall.
■ Learning center
 Want to get creative? Head to the park's learning center where anyone can create special memories by getting their hands on artistic projects.
 The learning center is in a remodeled building that once was the residence for noncommissioned officers at Camp Hialeah. Today, it's where resident artists produce textiles, prints, metal, ceramics and woodwork and where anyone can carve wood to make watches, sharpen metal for jewelry and much more.
■ Children's playground
 Busan Citizens Park offers plenty for everyone, even the little ones.
 Towers where children can climb, a large yard for active play, even a library themed after the popular Pororo cartoon are found here. A movie theater at the visitor's center shows short 3D movies from 10 a.m. to 4:30 p.m. Wednesday through Sunday, offering thrills for both children and adults. The short films are 1,500 won for children, 2,000 won for adults.
■ Book cafe
 What if what one really wants is a little quiet time with some excellent reading material? Head to the book cafe. Hidden away near the park's north side fourth gate, this area is also the site of the former Camp Hialeah commander's official residence.
 Read a book, sip a nice cup of coffee, whether inside the facility or at a bench nearby. Soak in a forested view and be relaxed. Find a book to read for free at the cafe or bring your own.
-Hours: 9 a.m. to 10 p.m. daily
-How to get there: Bujeon Station (Metro line 1), exit 7. Turn left at the Busan Bank intersection. Walk 10 minutes. Or, bus 33 at Lotte Department Store in Seomyeon, or bus 63 at Suyeong Station (Metro lines 2 and 3), exit 3. Get off at Busan Citizens Park stop.