Enjoy Busan
Hike it, you surely will like it
Hoedong Reservoir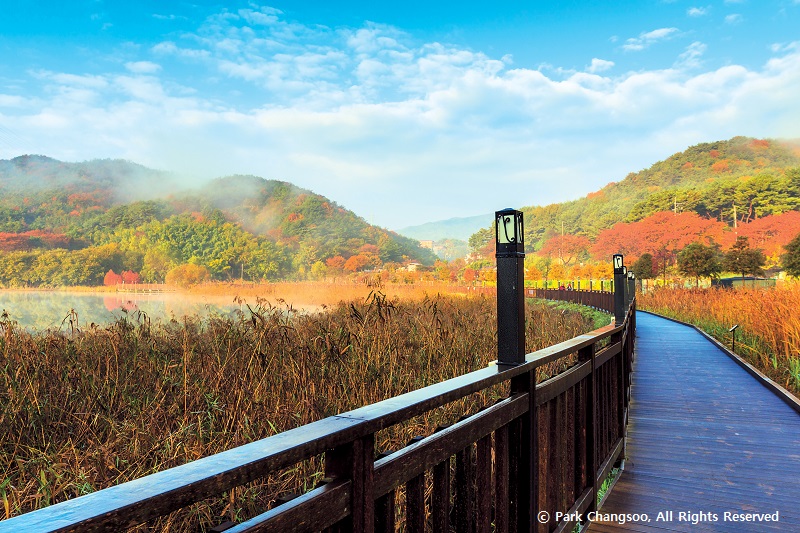 A trek through Hoedong Reservoir during autumn is sure to include lots of photo taking.
Would you like to feel nature at its most, well, natural? The trails at Hoedong Reservoir are calling.
Completed in 1942, Hoedong Reservoir is the largest reservoir in Busan. It was here that a dam was built at the upper part of the Suyeonggang River to be used as a water supply source for Busan citizens. With a total area measuring more than two million square meters, Hoedong was designated a conservation zone for the protection of water quality and restrictions were placed on its access. While reservoir access as a hiking course was granted to outdoor enthusiasts in 2010, special attention remains to ensure the water that flows through there is protected.
The deep and tranquil lake located between the ridges of the reservoir create beautiful reflections on the surface that will cause you to linger. A wooden pathway and reed forest continue along the lake. The course is easy even for beginner hikers as paths are mostly level.

Hiking access to Hoedong Reservoir was granted in 2010.
A one-kilometer red clay path offers chances for barefoot walks and has a place for washing feet at the end. Wooden gazebos and a grove of beautiful trees make the forest paths even more enticing.
An observation deck is a must-visit halfway through the course. Climb a wooden stairway for about 15 to 20 minutes to reach the top and take a glance at the reservoir lake and surrounding mountains.
Begin at Dongdae Bridge and continue along the lake to Sanghyeon Village. It takes about two-and-a-half to three hours to cover this nine-kilometer course.
-How to get there: Busan National University of Education Station (Metro line 1), exit 2, or Suan Station (Metro line 4), exit 6. Take bus 179 and get off at the last stop, Hoedongdong; Suyeong Station (Metro lines 2 and 3), exit 17. Take bus 42, also to Hoedongdong; Yeonsan Station (Metro line 1), exit 12. Take bus 99, also to Hoedongdong bus stop. Walk about five to 10 minutes from the bus stop to the hiking course entrance.
Geumjeongsan Mountain

Autumn is a beautiful, colorful time to explore the many hiking courses available in Busan.
This 801-meter monster is Busan's tallest mountain, straddling Geumjeong-gu (district), Buk-gu and Sasang-gu.
The mountain is popular among hikers for its 18-kilometer Geumjeongsanseong Fortress, well-maintained hiking trails and Beomeosa Temple, one of Korea's largest Buddhist temples. It offers magnificent views especially in autumn with a brilliant kaleidoscope of leaves. Access the trail at the back of the temple and climb toward North Gate to find the fortress along the mountain ridge. Continue along a wooden stairway to Godangbong Peak, the mountain's summit, to drink in an expansive view beyond Busan that goes as far as Gimhae and Yangsan.
Of course, Beomeosa is a must-visit attraction. Take a moment to reflect or simply relax. A towering ginkgo tree, estimated to be more than 500 years old, stands in the middle of the courtyard. The area is rich in Buddhist culture, offering copious sights such as the nationally-designated three-story stone pagoda, Buddha statue and Iljumun Gate.
For those who are not accustomed to hiking or have some difficulties walking longer distances, use the cable car on the way up. Take the cable car at Geumgang Park up the mountain to access the hiking trail.
-How to get there: Beomeosa Station (Metro Line 1), exits 5 or 7. Take the alley between the exits and walk straight three minutes. Take bus 90 at the Beomeosa entrance bus stop and get off at the Beomeosa ticket office bus stop. One-way and round trip tickets for the cable car at Geumgang Park run 5,000 and 8,000 won, respectively.
Jangsan Mountain

The flame grass found on Jangsan Mountain is a stunning sight.
Jangsan Mountain in Haeundae-gu is the best location to appreciate fields of beautiful flame grass.
Jangsan Mountain commands a view of not just downtown Busan but also of the nearby ocean. It is a very popular hiking destination much of the year. Lovely sights such as a refreshing waterfall bring people out in the summer, and flame grass, known by its scientific name miscanthus, draws people out in autumn.
Start from Daecheoncheon Stream and climb toward the mountain. Breathe in crisp mountain air while walking through the forest path and forest park. The trail continues past Yangun Waterfall, with its majestic roaring currents, and then Daecheon Park. The trail from Daecheon Park to the flame grass field runs more than two kilometers and autumn leaves all over the area are a welcome sight.
Silvery waves through the flame grass field against the blue sky are a special gift offered only around this time of year. The site is considered one of the 12 most beautiful sights in Haeundae, according to the Haeundae government office. Take pause and find peace of mind surrounded by the beauty of nature. Then, climb another 15 minutes from the flame grass field to reach the mountaintop and take in additional excellent views of the city below.
-How to get there: Jangsan Station (Metro line 2), exit 12. Walk straight 20 minutes to the entrance of Daecheon Park.
Jangansa Temple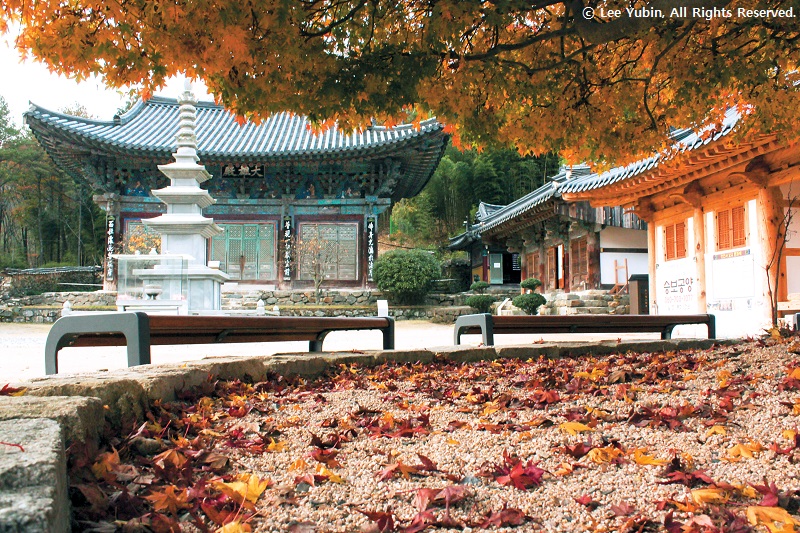 Jangansa Temple is a humble and beautiful place to visit.
Jangansa Temple in Gijang-gun (county) is another well-known destination to appreciate beautiful autumn foliage. Its stunning valleys attract numerous hikers in the summer, but colorful maple trees give off great autumn vibes around this time of year.
While this temple is not as big or fancy as some others, the magnificent mountain ranges surrounding it are a big draw for those who want to appreciate nature, especially between late October and mid-November when the mountain is covered with colorful leaves.
Built during the Silla Dynasty era, this more than 1,000-year-old temple is home to many cultural properties including the treasure-designated daeungjeon (main shrine). Check out Great Buddhist Master Dalma's standing statue and a three-story pagoda with a 500 year-old ginkgo tree in front of the sanctuary. The tree, with its tangled branches reaching toward the heavens, looks majestic.
-How to get there: Haeundae Station (Metro line 2), exit 7. Take bus 39 and get off at the Gijang Patrol Division bus stop. Then transfer to mini bus 9 and get off at the Sangjangan bus stop. Walk to the temple for 20 minutes. A taxi ride costs around 10,000 won from Ilgwang Station on the Donghae Line.