Enjoy Busan
Wire Factory rebirth spawns art, food, culture
Busan's Unusual Spaces Ⅰ: F1963
Wire Factory rebirth spawns art, food, culture

F1963 has emerged as one of the city's major cultural and artistic spaces. Pictured above: customers enjoy Cafe Terarosa inside F1963.​
Inside the former factory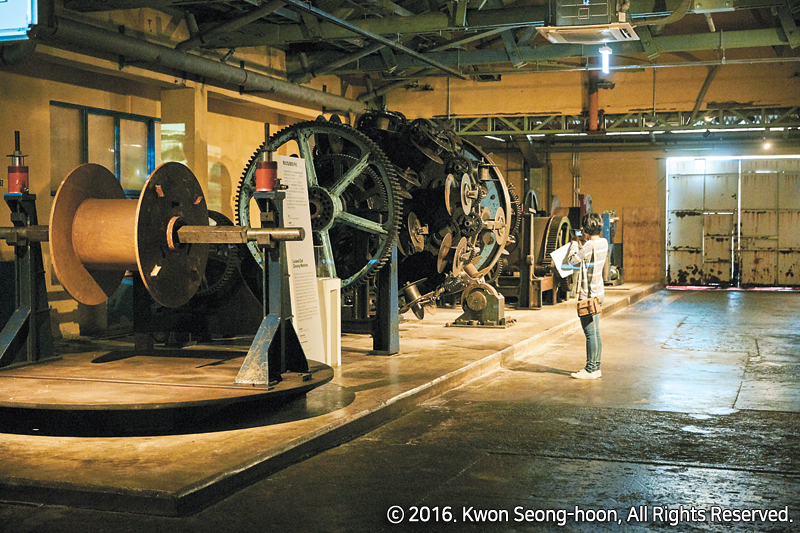 Some factory machine parts remain intact as a part of the decor. ​
F1963, a name signifying factory, fine art, forest, family and its year of construction, was a wire rope factory from 1963 to 2008. It has now taken on a new form, but evidence of its history remains intact.
The 10,560 square meters inside F1963 began as the KISWIRE Suyeong wire factory, before renowned architect Jo Byeong-su remodeled them into an art gallery and multi-faceted cultural space. It opened last September during Busan Biennale.
F1963 is the result of a Memorandum of Understanding between Busan City and KISWIRE, a Busan-based company, and is considered an exemplary case of corporate activities supporting the arts. The old factory has been transformed into an art space similar to the Tate Modern Collection in London and the Lingotto Concert Hall in Turin.
The factory drew hundreds of thousands of visitors as the venue for last year's Biennale and was deemed a successful model of cultural regeneration. The space will serve as an exhibition and performance hall for Busan's major arts events in the future.
The city and F1963 are considering a plan to install a massive book cafe with hundreds of thousands of titles in the remaining space, in addition to adding a gathering place for artist and youth communities, as well as art storage facilities.
F1963 is characterized by a harmony between the old and the new. Its interior was remodeled while its exterior was restored. The signs of the factory remain intact in its spacious interior, filled with vintage machine parts, artwork and the aroma of fresh coffee.
- Address: 20, Gurak-ro 123, Suyeong-gu, Busan
- How to get there: Get off at Suyeong Station (Metro line 2) and go out exit 5. Take bus No. 54 and get off at the KISWIRE bus stop. Or get off at Mangmi Station (Metro line 3) and go out exit 2. Transfer to mini bus No. 2 and get off at the Sanjeong Apartment bus stop.
Hidden in the bamboo forest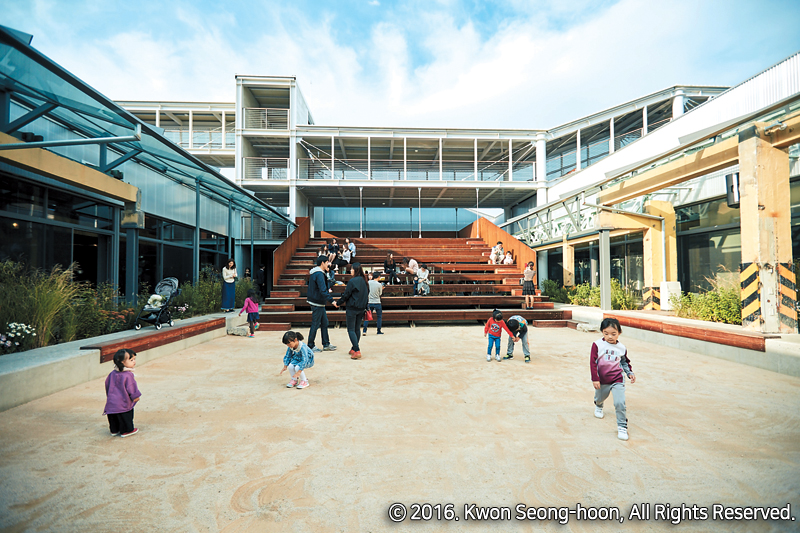 Jungjeong courtyard in the center of F1963 has an open roof. ​
Find F1963 along a bamboo forest path. The grove grows on the land where wire production machinery was once located, marked by a trail made of concrete cut from the factory floor. Follow the bamboo forest pathway to find F1963.
From above, F1963 takes on the shape of three overlapping quadrangles.
The innermost quadrangle refers to Jungjeong, a central courtyard. Defined by a natural dirt floor following the removal of the original concrete and an open roof for natural light, it's a prime outdoor space for concerts, performances, parties and seminars.
The second quadrangle, encircling Jungjeong, is a commercial zone complete with Cafe Terarosa, a well-known hand drip coffee shop, and Praha 993, a Czech craft beer bar.
The outermost quadrangle refers to the exhibition hall. It came into the spotlight as a Biennale venue when it opened last September. Although it looks rough and dark, its unique atmosphere is captivating. With rusty steel ceiling frames still exposed and old machinery, now incorporated into the decor.
Some exhibition works remain on display, with the hall having become a gallery and concert venue after the Biennale.
The owners of unique local shops also gathered to hold a flea market last December. F1963 will continue to take on a new look and welcome visitors in the future.
A cup of joe at Cafe Terarosa

Cafe Terarosa is known for its hand drip coffee.​
Wires hanging straight down from the ceiling serve as a wall. Large tables made of steel provide relaxation and an opportunity for study. Cafe Terarosa is well-known for its coffee, brewed with a variety of coffee beans and freshly-baked bread. The cafe originated in Gangneung and has since expanded across the nation, however, Terarosa Suyeong in F1963 is the only location in Busan. Its made-to-order, hand-drip coffee is brewed from a wide range of coffee beans including Guatemala Tulio and Ethiopia Yirgacheffee. The shop also offers such delicious desserts as croissants, scones, pound cake, cookies, tiramisu and tarts.
Already well-known on social media, Terarosa is crowded on weekends, when it is most difficult to land a table. The best time to visit the coffee shop is weekday mornings or afternoons when it is less crowded.
- Hours: 9 a.m. - 9 p.m.
- Hand-drip coffee runs from 5,500 to 6,000 won. Americanos and cafe lattes are 5,000 won; tiramisu is 5,500 won.
Genuine Czech beer at Praha 993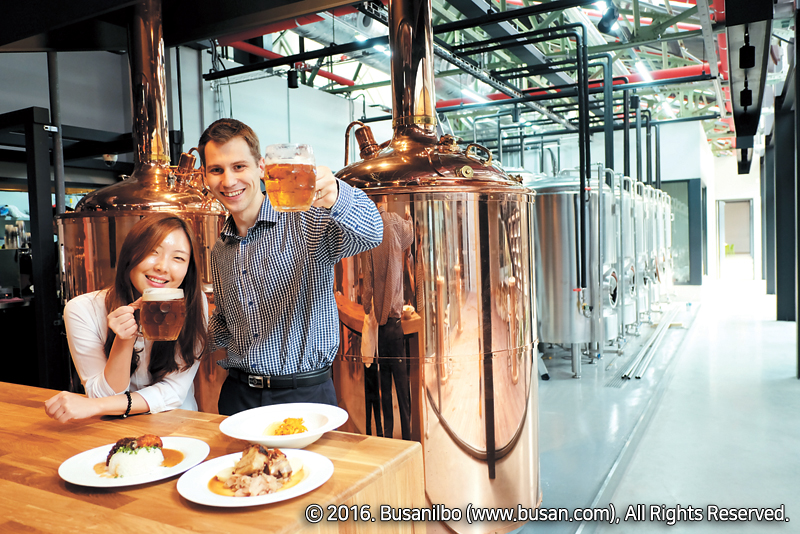 Praha 993 serves authentic Czech fare in F1963.​​
Praha 993 is located across from Terarosa, surrounding Jungjeong.
The digit 993 refers to the year when beer was first made in the Czech Republic. Praha 993's beer is brewed with the original recipe used by Czech monastery brewers and ingredients imported from the Czech Republic. The authentic libation, made in-house, has a savory and slightly bitter flavor, popular among local beer lovers. Pair the suds with fare made by a Czech chef, for sensational, though unfamiliar tastes.
- Hours: 11 a.m. - 10 p.m.
- Authentic Czech craft beer is 5,000 won while chicken schnitzel runs 13,000 won and beef goulash is 15,000 won.