Enjoy Busan
Busan's seven beaches alive for summer season: Haeundae and Gwangalli
Busan's seven beaches alive for summer season
: Haeundae and Gwangalli
Haeundae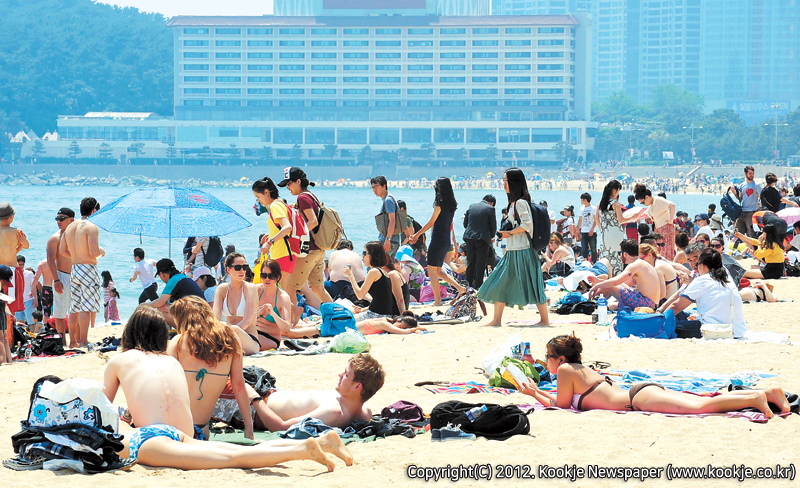 The first vision that comes to mind when Busan's beaches are mentioned is iconic Hae-undae, Korea's largest beach. It lives up to its reputation in the summer, as enormous crowds of vacationers from all over the country flock to Haeundae. It's standard practice for workers and students alike to spend their summer vacations escaping from the sweltering heat under a parasol on Haeundae Beach.
Haeundae saw the highest number of vacationers of all Busan's beaches last summer. An estimated 15 million people stopped by.
There's no lack of entertainment in Hae-undae, day or night. Sunbathers and swimmers line the beach during the day and party nearby after dark. Whether floating on a tube, tossing around a Frisbee, or playing a game of beach volleyball, there's plenty to do.
Newly-opened Ocean Cafe, a glass-walled cafe on the sand, welcomes customers with books and coffee. A water play area, complete with a kids'pool, is another recent addition.
Let the good times continue with a stop to one of the many seaside pubs and restaurants, each one teeming with customers when the sun goes down. After dinner, walk the shoreline in the cooler night air. Swimming is permitted until 9 p.m. from July 11 to 24 this year. The unusual opportunity to take a dip in the dark at Haeundae is expected to draw even more visitors to the already-popular site.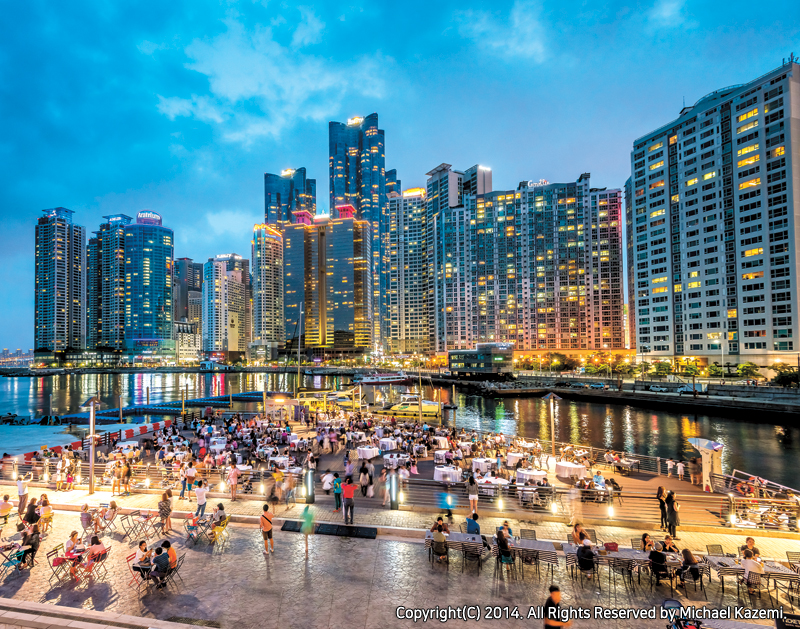 - Don't miss: The Bay 101, known for its colorful night views created by the yachting center and Marine City buildings. Try a maritime leisure sport during the day and refuel with a plate of fish and chips at night. The Bay 101 is ideal for summer adventurers, located at the back of the Westin Chosun Hotel on the west side of the beach.
- How to get there: Get off at Haeundae Station (Metro line 2) and go out exit 3 or 5. Walk straight toward the beach.
Gwangalli​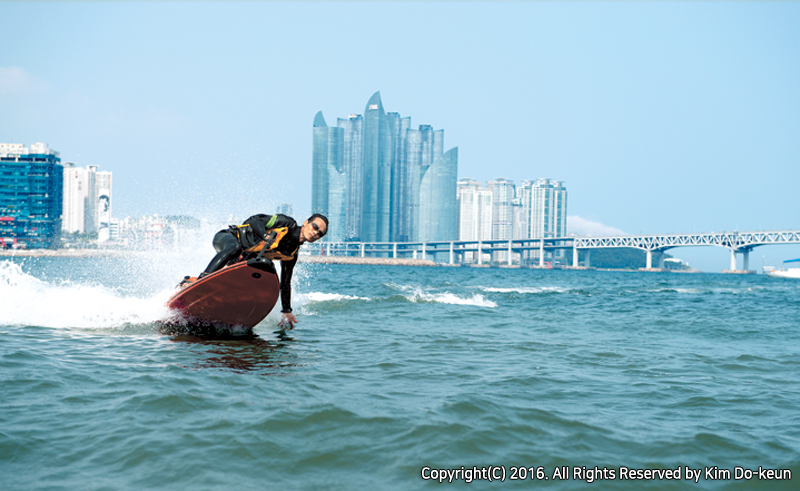 Full of romance and city lights, Gwangalli is an ideal evening location for a date. The 7.4-kilometer-long Gwangan Bridge is Korea's longest suspension bridge and a local landmark. During the day, the bridge casts a shadow against the sea and after nightfall its thousands of twinkling LED lights illuminate the waters below.
The beach is flanked by Millak-dong and Namcheon-dong, on the east and west sides, respectively. Test your sea legs in a kayak, stand up paddleboard, or a Jet Ski. The seaside trail connecting the two ends is abuzz with visitors and residents. Gwangalli also transforms into a hub for cultural activities at night with free performances staged regularly while the main road along the beach is closed to traffic weekends during the summer.
- Don't miss: Hwangnyeongsan Mountain Observatory Lounge and a view of the entire city from Haeundae to Seomyeon, Dongnae and beyond. Take a taxi from Geumnyeonsan Mountain Station.
- How to get there:​ Get off at Gwangan Station (Metro line 2) and go out exit 3 or 5. Walk 15 minutes to Gwangalli Beach, or take bus Nos. 38, 41, 42, 62, 83, 83-1 or 108 and get off at the Gwangalli Beach bus stop and walk 5 minutes.