Megacity
As a metropolitan area connected to enable core city–focused lifestyles, the Bu-Ul-Gyeong Megacity is a megalopolis with a population of 10 million or more and the economic capability to generate globally-focused business.
※ Metropolitan City: City with a population of 1 million or more that acts as the backbone for national and local politics, culture and economic activity
※ City: Center of social, economic and political activity with a population of 50,000 or more
Planning of the Bu-Ul-Gyeong Megacity
Strategy to develop a single super-regional economic bloc in which Busan, Ulsan and Gyeongnam can live and grow together through the formation of living, economic, cultural and administrative communities, and resolve public problems caused by the population density in the capital area and enhance competitiveness through its global city status.
The Regulations on the Establishment of Special-purpose Local Governments, based on the completely revised Local Government Act, will serve as the legal foundation of the Bu-Ul-Gyeong Megacity, as well as a means for securing executive action.
※ Special-purpose Local Government
: Special type of local self-governing body established when two or more local governments need to carry out work over a large area for a specific purpose.
Vision
Bu-Ul-Gyeong, as a single team, one of the eight megacities in Northeast Asia,
Core Values
Tolerance, Prosperity, Sustainability, Quality of life, Safety, Autonomy and Decentralization,
Goals
Drive policy projects that promote sharing and unity through the "formation" of a living community
Achieve local and national boost through "realization" of an economic community
Create a cultural sphere for sharing through the "formation" of a cultural community
Present a leading model of autonomy and decentralization through the "establishment" of an administrative community
Core Strategy
Expandability : Strengthen local and national competitiveness
Identity : Establish a unique identity for the Southeast Region
Connectivity : Build multi-core functional networks
7 Megacities in Northeast Asia
Korea: Capital (Seoul)
China: JING-JIN-JI (Beijing), CHANGJIANG (Shanghai), JIUJIANG (Hong Kong)
Japan: KINKI (Osaka), CHUBU (Nagoya), KANTÔ (Tokyo)
Global competition is intensifying between metropolitan areas around the world
Inter-city competition is intensifying according to the increasing megacity trend (33 in 2018→43 in 2030)
Major advanced countries, such as in the Eurozone and Japan are promoting megacities as a strategy to enhance the competitiveness of their cities.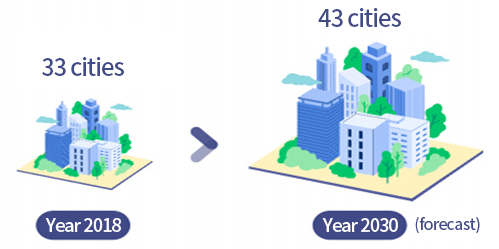 Excessive concentration in the capital area and intensifying imbalances with non-capital regions
Accelerated concentration of population, Gross Regional Domestic Product and R&D costs in the capital area
Information Resource: Statistics Korea (2020)/1000 companies based on sales in 2019, Busan Chamber of Commerce & Industry (2020)/ Credit card usage amount by region (as of 2019), The Bank of Korea
Necessity to establish a strategy for a local New Deal in the Southeast Region in connection with the national Korean New Deal
Establishment of a response strategy for the Southeast Region's New Deal following full-scale operation of the national Korean New Deal

Strengthen power of execution of existing policies
Establishment of a Southeast Region-wide joint response system and discovery of projects, including Digital and Green New Deals.

What is Bu-Ul-Gyeong?
What is Bu-Ul-Gyeong?, Administrative Districts, Surface Area
Administrative Districts

Busan: 15 counties (gu), 1 towns (gun)
Ulsan: 4 counties (gu) , 1 towns (gun)
Gyeongsangnam-do: 8 cities, 10 towns (gun)
Southeastern Region: 8 cities, 19 counties (gu), 12 towns (gun)

Surface Area

Busan: 769.94㎢
Ulsan: 1,061.54㎢
Gyeongsangnam-do: 10,540.12㎢
Southeastern Region: 12,371.6㎢
(12.3 % of the national area)
Information Resource: Website of Metropolitan City (as of 2020)
Bu-Ul-Gyeong preparing to become a global megacity
Historical and cultural homogeneity

Same administrative district since the Three Kingdoms Period
Patriotic community that fiercely defended the country on battlefields during the Japanese Invasion of Korea in 1592 and the Korean War
Starting point of pro-democracy movements, such as the Busan-Masan Democratic Uprising

Formation of a sphere for community life

External traffic volume by city and province in the Southeast Region

DOWNLOAD
Close industrial links in the Southeast Region

Companies that produce and supply shipbuilding-automobile consumption goods
Supply chain-focused closed networks, including shipbuilding, automobiles, machinery and construction, etc.
Better than national average capital intensity in future-based car-related companies in the Southeast Region

DOWNLOAD