Project Outline
Name of the project: Building an international industrial logistics complex
Location: Around the Gangseo area, Nakdonggang River Estuary
Space: 33㎢
Project period: 2008 to 2023
※ Develop an area of 33㎢ during the first stage, and then extend the development area gradually, depending on development needs.
Necessity
National necessity
Encourage the development of Busan New Port to make it an international hub port that will be true to its name, and contribute to strengthening national competitiveness

Promote the development of Gimhae International Airport and its surrounding area.

Reinforce connections between the port and the neighboring industrial logistics cluster

Transform Busan New Port into a high value-added port generating higher volumes of inbound/outbound cargo, to heighten national competitiveness in the field of harbor logistics.

Further national growth centering around Busan New Port

Make the most of the economic value of the Gangseo area, which has optimal conditions with its port, airport, railway, roads and rivers connected in domestic and overseas logistics networks.
Regional necessity
Establish a highly competitive large scale industrial logistics complex in the Gangseo area, capable of reducing logistical costs, forming an industrial cluster and optimizing human resources.

Develop the area into a focal point of economic revival for the Southeast metropolitan area, the largest industrial belt in Korea, by attracting outstanding domestic and overseas businesses that will, subsequently, contribute to balanced national development.

Solve serious land shortage problems facing Busan City and the nearby areas.

Make full use of the area as a global supply base for parts and component materials, a multi-logistics complex and a foreign investment complex.
Development potential of the Gangseo area
Domestic
Busan New Port and an international airport to be located in the area. Proximity to the Free Economic Zones.
Central location in the southeast industrial belt where key national infrastructure is clustered.
Starting point and terminus of a future pan-Korea waterway and transcontinental railroad.
Ideal location on both the Gyeongbu Line and Yeonghonam Line → the development of the Gangseo area is expected to make the metropolitan traffic network more organized and advanced.
South-North network of major trunk roads built along Geoje, Daegu and Saha in Busan.
Roads along Miryang, Jihae and Gimhae International Airport are scheduled to be built in the future.
West-East roads connecting Jinhae and Saha, Busan and Samnyangjin, and later, a road between Busan and Changwon are all scheduled to be built.
An expressway connecting Busan and Masan, Busan and Daegu, as well as two roads between Masan and Busan through Gimhae and Samnyangjin.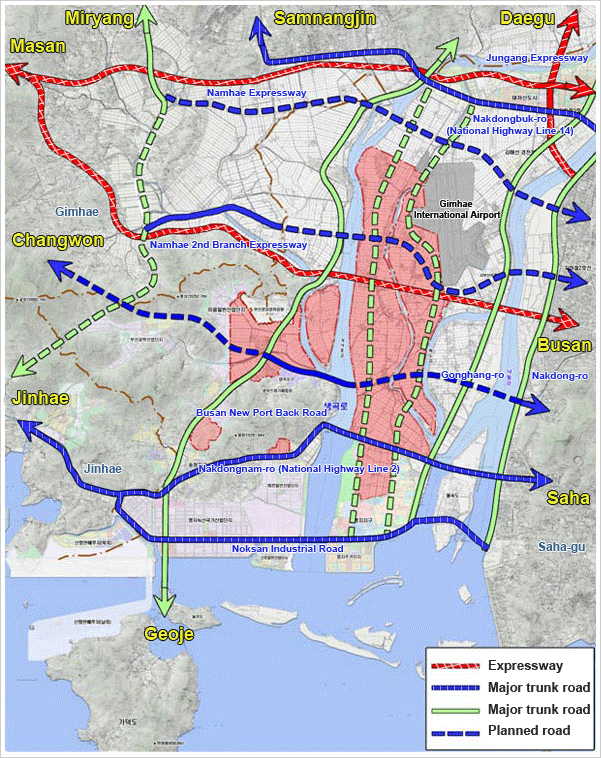 International
An international port and an international airport are located in the area→ the center of a global logistics network.
※ It will be a major goods distribution spot connecting American and European routes when the North Pole Route opens in the future. (The new route will cut down the travel time between Busan Port and Rotterdam Port by 10 days leading to a 40% reduction in costs.)
Facilitate the formation of goods distribution networks with cities in the eastern part of China, and Far East coastal cities in Russia.
Link with Kyushu, Japan to establish a wider metropolitan economic zone.
Three Development Prongs of Busan's Global Vision
1. Central Busan Zone connecting the Gyeongbu, Gyeongui, and Joseon Tongsinsa Lines
2. The axis of East Busan connecting East Russia, the West coast of Japan and the Korean Peninsula's East coast
3. The axis of West Busan, the Gateway of East Asia, connecting Asia, Europe and the Americas through the Straits of Korea