News
International promotion for pending global event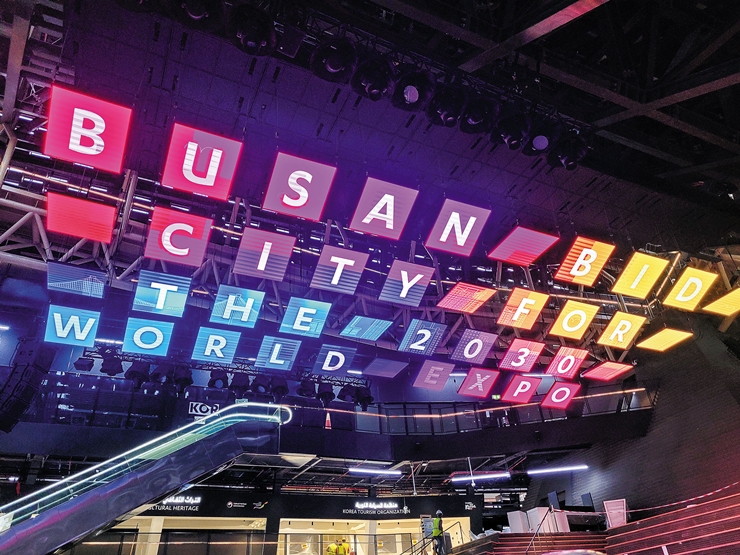 ▲ A remarkable visual display welcomes tourists and local United Arab Emirates (UAE) citizens to learn about the city of Busan.
 On Sept. 27, city officials and the World Expo 2030 Busan Pan-citizen Hosting Committee held a resolution contest for a bid to host the 2030 World Expo at Busan Port International Exhibition & Convention Center. Guests from local industries, media circles, academia, nongovernmental organizations and university student volunteers attended the event.
 Subsequently, the World Expo in Dubai began on Oct.1 and will continue till the end of March 2022. Korea is one of 192 countries represented at the expo, with a devoted area. The Republic of Korea Pavilion, the fifth-largest, draws on the development of cutting-edge technologies and is aptly titled "Smart Korea, Moving the World to You," following the theme of the expo, "mobility." Within the 4,651-square-meter tent-inspired structure, visitors can experience diverse exhibits, including augmented reality (AR) and virtual reality (VR) exhibitions.
 In particular, there is a promotion booth, "Busan Public Relations Hall," at the Dubai Korean Goods Exhibition, held by Dubai Exhibition Center. There, guests can watch a Busan promotional video featuring its prospects as the next host. While visitors from across the globe visit Expo 2020 Dubai, enthusiasm for the potential World Expo 2030 Busan continues to spread throughout the nation.
 Multiple steps must be taken before Busan becomes the next city to host the World Expo. Presentations from prospective candidates are scheduled for early December, at the Bureau International des Expositions General Assembly (BIE), in France. Additionally, a general road map and plan are in the works to prepare for the official application process and BIE inspection next year.
 Expo 2020 Dubai appoints each country a "National Day." "Korea Day," on Jan. 16, launches the Korea Innovative Tech Fair and "Korea Week," which lasts until Jan. 20. During this time, Mayor Park Heong-joon and Ministry of Foreign Affairs and Trade dignitaries will visit Dubai. They will invite officials, including members of the BIE, to banquets, cultural performances and VIP meetings.