News
New Gadeok airport necessary to regional welfare
City Hall is hard at work planning for Busan's new airport, which aims to better connect Busan to the rest of the world. The city has drawn up a road map for the construction of Gadeok International Airport. Building a new airport, rather than simply expanding Gimhae International, is necessary to accommodate an influx of visitors for the 2030 World Expo and to further develop Busan as an international destination.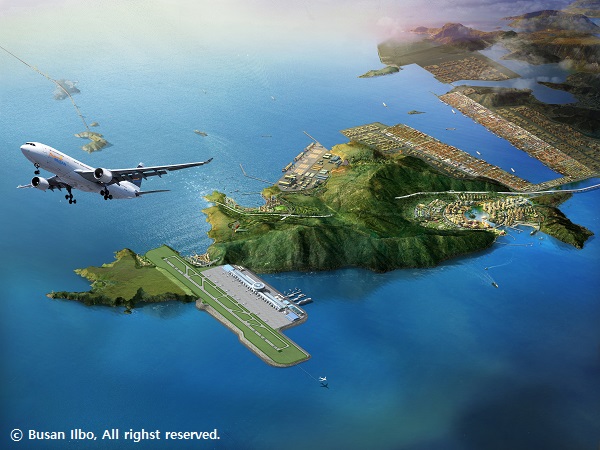 △ An aerial view of the future Gadeok International Airport.
City Hall is doing its utmost to raise awareness of the need to build a new airport that can cover the entirety of Busan, Ulsan and Gyeong-sangnam-do 24 hours a day. In addition, it has come up with a plan to improve runway construction, which will dramatically improve noise and safety.
This plan will also reduce total offshore landfill area, which will in turn lower the cost of construction. In fact, as the landfill area decreases, the estimated cost of building the new airport is only about 500 billion won more than it would cost to expand Gimhae (around seven trillion won). Noise levels will be manageable following the relocation of just 400 households. In addition, Gimhae faces numerous difficulties in expansion, whereas Gadeok can be built in a manner that accommodates further expansion if necessary.
To win hosting rights for the 2030 World Expo, City Hall believes that a basic location and design plan for a new airport should be established before the city sends its application to the Bureau International des Expositions in May 2022.
The necessity of a new airport is made even clearer after consulting data from a survey conducted by the Busan Development Institute. On average, travelers from the southeastern part of the country spend about 150,000 won to go from their place of origin to Incheon International Airport, which is about 700 billion won in total per year. The Gadeok International Airport is a long-overdue project and an obvious need for the eight million residents of the nation's southeastern region.
Constructing a brand new airport in Gadeok is not an unreasonable demand but a necessary one to do away with high costs, noise pollution and personal inconvenience. It is also a matter of reviving the area's increasingly stagnant economy. Construction of the new airport is essential for the development and stability of the southeastern region and the entire nation.