Life
Professor Kessler inspires citywide wellness
Wellness refers to an ideal state in which physical, mental, and social health are balanced in harmony. Meanwhile, last year, Busan became the first city in Korea to become a "super-aged society," meaning that Busanites aged 65 or older account for more than 20 percent of the population, which helped spark the healthy "15-minute city" policy.
A "15-minute city" is where people can easily access childcare, medical care, culture, transportation and sports facilities within a 15-minute walk, or two kilometers, from any district. In this regard, Dynamic Busan would like to introduce Profe-ssor Daniel Kessler, who teaches and promotes local wellness activities.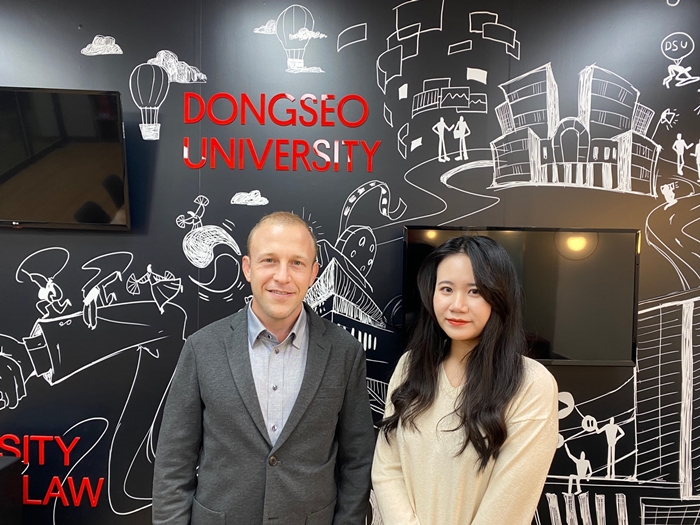 △Doan Anh Duong and Professor Kessler celebrate her second place win.
Q. Please introduce yourself.
A. I'm an assistant professor of Business at Dongseo Unive-rsity, with a Ph.D. in Wellness Tou-rism. Also, I'm a member of the advisory committee for the Busan To-urism Organization, a research assoc-iate with the Wellness Tourism Association and on the board of a project with the University of Turku, Finland.
Tell us what brought you to Busan and what you like about the city.
Around 2009, one of my former business partners moved to Korea and told me to visit. After staying for a bit, I visited Busan and decided to live here. I love the beautiful beaches and the delicious cuisine. It is one of the only cities in the world where you can take clean and safe public transportation to a mountain to hike then to the beach for a swim, all in the same afternoon.
​Q. Busan is a super high-aged society. What do you suggest for the city in regards to that and wellness?
A. Many Korean senior citizens enjoy hiking; perhaps the city could offer them classes about hiking and nature that could be beneficial physically as well as intellectually. During the spring, offering outdoor yoga classes could be great. My good friend and fitness expert, Jin Kahn, suggested that the city add various fitness equipment on the beaches.
​Q. How did you start wellness consulting?
A. I was encouraged by Dongseo University International College Dean Hekyung Kim to create a research group in my area of expertise, so I founded the "Workplace Wellness Research Society." Then, an opportunity presented itself from the Global Wellness Institute called "The Shark Tank of Wellness," in which students compete from around the world by submitting their wellness business idea. It was competitive, but Doan Anh Duong, a student of mine, won $2,500 in prize money in December 2021.
Duong took the competition very seriously and met me several times to iterate on her idea. It was such an amazing learning experience for her! To help her, I used some practical knowledge from my experience when I was a young entrepreneur.
Q. Do you have any hopes for this year?
A. I haven't seen my family in several years because of Covid-19, so I hope to visit them for a family reunion this July. Also, I'm eager for some good news regarding Busan and the World Expo 2030.