Life
[INTERVIEW ] Busan becomes center of Korea-Russia relations
An interview with the Busan Tuzhur magazine production team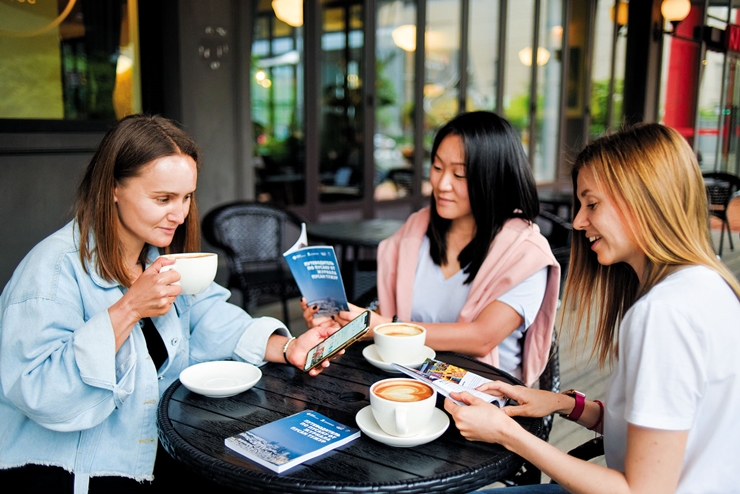 △ Left to right: Katya Rogozkina, Sasha Don, and Tatiana Mandzy (Photo taken by Anastasia Khan)
 Since 1991, when diplomatic relations were established, Korea and Russia have grown closer. According to the Korea Overseas Cultural Promotion Agency in 2020, 89.9 percent of Russians view Korea positively. Consequently, more Korean university students want to study Russian language and culture.
 Busan became the twin city of Vladivostok in June 1992 and St. Petersburg in June 2008. It was formed between representative port cities. Bus-an was once the city most visited by Russians. It started with trade, but now more Russians are visiting Busan to go sightseeing or live.
 With relations between Busan and Russia growing, the Busan Tuzhur team has plans to continue providing Russians with information about food, events, tourism attractions and life in Busan. Let's meet this team.
Q. Hello! Please introduce yourselves!
A. All three of us are copywriters and editors of Busan Tuzhur a blog in Russian.
 I'm Tatiana Mandzy, from the Kamchatka Peninsula. I have been living in Busan for 11 years. I graduated from PKNU with a Master's in Tourism Management. Also, I'm a portrait photographer.
 I'm Sasha Don, and I was born on Sakhalin Island. I have a degree in Japanese Culture and moved here nine years ago. I also do portrait photography and my works have been exhibited at different international exhibitions.
 I'm Katya Rogozkina. I'm from Saint-Petersburg and I've been living in Korea for 10 years. Back in Russia, I worked in the marketing industry and now I help Russians make individual travel programs.
Q. Tell us a bit about Busan Tuzhur.
 It's a travel blog about Busan, established in June 2015. In the beginning, we had an idea to share information about Busan places we liked with the Russian Community.
 It's a volunteering project, and all of the information posted is our recommendations. We post places we find thatare worth visiting.
Q. What part will Busan play in the relationship between Korea and Russia?
 We hope that Busan will attract more Russian tourists from different parts of Russia by becoming a more popular city in the tourism industry. Trade relations between Russia and Korea were established many years ago and we know that a big part of this importing and exporting goes through the Busan port. We want the port to continue developing and growing to strengthen the trade relations between Korea and Russia.
 We think that the opening of a new airport on Gadeok-do will increase tourist traffic, international festivals, business summits, conferences and medical tourism.
Q. What does the future have in store for Busan Tuzhur?
 In 2020, we printed our first Busan Tuzhur guidebook in Russian. This was a special issue for a medical company called "Sanvita,"which works with the Russian medical tourists in Busan. It was supported by Busan Metropolitan City, BEPA Busan Economic Promotion Agency and Medical Busan. This year we plan to make a new one.
(※ 'Busan Tuzhur' Website: busantuzhur.com)