Food
Fusion food for February
​Busan World Food - Sister Cities ② Vietnam 
Busan is a melting pot of culture, science and trade, with 26 sister cities. In hopes of hosting the World Expo 2030, Dynamic Busan would like to introduce popular cuisines from these cities and recommend comparable local eateries.
February comes just before spring begins. While waiting for the cold winds to subside, Dynamic Busan has discovered and decided to devour Vietnamese dishes. Ho Chi Minh, the country's largest port city and a paradise for hot rice noodles and fresh seafood, happens to be another of Busan's sister cities and has been since November 1995.

△Initially utilizing the more common buffalo pho has evolved by incorporating different ingredients to create unique flavors.
■ Busan's sister city: Ho Chi Minh
One of three municipal cities in Vietnam and the center of the country's economy, culture, science and technology, Ho Chi Minh accounts for 29 percent of the gross domestic product. The city continues to promote the opening of capital markets and reform of the financial and fiscal systems.
Over 27 years as sister cities, Busan and Ho Chi Minh have built a strong relationship. To memorialize their profound friendship, both cities declared Sept. 15, 2004 "Busan Day" and Nov. 3, 2005 "Ho Chi Minh City Day," respectively. Similar geographic resources, such as the proximity of both to marine and mountainous regions, have only strengthened the bond. These sister cities share not only ideas for improving international relations, but also recipes and spices.
■ Tropical climate tasty food
Ocean access promotes maritime travel, trade and cuisine. Therefore, European and American fare occasionally influence local traditional food, to create fusion dishes such as cha gio (spring rolls), bun cha (grilled pork patty and noodle dish) and banh xeo (thin stuffed rice pancake). The subsequent arable land and humid climate facilitates fruitful cultivation of an assortment of vegetables.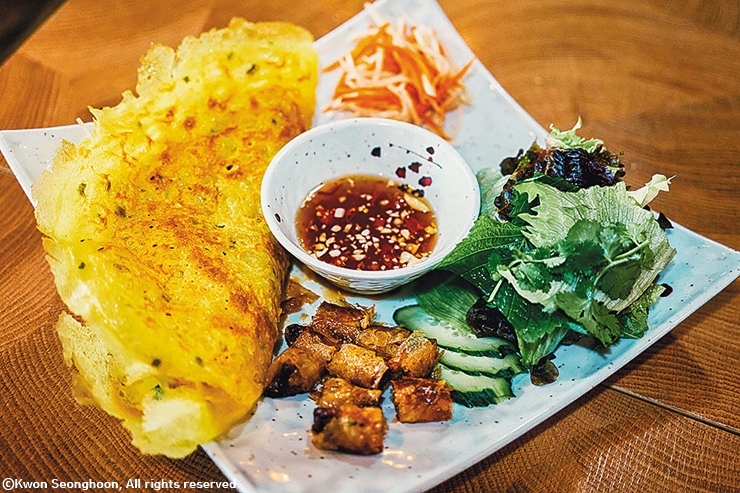 △Crepe-like banh xeo is made with rice flour.
■ Oodles of noodles
Vietnam's fertile soil boasts plentiful harvests of rice which is often used to make most of the nations' specialties, including the country's most famous soup, pho. It's made by boiling flat rice noodles in a pot with spices, neoc mam (fish sauce) and meat. Even though the ingredients vary slightly from region to region, pho typically incorporates bean sprouts, cilantro, lime, red pepper and other spices.
■ Banh mi: versatile sub-like snack
One of Vietnam's most famous street foods, banh mi is a long baguette filled with plenty of ingredients and typically served with meat, a fried egg and vegetables. Initially, bread in Vietnam was produced entirely from wheat flour, so it was considered a luxury item. However, when World War I broke out and bread became difficult to import, bakers mixed in cheap rice flour, creating a delicious inexpensive alternative. From then on, banh mi has grown in popularity and can be found worldwide.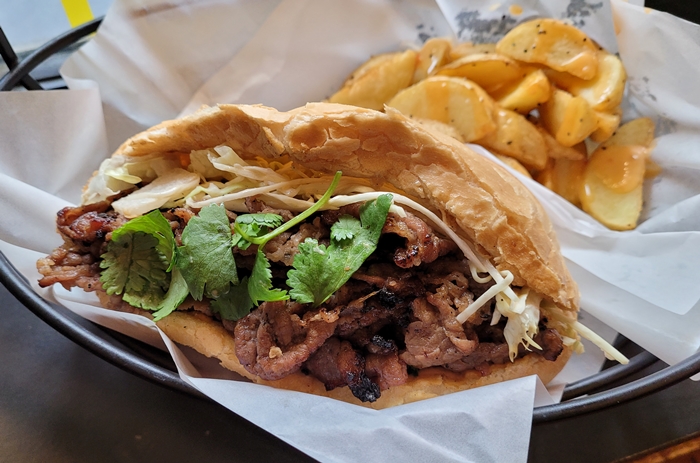 △Various meats and vegetables can be packed inside banh mi.
■ Wet your whistle
While visiting the humid climate of Vietnam, a nice cold drink may be just what the thing. To quench your thirst, try a popular local drink like sinh to (fruit smoothie) or nuoc mia (sugar cane juice). If you prefer warm drinks, try a cup of ca phe trung (egg coffee), traditionally made with coffee, sugar, condensed milk and egg yolks.
■ Vietnam in Busan
We would like to recommend three local Vietnamese-owned and operated venues which boast local acclaim and are home to some of the city's highest ratings.
▷ PhoLan (베트남쌀국수 퍼란)
Among the many pho restaurants in Seomyeon, many say this is the closest one can get without a plane ticket. In one corner of the store are photos of the CEO with famous Korean chefs.
· Address: on second floor, 4, Jungang-daero 692beon-gil, Busanjin-gu
· How to get there: Seomyeon Station (metro line 2), exit 2.
▷ Ngon Viet (응온비엣)
Visiting this quaint shop feels like a trip to Vietnam, from the tiled tables to the patterned dishware. The authentic dishes contain 100 percent Korean beef bone broth and genuine spices.
· Address: 65-1, Udong 2-ro, Haeundae-gu
· How to get there: Haeundae Station (metro line 2), exit 4.
▷ May Pho (메이포)
The bright yellow exterior is complemented with the vibrant teal interior walls, colorful curtains and bamboo lampshades that set the ideal atmosphere for diverse Vietnamese dishes.
· Address: 496, Jwadongsunhwan-ro, Haeundae-gu
· How to get there: Jungdong Station (metro line 2), exit 5.