Views
Busan is a cinephile paradise
October in Korea boasts the perfect weather for outdoor activities. Take a stroll under flame-colored trees or lay out a picnic and relax in the fresh air.
While these are worthwhile options, try something novel and visit an outdoor cinema. Busan is the "City of Film" after all.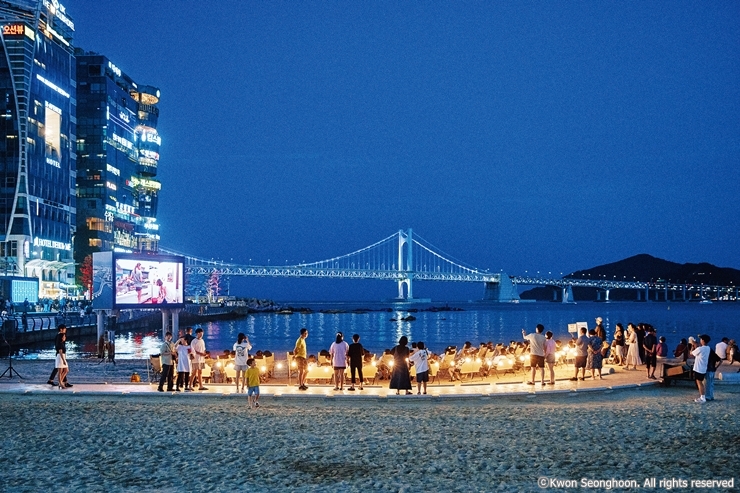 With sand between your toes and the ocean breeze on your face, the Gwangalli Beach Cinema is a better movie-going experience than 4DX.
■ Films with an ocean soundtrack
 Visitors flock to Gwangalli Beach to walk its sandy shores, hear the tranquil ebb and flow of waves, and watch movies.
 The Gwangalli Beach Cinema is open every Friday at 8 p.m. from March to November in front of the Millak Raw Fish Center. Beachgoers can enjoy a movie on the outdoor screen, which measures 6.4-meters wide by 3-meters tall.
 Admission is free, so grab some snacks and bring a picnic blanket to enjoy a film in the cool beach air. In addition, 50 camping chairs are available on a first-come, first-served basis. Screenings may be cancelled due to inclement weather or other beach events.
※Gwangalli Beach Cinema
Location: in front of the Millak Raw Fish Center, 1 Millaksubyeon-ro, Suyeong-gu
Schedule: 8 p.m. every Friday from March to November
Tickets: free
Website: Suyeong.go.kr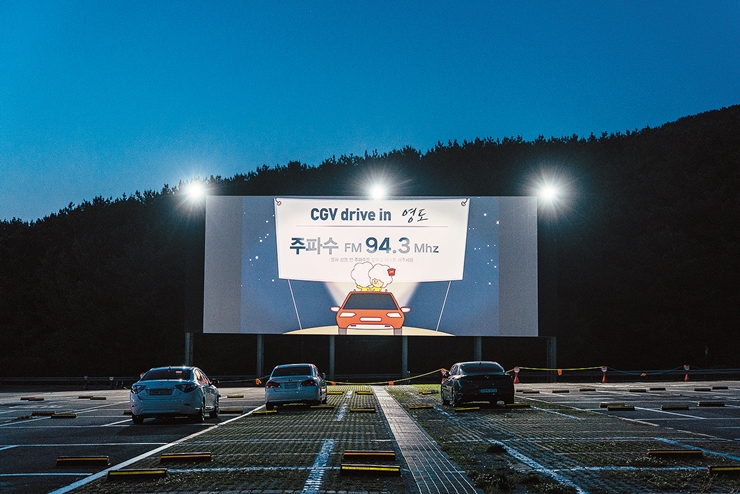 Parking opens at 6 p.m., so get there early. (source: Visit Busan)
■ A private screening in public
 Yeongdo Island boasts the city's only drive-in movie theater. Enjoy the latest films while sitting in the privacy of your own car.
 Opened in May 2023, the CGV Drive In is located in Zone 7-2 of the Taejongdae Amusement Park parking lot. Up to 142 cars can enter the outdoor cinema. The mega-sized screen offers spectacular views. The audio is played on a radio frequency, allowing each vehicle to play the audio at their own volume.
 The drive-in is open year-round. Screenings are held at 8 p.m. Monday to Thursday and at 8 and 10:10 p.m. Friday to Sunday.
※CGV Drive In Yeongdo
Address: 1009 Dongsam-dong Yeongdo-gu
Schedule: 8 p.m. every Monday to Thursday, 8 and 10:10 p.m., Friday to Sunday
Reservations: cgv.co.kr/ticket, or via the CGV mobile app, or at the drive-in box office
Tickets (per vehicle): 26,000 won from Monday to Thursday, 30,000 won from Friday to Sunday
Instagram: @taejongdae_cinema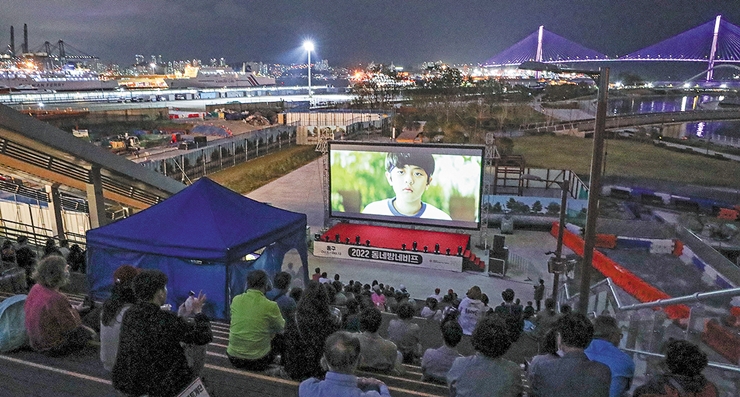 The crisp fall air sets the perfect mood for an outdoor movie. (source: Busan Ilbo)
■ BIFF Everywhere and Community BIFF
 The BIFF Everywhere program started in 2021 to boost the movie festival atmosphere throughout the city and ensure that every citizen can enjoy Busan's top cultural event.
 BIFF will present movie screenings and events at various locations, including Millac the Market, Busan Citizens' Park, Yeongdo Jonaegi Sweet Potato History Museum, and Dongnae Hyanggyo Confucian Academy.
 In its 6th year, Community BIFF was established to celebrate the BIFF audience and give them more ways to participate. This year, the event will take place in Nampo-dong, BIFF's birthplace. Parties, movie screenings, and hands-on activities await festivalgoers.
 BIFF Everywhere and Community BIFF will occur from Oct. 6 to 9.
※BIFF Everywhere and Community BIFF
Date: Oct. 6 to 9
Websites:
 BIFF Everywhere: everywhere.biff.kr
 Community BIFF: community.biff.kr