Views
Life is better on the water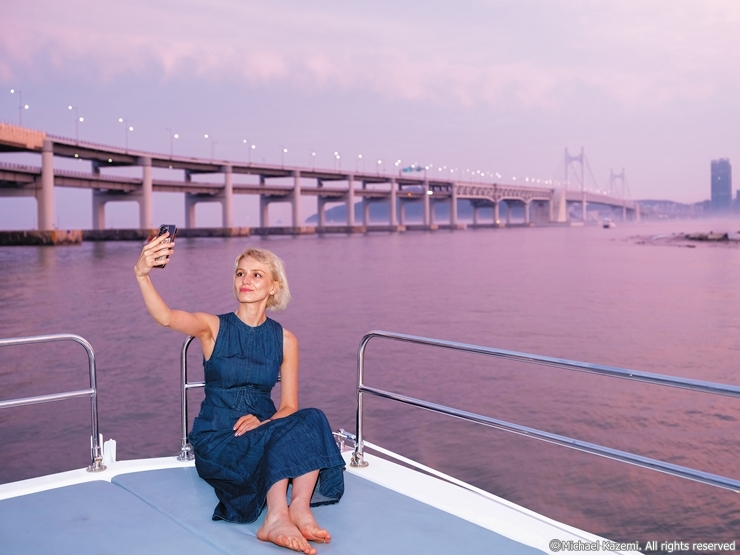 Gwangandaegyo Bridge in the blue hour creates a romantic atmosphere perfect for your Instagram feed.
The blue hour, from the French expression "l'heure bleue," refers to the time of day each morning and evening when there is neither full daylight nor complete darkness. During this time, the remaining sunlight takes on a mostly blue shade and sets the perfect backdrop for a luxurious yacht tour. Busan is Good, the city's English newspaper, invites you to embark on this dream-like experience unique to Busan.
Take in the skyline while lounging in comfort.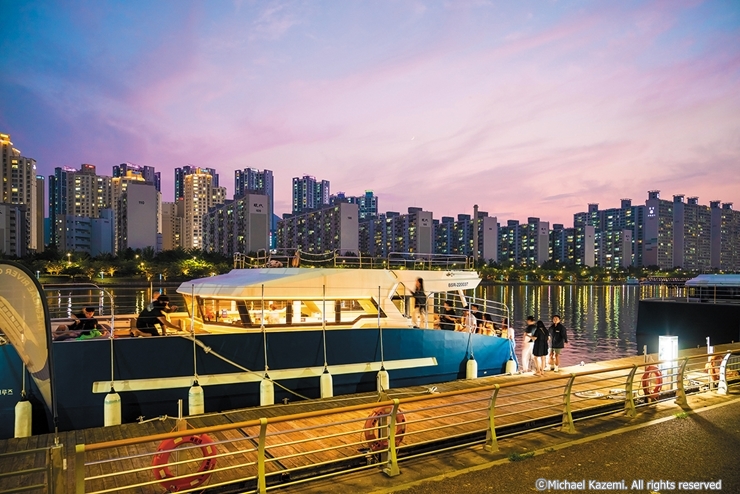 Passengers embarking the Haeundae River Cruise.
■ Haeundae River Cruise
 The Haeundae River Cruise, which began operation in November 2020, offers a two-story, 49-foot catamaran yacht. The vessel can accommodate up to 40 people for public or private tours, but the operators limit the number of passengers to create a more comfortable experience. Passengers can lounge in a spacious indoor space or take in panoramic views from the top deck.
 For an affordable and delightful option, consider the Public Tour, which charts a course based on feedback from previous customers. Tickets for a 60-minute tour range between 10,000 and 30,000 won, and people can take a daytime, sunset or nighttime ride. Tours depart daily every hour on the hour from 11 a.m. to 10 p.m. To experience the magical blue hour and night view of the ocean, opt for a tour between 6 and 7 p.m. during late summer.
 All tours depart from the APEC Naru Park dock on the Suyeonggang River. The yacht sails past the Busan Cinema Center toward Jwasuyeong Bridge before settling under the majestic skyscrapers of Marine City. Afterward, the boat passes under the Gwangandaegyo Bridge before returning to the dock.
 To secure your spot on the yacht tour, contact the company via phone or KakaoTalk to confirm the departure schedule and make a reservation. Tickets can be purchased online via the Haeundae River Cruise website or at their ticket box in APEC Naru Park in Centum City. Passengers must arrive at the ticketing office 30 minutes prior to their departure time to receive a boarding pass. A valid ID is required to board the vessel.
※ Haeundae River Cruise
• Address: 85 Suyeonggangbyeon-daero, Haeundae-gu
• Website: haeundaerivercruise.com
• Inquiry: 051-711-1789
■ Diamond Bay
 Another option to enjoy a lovely voyage in Busan is via the Diamond Bay Yacht Cruise, which sets sail from the Yongho-dong neighborhood of Nam-gu district.
 Diamond Bay boasts the largest catamaran yacht in Asia and travels 2 routes: the day tour to Oryukdo Island and the night tour which passes Gwangandaegyo Bridge on the way to APEC Nurimaru and the Haeundae area. Each tour lasts 50 minutes. The yacht accommodates up to 92 passengers.
 Private tours with custom services, like onboard catering, are also available.
※ Diamond Bay Yacht Cruise
• Address: 101 Bunpo-ro, Yongho-dong, Nam-gu
• Website: diamondbay.co.kr
• Inquiry: 051-200-2002