Views
Lotus lanterns illuminate city streets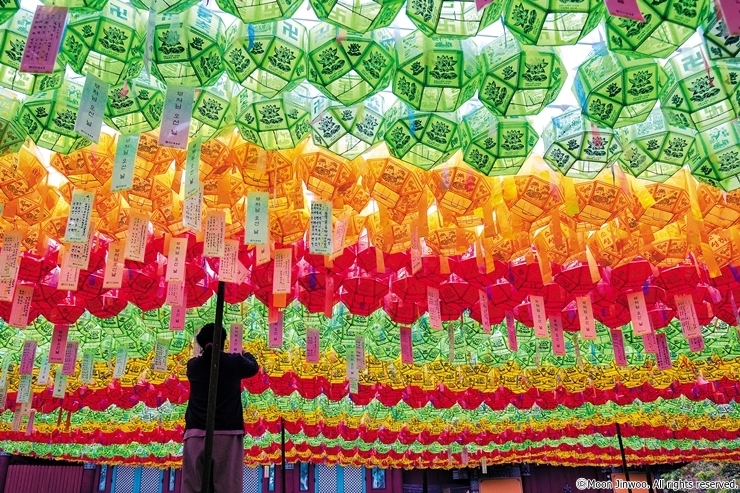 The Korean Lotus Lantern Festival dates back to Silla, one of the Three Kingdoms of Korea. What began as a religious observance is now a national celebration open to people of all backgrounds.
 In Buddhism, the lotus lantern represents the removal of human agony and ignorance through the light of Buddhist wisdom. To celebrate Buddha's Birthday, which falls on May 27 this year, thousands of colorful lanterns will light up streets citywide. Areas near temples and Gwangbok-ro in the Jung-gu district will present lotus-shaped lanterns. Citizens can visit the nearest temples and make wishes for themselves and their loved ones.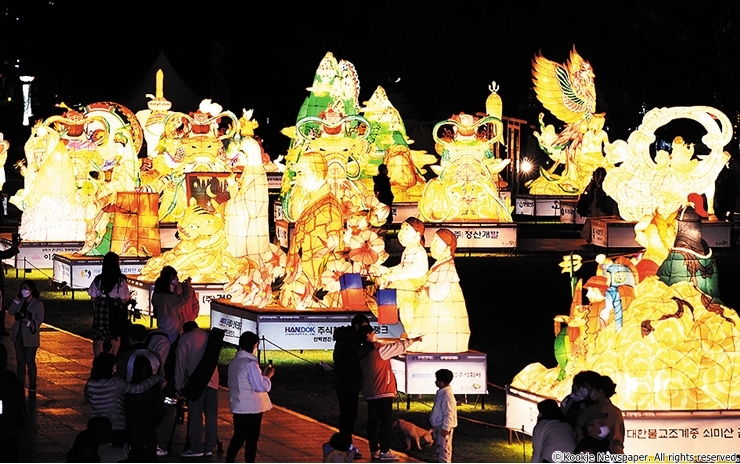 Busan Lotus Lantern Festival in 2021.
■ Busan Lotus Lantern Festival: April 28 to May 20
 This spring, the Busan Buddhist Association will offer several events to experience Buddhist culture and celebrate Buddha's Birthday. First up is the Busan Lotus Lantern Festival, which began on April 28 and will continue until May 20 at Songsanghyeon Square, Busanjin-gu district. Traditional Korean lanterns of various shapes and colors are on display throughout the square.
 The festival opened with a small procession and lantern-lighting ceremony at 6 p.m. on April 28. Until May 14, visitors can write their wishes on lanterns and hang them up. On May 7, at 4 p.m., temple food will be offered free of charge. Participants can enjoy bibimbap while supplies last.
■ Yeon Deung Hoe: May 20
 Yeon Deung Hoe, or Lantern Lighting Festival, is a 1,200-year-old tradition recognized by UNESCO as an intangible cultural heritage. The annual festival celebrates the birth of Buddhism's founder.
 This year, the Busan Buddhist Association will hold the celebration on May 20 at 6 p.m. at Busan Citizens Park. Visitors can experience traditional Buddhist performances and rituals before watching a massive lotus lantern parade. Thousands of lanterns representing Buddhist figures, symbols and legendary animals will parade from the park to Songsanghyeon Square.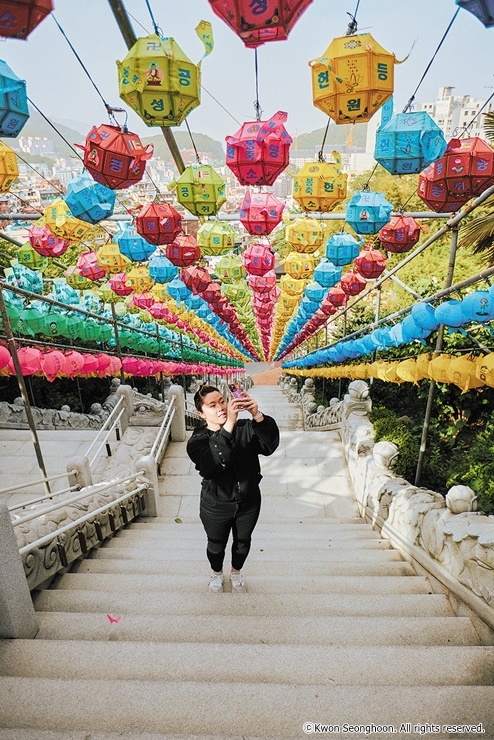 Colorful lanterns are still beautiful under daylight.
■ Temples around the city
 Apart from the Busan Lotus Lantern Festival, temples citywide will host their own lantern events to celebrate Buddha's Birthday.
 Samgwangsa Temple near Seomyeon will present an impressive 40,000 lotus lanterns in different shapes and colors from May 7. The splendid event already gained international recognition from CNN in 2012, as it was featured in the article "50 Most Beautiful Places to Visit in Korea."
 Beomeosa Temple in Geumjeong-gu district, the oldest temple in Busan, will display its unique cylinder-like lanterns. The lanterns' simple but elegant colors harmonize with the temple's location in the middle of the mountain.
 Haedong Yonggungsa Temple in Gijang-gun county is another good place to enjoy lotus lanterns. The lights decorate the path from the entrance to the temple's main building. The colorful lanterns against the backdrop of the blue ocean is a sight to behold.