Views
Discover a nighttime wonderland
​
 Busan Metropolitan City provides the perfect locale to enjoy mountains, oceans and rivers. The landscape attributes have resulted in a unique city structure, including hillside houses, record-breaking architecture and convenient bridges connecting the city. So why not take a tour around the city at night to soak in some of these distinctly Busan features under the moonlight with Dynamic Busan? Who knows? You might find an unexpected wonderland.
​
Past and present, North Port and Busan Port Bridge
​ North Port, Korea's largest port, has been the center of trade since its opening in 1876. The pier has played a significant role in Busan's history and development. During the Korean War, the port was crucial in relocating refugees and in receiving relief supplies as well as military equipment. After the War, the port was the powerhouse of Korea's economic development.
​
 Now, the area is transforming. The North Port Redevelopment Program will introduce a waterside park, international passenger terminal and other lesiure facilities for residents and tourists. This will allow more people to enjoy the area's magnificent night view of the shipyard, Busan Harbor Bridge and the illuminated areas of Yeongdo Island.
​
 Meanwhile, New Port in Gangseo-gu (district), on the outskirts of the city, will take over as the Busan's primary trade hub.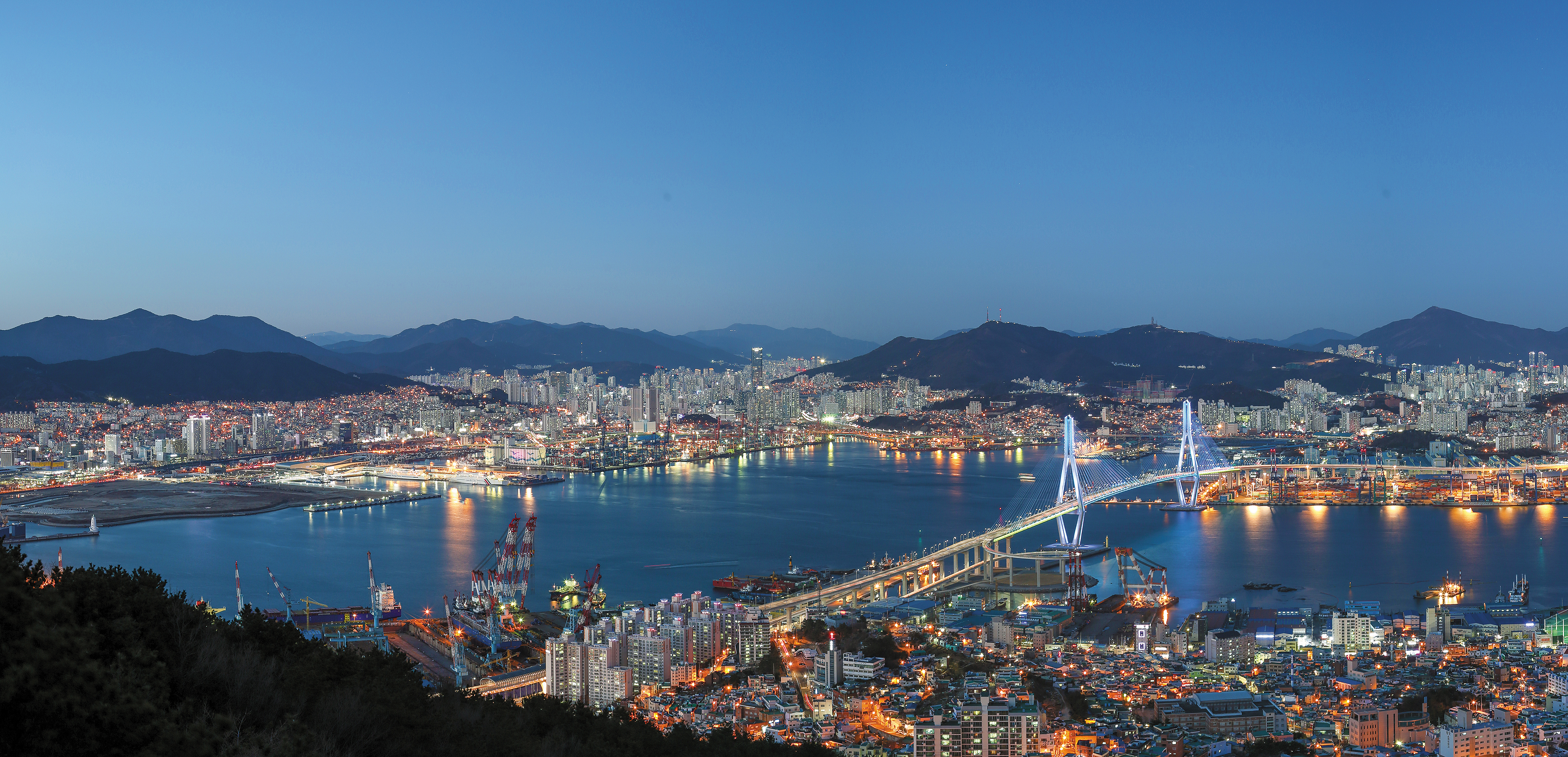 The illuminated hilltop houses were first built by refugees during and after the Korean War. Visit Busan
To the future - Marine City
 Whereas the North Port represents the city's past, Marine City in Haeundae-gu proudly presents Busan's budding future. The lights from skyscrapers and reflections in the nearby water create an unforgettable view, not to mention the one-of-a-kind attractions.
​
 Many commercials, movies, music videos and magazines have been filmed in Marine City, which features a stunning skyline of skyscrapers and ocean. Domestic and international motor brands, including Kia, GM Korea, Toyota and others depict their cars driving the area's streets. Marvel filmed Black Panther in the area, and shot a major set piece on Gwangandaegyo Bridge.
​
 The Bay 101 is a frequented spot that attracts visitors of all ages, but is particularly popular for people looking to enjoy "chimaek", a Korean portmanteau meaning "chicken and beer". Busan X the Sky, on the 100th floor of Haeundae LCT the Sharp, is a famous observatory that provides a panoramic view of Busan.
Residential towers dominate the Marine City skyline.