Views
Sail around, monorail bound
​

 Busan is known for its stunning oceanic views, but over 45% of the city is also covered by mountains, giving rise to iconic landscapes such as Sanbok Road (Mountainside Road) and Daldongnea (hillside moon village). These areas are not just picturesque; they once provided refuge to individuals during the Korean War, creating villages that still stand today. Join Dynamic Busan as we explore these areas, now made more accessible by monorails.
​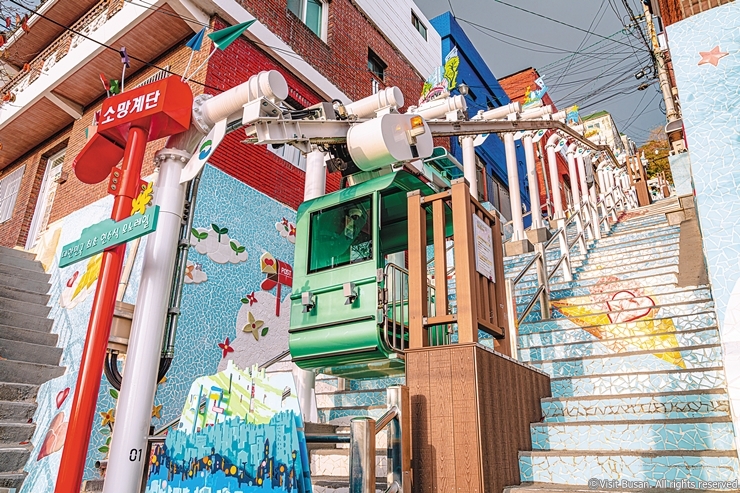 Vivid colors of the monorail and its surrounding set the scene for its unique design.
Stairs of Wishes' monorail
 The Stairs of Wishes (Somang), located in Dongdasin-dong (neighborhood) Seo-gu (district), it has 192 steps stretching from Mangyang-ro (road) to Junganggongwon-ro. In Korean, "Somang" translates to "wishes." The name came from an anecdote that suggests anyone who climbs the stairs would have their wish granted.
 In July 2022, the locale's monorail opened and became the first of its kind, a vehicle suspended from a fixed track in Korea. The 1.5-meter wide and 1.1-meter-high jade green vehicle with wooden bench provides a classic and comfortable experience while the vehicle encourage passengers to sightsee as they take the scenic six-minute ride up the 90-meter tracks.
 Various spots around the entrance are intricately designed and decorated. Many are enticed to use the red postbox-shaped sign and vast murals as photo backdrops for their social media posts.
Typically, only two passengers are permitted per car.
※ Address: 54 Junganggongwon-ro, Seo-gu
※ Hours: 7:30 a.m. to 8 p.m. on weekdays, 10 a.m. to 5:30 p.m. on weekends and holidays.
※ Ticket: Free
※ How to get there: Dongdaesin Station (metro line 1), exit 3. Take Jung-gu 1 neighborhood bus. Get off at the Hanguk Villa bus stop and walk for about three minutes.
​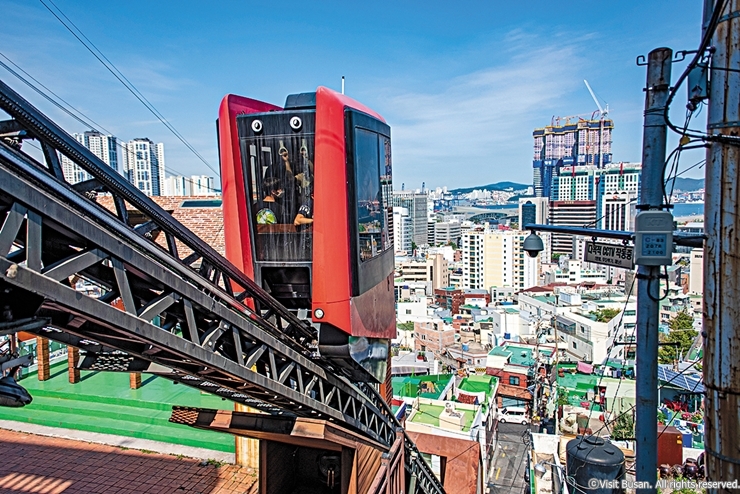 Panoramic views are easy to find, with windows on all sides.
168 Stairs' monorail
 The 168 Stairs embraces the historic joy and sorrow of Choryang-dong. During the Korean War, many refugees fled to this area for safety but had to regularly make the trek to get sustenance and work at the harbor or railroad.
 The 45-degree-steep staircase is said to be as tall as a six-story building, no doubt a challenge to climb. Even residents who spend most of their lives in the area need at least one or two short breaks while making their ascent. However, going down is much more dangerous. While traversing the 168 stairs, bear in mind that one minor stumble can cause permanent injury or even death, so it's important not to run.
 Don't fret, the monorail was installed in June 2016. This 60-meter-long straddle-type monorail tilts about 33 degrees as it climbs 35 meters per minute. The vivid red vehicle, capable of carrying seven adults at once, surprises many with its sophisticated and modern design and size. While aboard, witness the magnificent ocean scenery and the old downtown area from a whole new perspective. Upon arrival at the top, an observatory featuring a panoramic view of Busan Port awaits.
※ Address: 8-1, 191, Yeongcho-gil, Dong-gu
※ Hours: 7 a.m. to 8 p.m. every day.
※ Ticket: Free
※ How to get there: Busan Station (metro line 1), exit 5.
​
​People often ride this monorail on their daily commute.
Yeongju-dong Trail's monorail
 The Yeongju-dong Trail monorail commenced operation in June 2014, the first at its height. The monorail service was initially installed to make the area more convenient for older residents. Now it provides both a unique experience for visitors and efficient transport for locals.
 The shiny orange monorail, with seating to accommodate four adults moves about 60 meters per minute, tilted at an approximate 33 degree angle. Along the 70-meter-long tracks lies a gallery zone depicting the district's development. During the week, around 800 people use the monorail per day. On the weekend, that number rises to more than 1,000. Safety guards at the boarding stations help prevent unexpected accidents.
 Visitors often make a point to explore nearby attractions. The Park Ki-jong Memorial Hall is one such place, which offers insights into the history of Busan railways and the area. Another highly recommended destination in the area is Democracy Park, created to commemorate the revolution of 1960, just a short distance away.

※ Address: 17 Yeongju-ro, Jung-gu
※ Hours: 7 a.m. to 8 p.m. every day.
※ Ticket: Free
※ How to get there: Busan Station (metro line 1), exit 7. Take bus 86 or 186 at Standard Chartered Bank and get off at Busan Digital High School bus stop.​