Views
Travel through over 150 years of expo history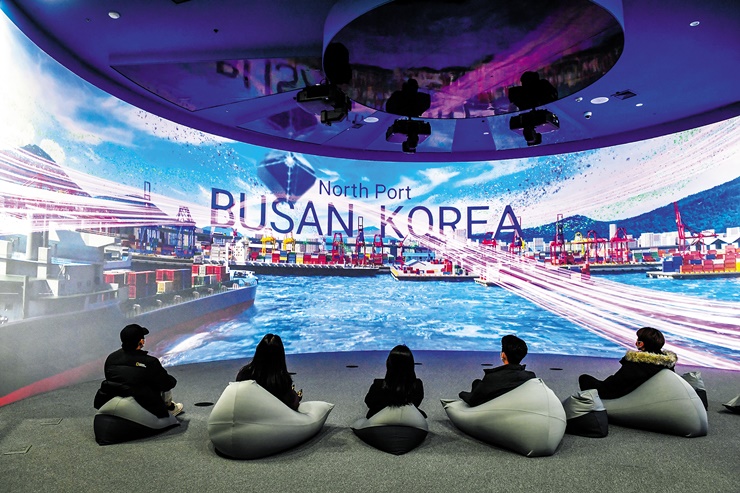 Visitors can lounge on comfortable bean bags to journey "through time" via the approximate five-minute media art display.
 If you're still unsure about what the World Expo is, it's time to visit Busan City Hall in Yeonje-gu (district). A World Expo 2030 promotional space has recently opened on the first floor of the Busan Dream Space, located inside City Hall. The space provides fun and engaging opportunities for people of all ages to learn about the World Expo that Korea hopes to host. It simultaneously features the 172-year history of the large international event and what is yet to come.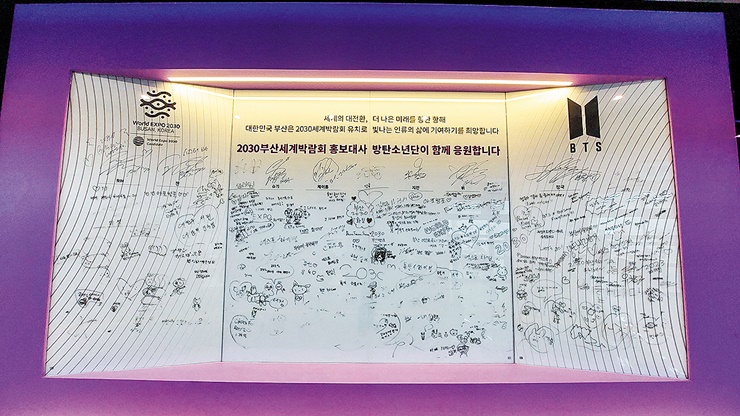 Sign your name to join the BTS autograph wall.
 One of the first things visitors will see is the wall-covering autograph display. Next up on the adventure is an informative stop by actor Lee Jung-jae followed by an engaging video. Let's delve deeper.
BTS's autograph wall
 The entrance is eye-catching, thanks to the back wall, made of tempered glass, which measures 2.8 meters in length and 6.4 meters in width and features the signatures of the members of BTS, an honorary ambassador for the World Expo 2030 Busan. The members of BTS provided their signatures during their appointment ceremony. Visitors can write their signatures next to BTS' and become honorary ambassadors themselves.
Lee guides visitors to further details, just through the curtain.
​
Honorary Ambassador guides visitors
 As visitors enter, they will be transported to a spacecraft-lik room that will "travel" through time from the first World Expo in 1851 through the present day and onto 2030. While on their journey, guests can find an abundance of World Expo 2030 Busan information. The expo's themes, sub-themes and purpose are displayed using state-of-the-art infog
raphics so anyone can quickly understand. Lee Jung-jae, the first honorary ambassador, guides guests to the next area of the hall.
Time-traveling promotional film
 After learning about the expo, the "time machine" doors will open. Then, a 30 to 40-second introduction video will start playing on a 14-meter wide and 4.2-meter tall 173-degree curved panoramic screen. The short display shows the logs of World Expo 2030 Busan, embodying humanity, cooperation, harmony and innovation through media art.
 The following immersive video takes visitors on a journey through the history of the World Expo, from the first one in London in 1851 to Chicago, Osaka, Shanghai and finally to Busan's North Port, the venue of the World Expo in 2030, should Korea's bid succeed. The film's full-color 3D graphics and dynamic camera work are provided alongside Korean and English audio narration.
​
Animated characters introduce inventions
 In the distance, visitors will see a black-and-white video that turns into a cute animation with vibrant colors when they stand in front of it. The attraction also presents various inventions introduced at previous expos, such as toilet pans, black-and-white TV and touch screens.
​
A one-of-a-kind experience awaits guests.
Quizzes and crafts
 Before leaving the promotional space, don't forget to stop by the kiosk next to the entrance; there are participatory quiz questions and crafts. Those who score more than three points on the quizzes can receive unique gifts, such as eco-friendly pencils that are made from coffee grounds. Visitors can also enjoy making crafts, such as a customized poster posing similarly to Lee Jung-jae or cards with Boogi featuring the city mascot.
Hours: 9 a.m. to 6 p.m. on weekdays and 10 a.m. to 6 p.m. on weekends.
How to get there: City Hall Station (metro line 1), exit 3.