News
`One Team' strategy buoys World Expo bid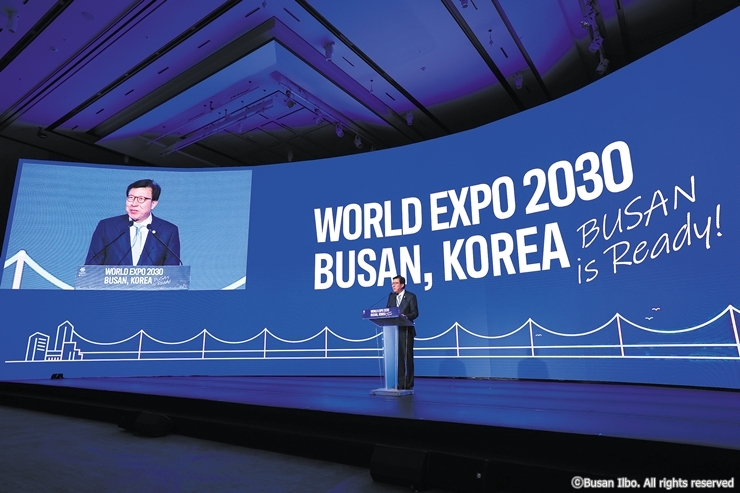 Busan Mayor Park Heong-joon welcomes BIE representatives during a banquet at Signiel Busan this past April.
 Ahead of the final vote to select the host city for World Expo 2030, the competition between the three candidates, Busan, Rome, and Riyadh, Saudi Arabia, remains fierce. However, with less than a month to go, Busan seems to be pulling ahead.
 Busan's rise is driven by President Yoon Suk Yeol's "One Team" approach, with central and local government officials working hand in hand with leaders of Korea's largest conglomerates to secure Busan's bid. The strategy has seen the nation's most powerful and influential figures travel the world to lobby representaives of the Bureau International des Exposition and its member states. The BIE is the governing body that oversees all World Expos.
 President Yoon's summit diplomacy is the core of the campaign. Since September, the president has actively participated in a series of global conferences. Yoon has met with leaders during the ASEAN Summit in Jakarta, Indonesia; the G20 Summit in New Delhi; and the 78th session of the U.N. General Assembly in New York. During the whirlwind tour, Yoon conducted nearly 50 diplomatic events and speeches and over 40 bilateral meetings with his international counterparts.
 As a result of his efforts, the president has met with leaders of 90 nations, or almost half of the BIE member states that will elect the host city of World Expo 2030. Some leaders that have publicly expressed their support of Busan's candidacy include Japanese Prime Minister Fumio Kishida and Mongolian Prime Minister Oyun-Erdene Luvsannamsrain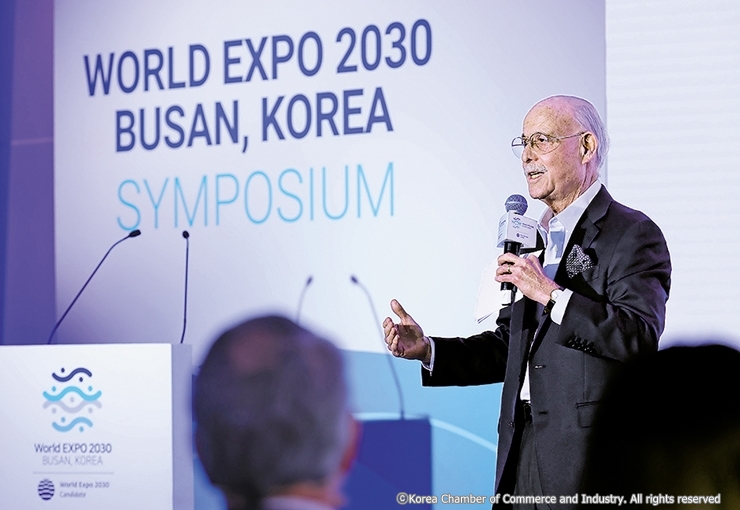 ​US economist Jeremy Rifkin at the 2030 Busan Expo Symposium.
​
 Other leaders have been hard at work as well. Government and business officials hosted the 2030 Busan Expo Symposium on Oct. 9 in Paris, the location of the BIE's headquarters. The Korean delegation included Busan Mayor Park Heong-joon, Prime Minister Han Duck-soo, and Chey Tae-won, the chairman of the Korean Chamber of Commerce and Industry and chairman of SK Group.
 The three leaders headed a loaded group of corporate executives and K-pop stars. Participants included Hyundai Motor Group Executive Chair Euisun Chung, Doosan Group Chairman and CEO Park Jeong-won, Samsung Electronics President Park Seung-hee, and LG Corp. President and CFO Ha Beom-jong. K-pop artists PSY and soprano Sumi Jo were also on hand.
 The delegation promoted Busan during the symposium, which was attended by BIE Secretary General Dimitri S. Kerkentzes and representatives from the BIE's 182 member states.
 Korea has pledged $520 million U.S. dollars in financial support for participating countries, an amount that far exceeds the support money offered by Rome and Riyadh. The money will be used for pavilion construction, maintenance, events and traveling expenses. Korea has also offered customized support for international travelers, including a special "Busan Expo Visa" to help manage global visitors from arrival to departure.
 Promotion campaigns are continuing in cities like Paris, London and Brussels as the final vote nears. Meanwhile, Busan is demonstrating its ability to host large-scale events with the Busan Fireworks Festival and the international gaming expo G-Star on the city's calendar.
 The World Expo 2030 host country will be elected on Nov. 28 during the BIE's 173rd General Assembly under the principle of one nation, one vote.