News
G-Star 2023 levels up with awards, cosplay and more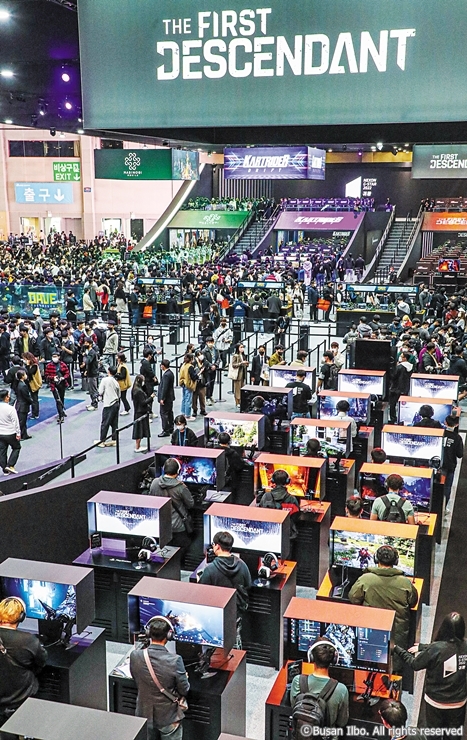 Gamers get a sneak peek of unreleased games at G-Star 2022.
 G-Star, Korea's most significant game exhibition, will take place from Nov. 16 to 19 at BEXCO in Haeundae-gu district. With 3,250 registered booths, G-Star 2023 is slated to be the biggest event in the expo's history, roaring back after the scaled-down versions held in recent years.
 Industry giants like Google Play, Epic Games Korea, Netmarble, and NCSOFT will participate. Game publisher Wemade returns as the festival's main sponsor.
 The event is divided into two programs: BTC for the public and BTB for game industry professionals.
 During the BTC exhibition, visitors will get a preview of unreleased games. One anticipated title is "Legend of YMIR," Wemade's massively multiplayer online role-playing game. Players will get a sneak peek of the game's use of blockchain technology. NCSOFT will also give players a chance to beta-test games like "LLL," "Battle Crush," and "Project BSS."
 G-Star's Global Game Conference, G-Con, will take place on Nov. 16 and 17. The event will cover a variety of subjects, such as the use of AI and blockchain technologies in game development and storytelling. Guest speakers include former Sony Interactive Entertainment CEO Shuhei Yoshida and former editor-in-chief of Weekly Shonen Jump Kazuhiko Torishima.
 Alongside the main exhibitions will be side events such as the Subculture Game Festival and the Game Cosplay Awards. The Subculture Game Festival will make its debut this year; subculture game fans can look forward to animated movie screenings and presentations by some of the genre's prominent voice actors.
 The Game Cosplay Awards will present awards to professional and amateur cosplayers. The ceremony will take place from 2 to 4 p.m. on Nov. 19.
 For safety reasons, there will be no on-site ticket sales this year. Tickets must be purchased online. The one-day ticket for general admission costs 15,000 won for adults and 8,000 won for people 18 and under.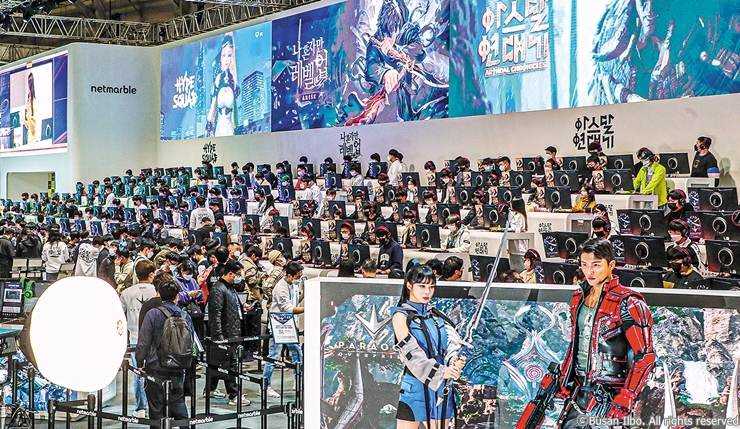 Cosplayers promote new games.
​
※Ticket Info: Click​