Life
[INTERVIEW] BFIC offers free Korean classes
 In 2006, Busan Foundation for International Cooperation (BFIC) established classes aimed at teaching Korean language and culture to international Busan residents to improve communication with local Busanites. Every year, approximately 500 people take the spring and fall courses. Dynamic Busan interviewed Morgan Curry and Daniel Mena from last year's student body.
​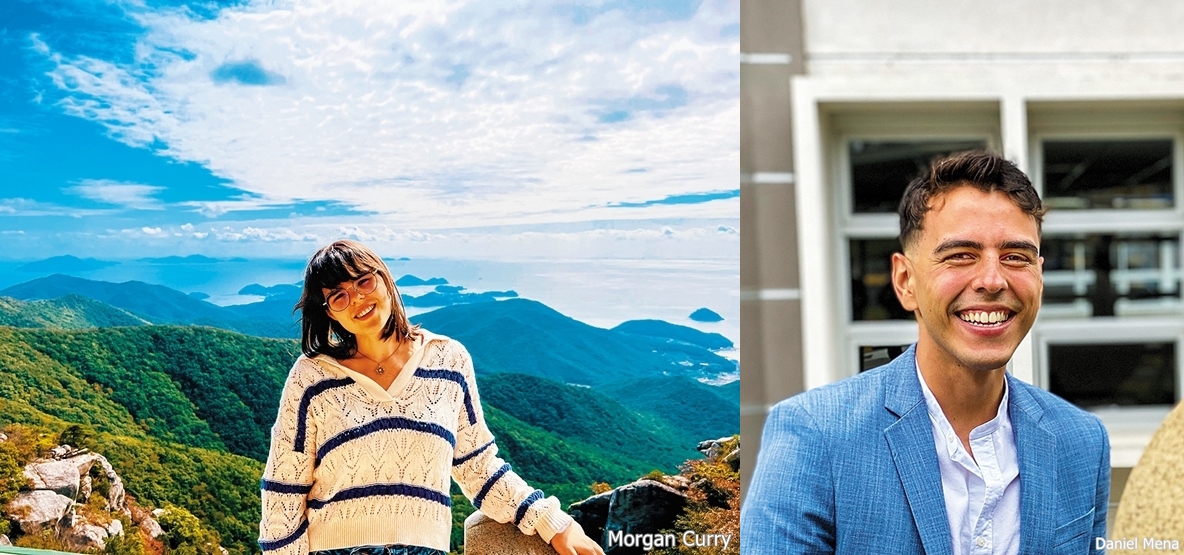 Former students Morgan Curry and Daniel Mena recommend others to take BFIC Korean classes.
Q. Please introduce yourself.
Curry: Hello! My name is Morgan Curry. I'm a middle school English teacher here in Busan. Originally, I am from the United States and I arrived in Korea in February 2020.
 Daniel: I'm Daniel Mena from Costa Rica. I'm a Biomedical Engineering graduate student at Pusan National University and I'm currently working as a research assistant at the Neuro and Bio Electronics Laboratory.
Q. What prompted you to sign-up for BFIC Korean classes?
 Curry: Before I came to Korea, I had already learned to read Hangul (the Korean writing system) along with some basics in Korean through self-study. I knew that my experience and opportunities in Korea could be much more fulfilling if I had a grasp of the language. It could help me connect with my students, my coworkers, and in daily life situations. Through a friend, I learned about free classes at BFIC that could help me learn in a classroom environment with students from all over the world to keep me motivated and engaged. So, I took the placement test online and began my Korean learning journey.
 Daniel: My Korean skills are still lacking, and I knew that I had to improve by taking classes and studying hard, so I started looking for some options on the internet, and I came across the Korean class at BFIC. I decided to give it a go, and thankfully I got a spot for the class last semester.
Q. What did you learn from the BFIC Korean classes?
 Curry: The classes offered a good mixture of listening, reading, writing, and speaking. We focused on using the Seoul University Korean student books and workbooks as an outline. And as I mentioned before, the classes are only taught in Korean, and since students come from around the world with different native languages, Korean is the language that connects you all. It really helped my confidence to be surrounded by and use the language constantly and made me less nervous about making mistakes since we were all learning new things together.
 Daniel: The part I liked the most was learning interesting cultural differences and facts about Korea that the professor used to better understand what we were learning. This helped to integrate the new concepts and grammar with daily life events.
Q. Do you think the BFIC Korean class would help foreign residents living in Busan?
 Curry: I really think it would. If you are motivated to learn Korean, this class will definitely help you. The workbooks are well planned out and are focused on different topics that can help you in many situations, from filling out forms in Korean, to post office visits to casual conversations. You also learn about Korean culture with each topic along the way. With this layout, you can expand your vocabulary and grammar and are given a safe space to practice with your classmates and teacher.
 I know that sometimes it can be a little overwhelming with your regular job or school schedule and Korean classes on top of that but try to do your best. Be sure to speak to your classmates a lot so you can build a good classroom community and practice what you learned together. And of course, don't be afraid to make mistakes, because that is the best way to learn!
 Daniel: Definitely! It really helped me to gain more confidence while speaking and widen my comprehension of Korean culture. I also made new foreign friends, and knowing that they are also learning the language gives me extra courage and motivation to keep studying and improving. Don't be afraid to speak in Korean. I recommend taking advantage of this opportunity to learn as much as possible from your professor, classmates and Korean friends.