Food
Savor Busan's history, one large bowl at a time
 If Busan wins the right to host the World Expo 2030, millions of people from around the world are expected to visit. While the city has several assets to attract travelers - pristine nature, seven beaches, cultural activities and world-class shopping - chief among them is food.
 In 2022, the Busan Tourism Organization conducted a survey titled "Four-year Integrated Analysis of Tourists Visiting Busan." According to the results, gourmet travel is the no. 1 reason domestic and overseas tourists visit the city. Busan's food scene also achieved the highest satisfaction score among respondents.
 Busan has the ideal conditions to be a gastronomic powerhouse: A rich culinary heritage, a bounty of local ingredients, and an international port that welcomes unique food traditions from distant lands. These assets have turned Busan into a gourmand's destination, worthy of Michelin attention.
 With the potential Expo still seven years away, the only thing guaranteed is that visitors who come to Busan in 2030 will leave satisfied and full.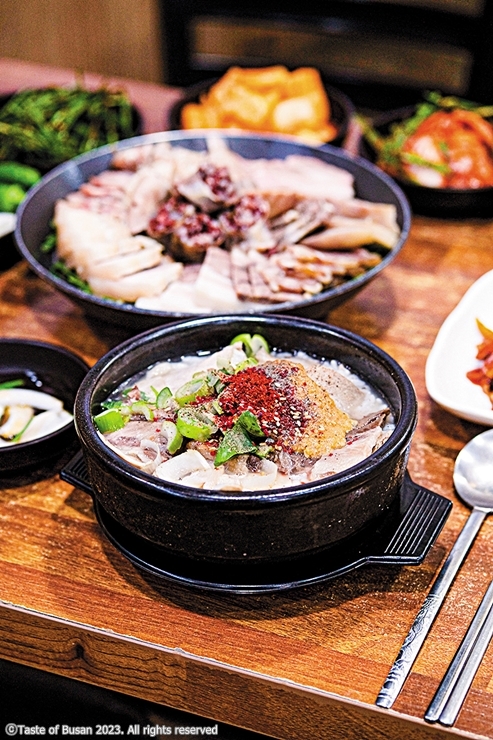 Large portions exemplify Busanites' generosity.
​
​People crave milmyeon's powerful flavors.

■ Comfort foods with a bittersweet history
 Pizza in New York. Fish and chips in London. Dim sum in Hong Kong. Many of the great cities worldwide have a food tradition synonymous with the city itself.
 Busan has two. "Dwaeji gukbap" and "milmyeon" are deeply entwined in the city's fabric and are culinary symbols of the nation's modern history.
 Dwaeji gukbap, which means pork soup and rice, is a soup of milky-white broth, slices of pork and a serving of rice either in the bowl or on the side. Diners can customize the soup to their taste by adding raw garlic, chives, and onions and seasoning it simply with salt, pepper or a spicy chili paste. If you are an adventurous eater, try the "naejang gukbap," soup with pork offal and blood sausage.
◎ Uri Dwaejigukbap
 Open since 1975, the restaurant has been family-owned for three generations. The proprietors boil pork bones for 24 hours to create the signature milky-white broth. The soup is then served using the traditional "toryeom" method, in which hot broth is repeatedly poured over rice to flavor each grain. The restaurant has also been serving food "nose-to-tail" long before it was trendy, as customers can receive any part of the pig upon request.
Address: 27-1 Choyang-ro, Dong-gu
Hours: Open 24 hours a day, 365 days a year.
​
 Milmyeon, or wheat noodles, features generous portions of chewy noodles. The dish can either be served in an icy cold broth, called "mul milmyeon," or mixed with a sweet and spicy red pepper paste, called "bibim milmyeon." Either way, the noodles are usually topped with thinly sliced meat, shredded cucumbers and a hard-boiled egg.
 The dishes are said to have emerged during the tumultuous times of the Korean War when refugees flocked to Busan. Since food was scarce, people from around the country adapted their hometown dishes to what was available. Instead of beef, people boiled pork bones for hours to create a delicious and nutritious meal. Instead of buckwheat, people used wheat flour to make noodles since it was readily available from the war supplies provided by the U.S. Army based in Busan.
◎ Myeonchaeum
 To make milmyeon healthier, this restaurant uses five different grains to make its noodles. The broth is boiled for 48 hours, and the sauce incorporates fruits and vegetables for natural flavor. The "bibim mandu," fried dumplings served with a side of mixed vegetable salad, is also popular here.
Address: 11 Geumjeong-ro 231beon-gil, Geumjeong-gu
Hours: Open daily from 10:30 a.m. to 9 p.m.
Ribbons of meat and veggies pair well with soju.
Nak gop sae is a spicy melange of textures.
■ New dishes inspired by local ingredients
 Busan's unique geography - surrounded by ocean, scattered with mountains, crisscrossed by rivers - has inspired local chefs to create new and exciting dishes.
 One such example is "naengchae jokbal." The dish features braised and thinly sliced pig's feet topped with salted jellyfish. The pork and jellyfish are then topped with sliced vegetables, including cucumbers, carrots and lettuce, and finished with a spicy mustard dressing. Naengchae jokbal is an unforgettable symphony of flavors and textures.
◎ Busan Jokbal
 Located in Bupyeong-dong's "Jokbal Alley," this famous restaurant is often featured on TV. It is known as the birthplace of naengchae jokbal, a Busan delicacy.
Address: 19-1 Gwangbok-ro, Jung-gu
Hours: Open daily from 10 a.m. to midnight.

 Seafood and meat lovers may prefer "nak gop sae," a Korean-style hot pot so named after its three protein components: "Nakji," or small octopus, "gopchang," or the small intestines of a cow, and "saewoo," the Korean word for shrimp.
 The proteins are mixed with vegetables, and the whole mess is covered in a spicy sauce. Each bite offers pleasantly chewy and firm textures best enjoyed with a bowl of rice.

◎ Somunnan Wonjo Jobangnakji
 It is a popular restaurant known for its generous portions and a relatively mild taste. The chef's specialty is "nakjibokkeum," spicy stir-friend octopus. It has emerged as a new rising star among Busan's competing octopus stir-fry restaurants.
Address: 37 Myeongnyun-ro 94beon-gil, Dongnae-gu
Hours: Open for lunch from 11 a.m. to 3 p.m. and for dinner from 5 to 9 p.m. Closed on Mondays and national holidays.

※ Taste of Busan 2023 Food Guide: Click