Food
Busan is good for feasting
 In Korea, there is an old saying, "Great boast but small roast," meaning there is nothing to eat at a grand fiesta. While we can all think of hyped-up events that were total letdowns - Fyre Festival comes to mind - the same cannot be said of festivals in Busan.
 This fall, the "City of Festivals" invites gourmands near and far to feast on unlimited beer, fresh seafood, and delectable baked goods. B.i.G. offers this handy guide to the city's food festivals where you can enjoy a "Taste of Busan."
Celebrate Oktoberfest right here in Dongnae-gu
Celebrate Oktoberfest at Hurshimchung Brau, Oct. 12 to 14
#UnlimitedBeer #MBTI #PSYBurger
 If your passion for beer exceeds your concern over developing a beer belly, Hurshimchung Brau offers the year's best chance to drink unlimited beer. Since 2005, the craft brewery's Oktoberfest celebration has been one of Busan's best beer festivals.
 This year, Hurshimchung Brau offers every customer a personalized Oktoberfest via its MBTI promotion or "My Beer Type Indicator." Based on the Myers-Briggs Type Indicator, which has become popular in Korean society, the brewery offers beers that match different personality types.
 Whether you are an INFP or ESTJ, Hurshimchung Brau offers four types of beer: Pilsner, pale lagers with a crisp, clean and balanced flavor; dunkel, dark lagers with a rich, malty flavor; Paulaner Weissbier, one of Germany's most popular beers; and Kelly, a Korean beer that has become tremendously popular after it launched in April this year.
 Hurshimchung Brau will host events and performances to enhance the celebratory mood. Take part in a speed drinking contest, which should give you enough liquid courage to participate in a dance contest. PSY Burger, an impersonator of K-pop star PSY, takes the stage to ensure everyone is having a good time. Guests can also enjoy performances by professional dance teams.
 Tickets to the event cost 30,000 won per person and can be purchased online or in person. The beer flows from 5 to 10 p.m. Visit the garden in front of Hotel Nongshim in Dongnae-gu district to join the party. Prost!
Address: 23 Geumganggongwon-ro 20beon-gil Dongnae-gu
Do not miss: MBTI and speed drinking contest
Instagram: @hotel_nongshim
​
The world's largest raw fish bibimbap needs teamwork to mix the ingredients.
Busan Jagalchi Festival, Oct. 5 to 8
#KoreasBiggestSeafoodMarket#FreshSeafood
 The Busan Jagalchi Festival is a seafood festival in Jagalchi Market, the biggest seafood market in Korea. Jagalchi Market and the surrounding area have been featured in various films and shows, including the critically acclaimed drama "Pachinko."
 Festivalgoers can enjoy fresh seafood and a variety of dishes made with Busan's freshest seafood ingredients. Guests can also participate in fun experiences like catching fish or bidding in a fish auction.
 The festival's highlight will be hosted by the Jagalchi ajimaes, the famous female vendors who entice visitors to "Come! See! Buy!" Join them as they try to break their Guinness World Record for making the "world's largest raw fish bibimbap." Afterward, you can eat a bowl of the hopefully-historic rice dish that you helped make.
Address: 52 Jagalchihaean-ro, Jung-gu
Do not miss: Making of the world's largest raw fish bibimbap
Instagram: @busan.jagalchi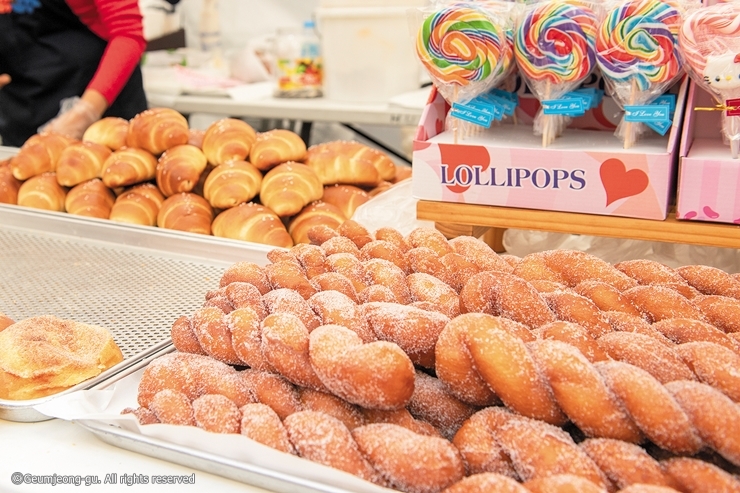 Satisfy your sweet tooth at the LaLaLa Festival.
LaLaLa Festival, Oct. 20 to 22
#bakery #coffee #performances
 The LaLaLa Festival will take place at the Busan National University Station on metro line 1. The festival will feature the eateries, cafes and iconic craft shops located in Geumjeong-gu district. Bring your family and friends to enjoy live performances and activities, a perfect way to spend a sunny fall afternoon.
Address: 48 Jangjeononcheoncheon-ro, Geumjeong-gu
Do not miss: strolling the booths and enjoying food
​
Fried mackerel is a healthy and delicious treat
Busan Mackerel Festival, Oct. 27 to 29
#fishing #seafoodauction #grilledfish #sashimi
 The Busan Mackerel Festival will take place at Songdo Beach, Seo-gu district. Mackerel, the official symbolic fish of Busan, is in season in the fall. Visitors can taste various cooked or raw mackerel at the festival.
 Eating is not the only reason to come. Numerous programs will be presented during the festival, such as catching mackerel, homemade boat races, a mackerel auction and others.
 Make sure to visit nearby attractions such as the Busan Air Cruise, a glass-bottomed cable car, and Songdo Skywalk, a winding walkway over the sea, which both offer incredible views of the surrounding ocean and mountains..
Address: 100 Songdohaebyeon-ro, Seo-gu
Do not miss: catching mackerel, trying charcoal grilled mackerel and fresh sashimi
Carefully curated coffee waits in Yeongdo.
Yeongdo Coffee Festival, Nov. 3 to 5
#coffee #oceanview #chilling
The Yeongdo Coffee Festival takes place at Amir Park on Yeongdo Island, dubbed the "Coffee Island." Visitors can learn about different coffee cultures, enjoy coffee tastings and listen to live music.
If you need more caffeine, spend the rest of the day wandering around Yeongdo Island, which boasts some of Busan's best cafes. From small shops with cozy interiors to the country's largest cafe, P.ARK, indulge in a warm drink as you watch the ocean waves ebb and flow.
Address: 55 Haeyang-ro, 301beon-gil, Yeongdo-gu
Do not miss: tasting flavored coffees from around the world