Food
Chinese flavors that transcend time and borders
 Shanghai, located on the east coast at the mouth of the Yangtze River, is the center of China's economy. The "City on the Sea" is also the center of global trade as Shanghai houses the world's largest and busiest container port. With a population of nearly 27 million people, Shanghai is the most populous city in China.
​
 One of the most significant factors driving the city's growth was the Expo 2010 Shanghai. The record-breaking Expo transformed the city and innovated urban growth and development worldwide. From May to October 2010, a record-setting 73 million people visited the 5.28-square-kilometer Expo site, the largest ever at the time.
 The World Expo helped people see Shanghai as a world-class travel destination. Pre-pandemic, the annual average number of visitors was 8.4 million. Often called the "Paris of the East," tourists marvel at ancient culture, magnificent skylines and numerous shopping malls across the city. However, the major attraction is Shanghai's food scene, which boasts incredible street food vendors and nearly 130 Michelin Guide-rated restaurants.
​
 Shanghai cuisine is an amalgamation of ancient Chinese cooking culture, regional specialties and Western influence. Its food culture is also based on the abundance of food sources from a wide range of climates across China's vast territory.
Although Chinese cuisine spans the last five millennia, it continues to evolve. As Chinese gastronomy travels the world, it combines local ingredients and techniques to create new dishes. "Jajangmyeon," or noodles in black bean sauce, in Korea and orange chicken in the U.S. are the perfect examples of localization.
 You can enjoy great Chinese meals in Busan, one of the best gourmet cities in Korea. Superstars of Chinese cuisine, like Peking duck (Beijing duck), mapo tofu and dumplings, are readily available. The restaurants below serve authentic tasting dishes.
■ Busan (부우사안)
 Busan is a boutique Chinese restaurant, perfect for special celebrations. The most popular dish is the Peking duck (Beijing duck). A whole duck, with crispy, intensely golden-brown skin is brought to your table before being sliced into tender pieces. Eat a piece of duck wrapped into a thin pancake or stuffed into a steamed bao bun and you'll wish you were celebrating something tomorrow. End the meal with the duck fried rice and you'll wish you were celebrating something the day after tomorrow.
◎ Address: 16 Haeundaehaebyeon-ro 209beonna-gil, Haeundae-gu
◎ Hours: Open 11:30 a.m. to 10 p.m. Break time 3 to 5 p.m. Closed holidays.
◎ Specialty: Peking duck (Beijing duck) costs 90,000 won. An advanced reservation is needed at least on the day you visit.
◎ Phone: 051-741-3310


■ Sandong Wantang Gyojagwan (산동완탕교자관)
 Operated by a Chinese owner, it feels as though a restaurant in China was relocated to Korea. Korean-Chinese dishes, such as jajangmyeon and jjamppong, are nowhere to be found. Instead, the menu features authentic Chinese dishes full of traditonal flavors.
 The main reason to eat here is the dumplings. Whether fried, steamed or in soup, every dumpling is a handcrafted pouch of extraordinary flavor. Each serving comes with eight pieces.
 The main reason to eat here again is the mapo tofu, silky cubes of tofu covered in a spicy, mouth-numbing red sauce. The generous portion size requires a bowl of rice, or two.
◎ Address: 11 Jungangdae-ro 269beongil Dong-gu
◎ Hours: Open 10 a.m. to 10 p.m.
◎ Specialty: Mapo tofu costs 10,000 won.
◎ Phone: 070-8240-2385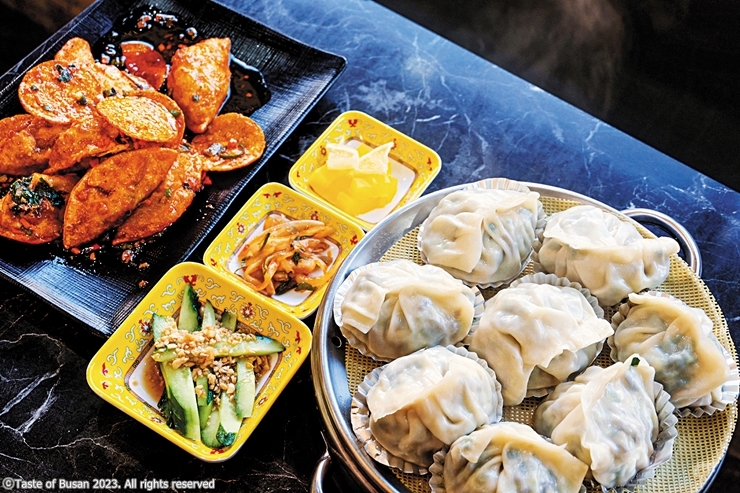 ​
■ Pyeonuibang (편의방)
 Flashing a striking red signboard, Pyeonuibang is a Chinese dumpling shop operated by the third generation of owners. It is famous for Samseon dumplings, which are limited to 40 servings per day and must be ordered by phone 30 minutes in advance. Each juicy golf-ball sized Samseon dumpling is overstuffed with vegetables, mushrooms and prawns.
 Another popular dish is the "kkanpung" dumplings, a dish of fried dumplings tossed in a tangy, sweet and spicy sauce. The chef adds some crushed peanuts and nacho chips for added texture and crunch.
◎ Address: 13-5 Daeshingongwon-ro Seo-gu
◎ Hours: Open Tuesday to Sunday, 11 a.m. to 9 p.m. (break time 3:30 to 4:30 p.m. on weekdays). Closed on Mondays.
◎ Specialty: Samseon dumplings cost 10,500 won.
◎ Phone: 051-256-2121
The China Pavilion at Expo 2010, called the `Oriental Crown.'