Food
`La dolce vita' feels right at home in Busan
Italian cuisine's focus on simple and fresh ingredients has made it perhaps the most popular food in the world.
 The 2015 World Expo, held in Milan, capital city of the Lombardy province in northern Italy, was markedly different than previous world fairs. Like all expos before it, Expo 2015 Milan featured technological innovations, cultural attractions and large corporations jockeying for the attention of a global audience. However, Milan's expo focused on what is perhaps Italy's greatest cultural export: Food.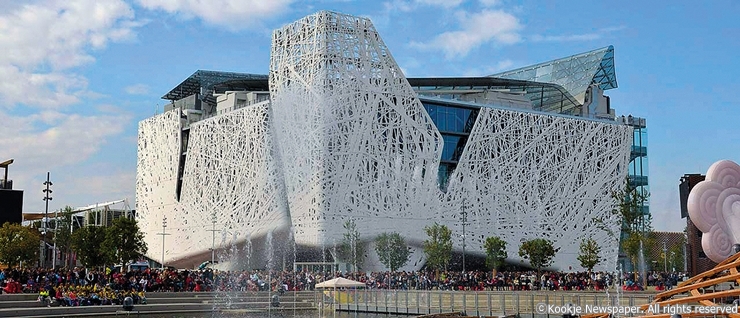 The Italy Pavilion at Expo 2015.
​
 The Expo was organized under the main theme of "Feeding the Planet, Energy for Life." Italy and other participating nations addressed the major challenge of feeding the world's people, raising questions over food security, healthy eating, population growth, food production and food waste.
 The sub-themes of the Expo included science for food safety, security and quality; innovation in the agro-food supply chain; technology for agriculture and biodiversity; dietary education; solidarity and cooperation on food; food for better lifestyles; and food in the world's cultures and ethnic groups.
 It was the first expo to examine the ways in which society's food choices affect human health, the health of the global economy, and the health of the planet. That Italy was the first expo host to address food issues is fitting, given Italian cuisine's status as one of the most beloved and ubiquitous cuisines worldwide.
 It isn't difficult to find at least one Italian restaurant anywhere around the world. Thankfully, Busan has several; as the Italian expression goes, "l'appetito vien mangiando." The appetite comes in the eating.
■ Grazie
 Grazie is a tiny restaurant with a glass and brick facade. What it lacks in size, it more than makes up in flavor. The menu offers a wide range of pasta and risotto dishes. However, the star of the menu is gnocchi, an Italian dumpling made with flour, eggs and potatoes.
◎ Address: 12 Cheonghakdong-ro, Yeongdo-gu
◎ Hours: Open daily. Lunch 11:30 a.m. to 3 p.m. (last order 2:30 p.m.). Dinner 5 to 9:30 p.m. (last order 8:30 p.m.)
■ Stone Street, Nampo Branch
 Brick oven pizzas and large helpings of pasta beget long lines at this popular eatery. The restaurant's signature dish is a green grape salad with homemade ricotta cheese. A second branch is now open in Gwangalli.
◎ Address: 9, Gwangbokjungang-ro 24beon-gil, Jung-gu
◎ Hours: Open Tuesday to Sunday, Noon to 9 p.m. (last order 8:30 p.m.). Closed on Monday
◎ How to get there: Jungang Station (metro line 1) exit 5.
​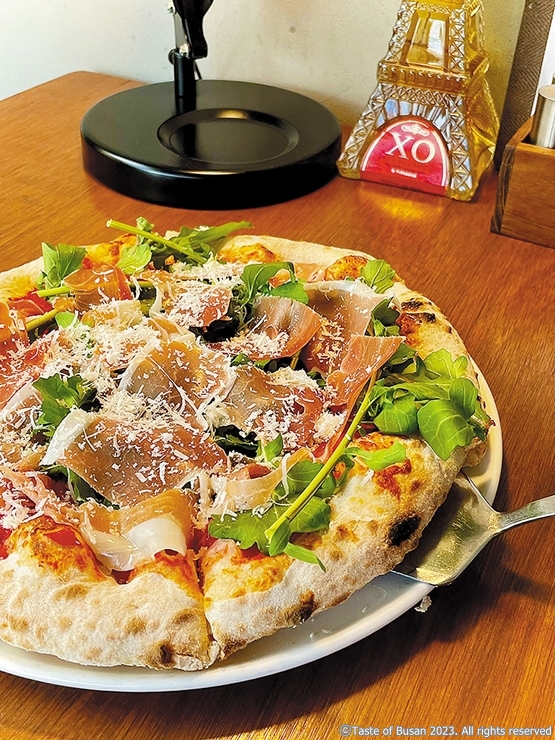 ■ Banco
 This pizzeria is easily recognized by its round, squat brick building, reminiscent of the pizza oven its pies are baked in. The pizza menu includes a classic margherita, but visitors swear by the funghi truffle, fig and blue cheese, and Iberico chorizo.
◎ Address: 27, Nakdongnam-ro 991beon-gil, Gangseo-gu
◎ Hours: Open Tuesday to Sunday. Lunch 11:30 a.m. to 2:30 p.m. (last order 1:30 p.m.). Dinner 5 to 8:30 p.m. (last order 7:30 p.m.)
■ Osteria Aboo
 The word "osteria" refers to an Italian restaurant that focuses on local specialties. Osteria Aboo's seafood-heavy menu perfectly suits our city by the sea.
◎ Address: 58, Dongcheon-ro, Busanjin-gu
◎ Hours: Closed on Tuesdays
 Open for dinner Wednesday to Monday, 5 p.m. to Midnight (Last order 10 p.m.)
 Open for lunch on Saturday, Sunday and holidays, Noon to 3 p.m.