Food
Busan gourmet tour with history and diversity
​

Hanjeongsik meals offer a variety of proteins and vegetables, depending on seasonality. The foods are prepared with different techniques, giving diners a spectrum of tastes and textures. Busan Ilbo DB
​
​ Busan's unique location - surrounded by ocean, tucked into mountains, streaked with rivers - has nurtured a diverse and vibrant community, attracting people and cultures from all corners of the globe. As a result, the city has become a cultural melting pot, blending culinary traditions from various regions to create a tantalizing array of cuisine. From feasts befitting royalty to humble bowls of noodles, Busan's diverse culinary scene is sure to satisfy the foodie in all of us.
Korean cuisine
 Hanjeongsik, or table d'hote, French for the host's table, serves a wide variety of traditional Korean food. One might find this type of meal at a royal banquet, such as in the Korean drama "Jewel in The Palace" (Dae Jang Geum). The spread of Hansik (Korean food) features a bowl of rice, soup and an overflowing variety of banchan (side dishes).
​
 The appeal of hanjeongsik is that diners can experience the breadth of Korean cuisine in one meal. In one sitting, diners can eat namul (foods made by seasoning and mixing edible plants or leaves), jeotgal (salted preserved seafood), gui (grilled dishes), jjim (dishes made by steaming or boiling meat, chicken, fish or shellfish), jeongol (Korean-style hot pot) and jjigae (stew-like Korean dish). All of this, plus the variety of kimchis standard at a Korean table, is sure to leave eaters full and satiated.
Dongnae Byeol Jang (동래별장)
Korean royal cuisine
Guests can visit the wooden structure, once used as a villa, to enjoy royal meals such as chiljeolpan, (platter of seven delicacies) and Sinseonllo (royal hot pot). Prices range from 50,000 won to 60,000 won for lunch and 70,000 won to 120,000 won for dinner per person.
​
Address: 12, Geumgang-ro 123beon-gil, Dongnae-gu
Hours: Open Thursday to Sunday, noon to 9 p.m. (Break 3 to 6 p.m.)
How to get there: Oncheonjang Station (metro line 1) exit 1. The restaurant is a 15-minute walk away.
​
Bong Sikdang (봉식당)
European and Korean fusion
Located in a modern four-story building, the restaurant was established by the owner of a Korean restaurant and her son, a French-trained chef. This joint endeavor results in fusion courses featuring Korean flavors and classical European techniques. Prices range from 33,000 won to 53,000 won per person.
​
Address: 26, Oncheonjang-ro 119beon-gil, Dongnae-gu
Hours: Open daily from noon to 9 p.m. (Break 3 to 5 p.m.)
How to get there: Oncheonjang Station (metro line 1) exit 5. The restaurant is a 10-minute walk away.
Phone: 051-556-9911
Busan soul food comes boiling hot or icy cold

 For many Busanites, comfort food is a study in contrasts Hot versus cold, rich and heavy versus light and refreshing. Few meals are better than a steaming bowl of dwaeji gukbap (pork soup and rice) or an icy bowl of milmyeon (wheat noodles).

 Dwaeji gukbap sounds simple enough - pork soup and rice. But the simplicity of its moniker belies a complex and intensely flavorful dish. The soup is made by boiling pork bones and meat for hours until the broth turns milky white. Other cuts of pork are added, along with a sprinkling of green onions. The soup is then served with rice - either in it or on the side - and various toppings.
​
 Where dwaeji gukbap warms the soul, milmyeon cools the body. Generous portions of chewy noodles topped with thinly sliced meat, shredded cucumbers, a boiled egg, and a sweet and spicy red paste can be served in a cold broth (mul milmyeon) or not (bibim milmyeon).
​
​
​
Subyeon Choigo Dwaejigukbap (수변 최고돼지국밥)
Located next to Millak Waterside Park, locals and visitors alike favor this restaurant for its scrumptious soup and perfect pork. Bowls start at 9,000 won. Add soondae (blood sausage) to complete the meal.
Address: 9-32 Gwanganhaebyeon-ro 370, Suyeong-gu
Hours: Open 24 hours.
Phone: 051-754-9222
​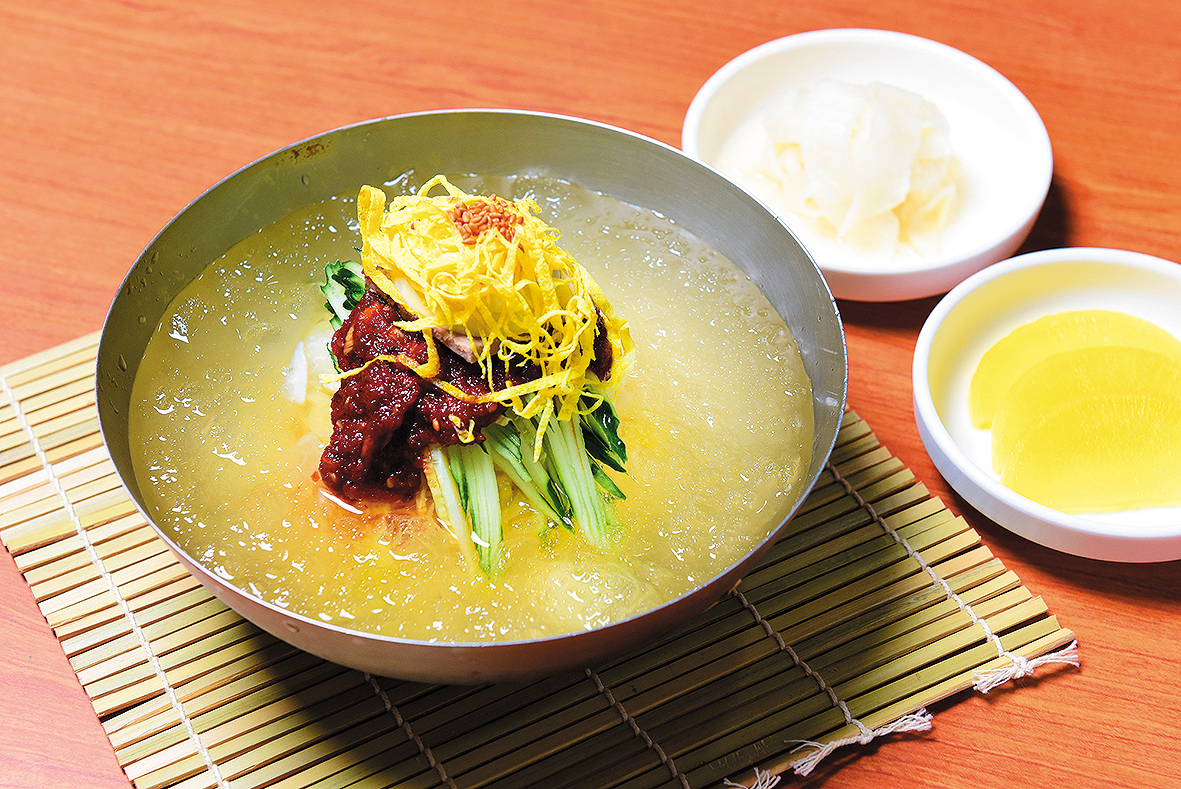 ​
Gukjae Milmyeon (국제밀면)
One of the top three restaurants of its kind, this locale serves milmyeon made with the addition of domestically-produced gardenia powder, which gives the noodles a golden hue and chewy texture. Bowls, served with or without broth, start at 7,500 won.
Hours: Open daily from 10 a.m. to 8 p.m.
Address: 23-6, Jungang-daero 1235beon-gil, Yeonje-gu
Phone: 051-501-5507
​
Something for everyone
Busan is well-prepared for visitors from diverse cultures, with vegan and halal food options spread across the city.
​
Cappadocia (카파도키아)
Turkish Halal restaurant
Hours: 11:30 a.m. to 9:30 p.m. Closed on Tuesdays.
Address: 123-9, Geumdan-ro, Geumjeong-gu
Phone: 051-515-5981
​
​Dajeon Cafe (다전)
Korean Vegan Restaurant
Hours: Open daily except Sunday, noon to 8:30 p.m. (Break 2:30 to 5 p.m.)
Address: 61, Sincheon-daero 62beon-gil, Busanjin-gu
Phone: 051-808-6363