Enjoy Busan
Meet Dori and Bori, Busan's newest representatives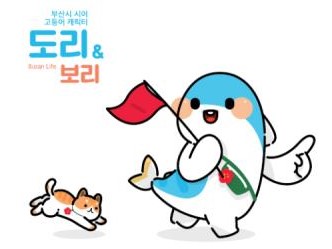 Most Korean cities assign trees or flowers as their official symbol, but Busan, being proud of its coastline, has designated the mackerel as its official symbol.
Last year, the city held the "Busan City Mackerel Character Design Contest" to inform citizens of the city's new symbol. The winning designer was Seo Moo-seong, whose characters Dori and Bori are now official representatives of Busan, embodying the spirit and qualities of the city and its citizens.
Contestants also submitted the background stories of their characters.
Dori's name derives from the Korean word "godori," which means "young mackerel."
Bori is a street cat who is tough on the outside but warm on the inside, just like Busanites.
One day, Bori rescues Dori from a fish market and the two become fast friends. As Bori helps Dori adapt to life in Busan, Dori wishes for a pair of legs so that they can do more things together.
Dori's wish comes true, and now Dori and Bori can go on adventures. The two can be seen running around Busan while wearing their trademark bags decorated with a camellia, the city's official flower.
The characters will be used to raise awareness of and boost Busan's fisheries industry. City Hall announced that Bori and Dori can be used for free by local seafood and fishery SMEs to promote their products and services. Eligible companies can apply to use the characters for up to two years.
For more information, visit Busan's official website.
◎ City of Busan: busan.go.kr/nhot/1579785