Enjoy Busan
EXPO WEEK to show why 'Busan is Good'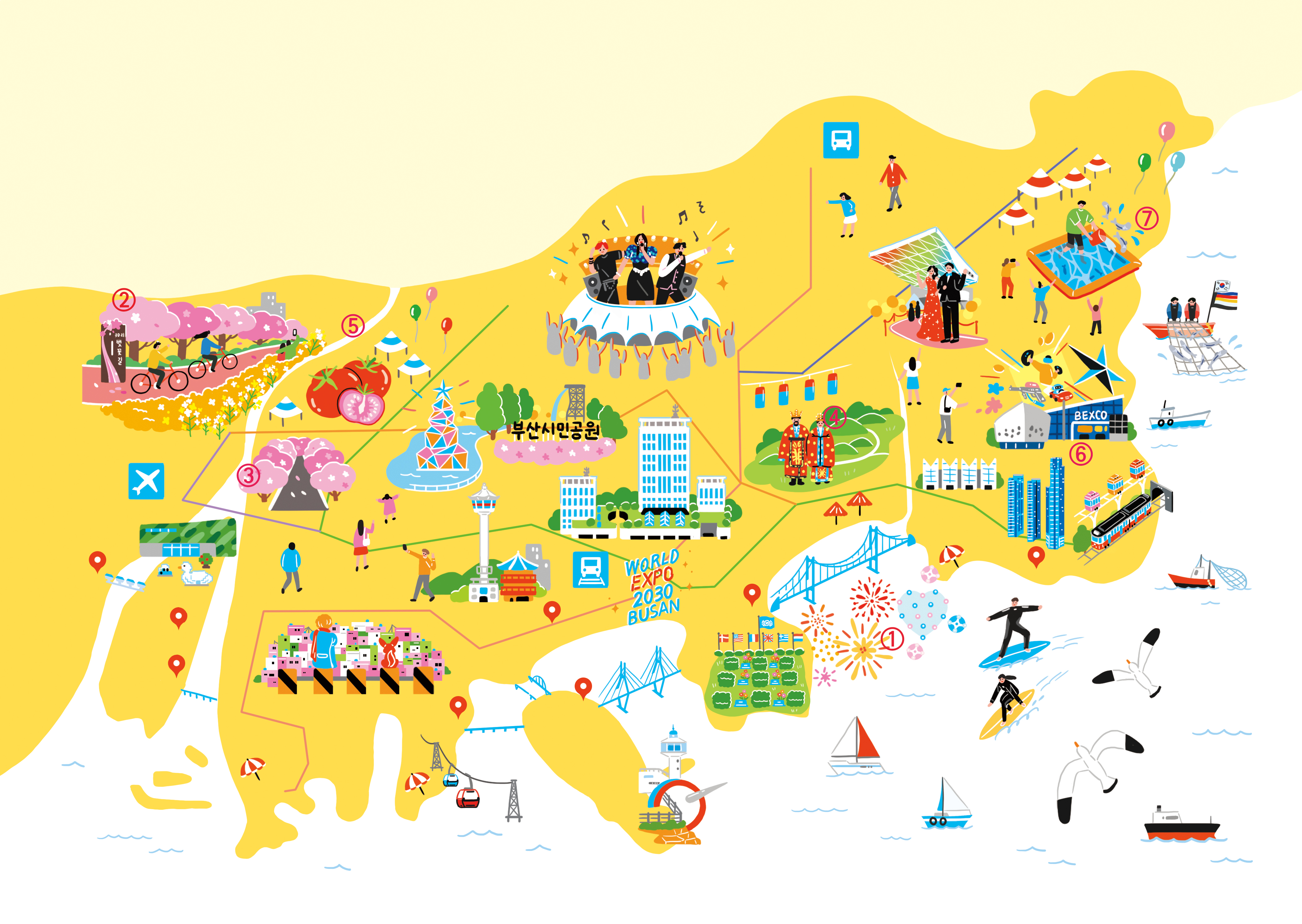 ​Ahead of the on-site inspection for the World Expo 2030 from April 4 to 7, the city will transform into a venue for large-scale festivals. From nighttime fireworks displays to leisurely walks among flowers in full bloom, Busan is the place to be as spring returns to the peninsula.
〈Festivals〉
① 2030 Busan World Expo Night of Light  (April 6)
② Nakdong Riverside Cherry Blossom Festival  (March 31-April 2)
③ Samnak Cherry Blossom Festival  (April 1)
④ Yeonje Tumulus Fantasy Festival  (March 31-April 2)
⑤ Daejeo Tomato Festival   (April 1-2)
⑥ Busan International Boat Show  (April 21-23)
⑦ Gijang Anchovy Festival  (April 21-23)
〈Main Attractions〉
1. Museum of Contemporary Art, Busan
2. Gamcheon Culture Village
3. Yongdusan Park
4. Busan Metropolitan City Hall
5. Dadaepo Beach
6. Songdo Beach
7. Taejongdae Park
8. The United Nations Memorial Cemetery
9. Blue Line Park
10. Busan Museum of Art
11. BEXCO
12. Busan Cinema Center
13. Busan Asiad Main Stadium
A. Nakdong River Estuary Bank
B. Eulsukdo Eco Park
C. Eulsukdo Bridge
D. Namhangdaegyo Bridge
E. Busan Station
F. Busan Harbor Bridge
G. Gwangandaegyo Bridge
H. BUSAN X the SKY
​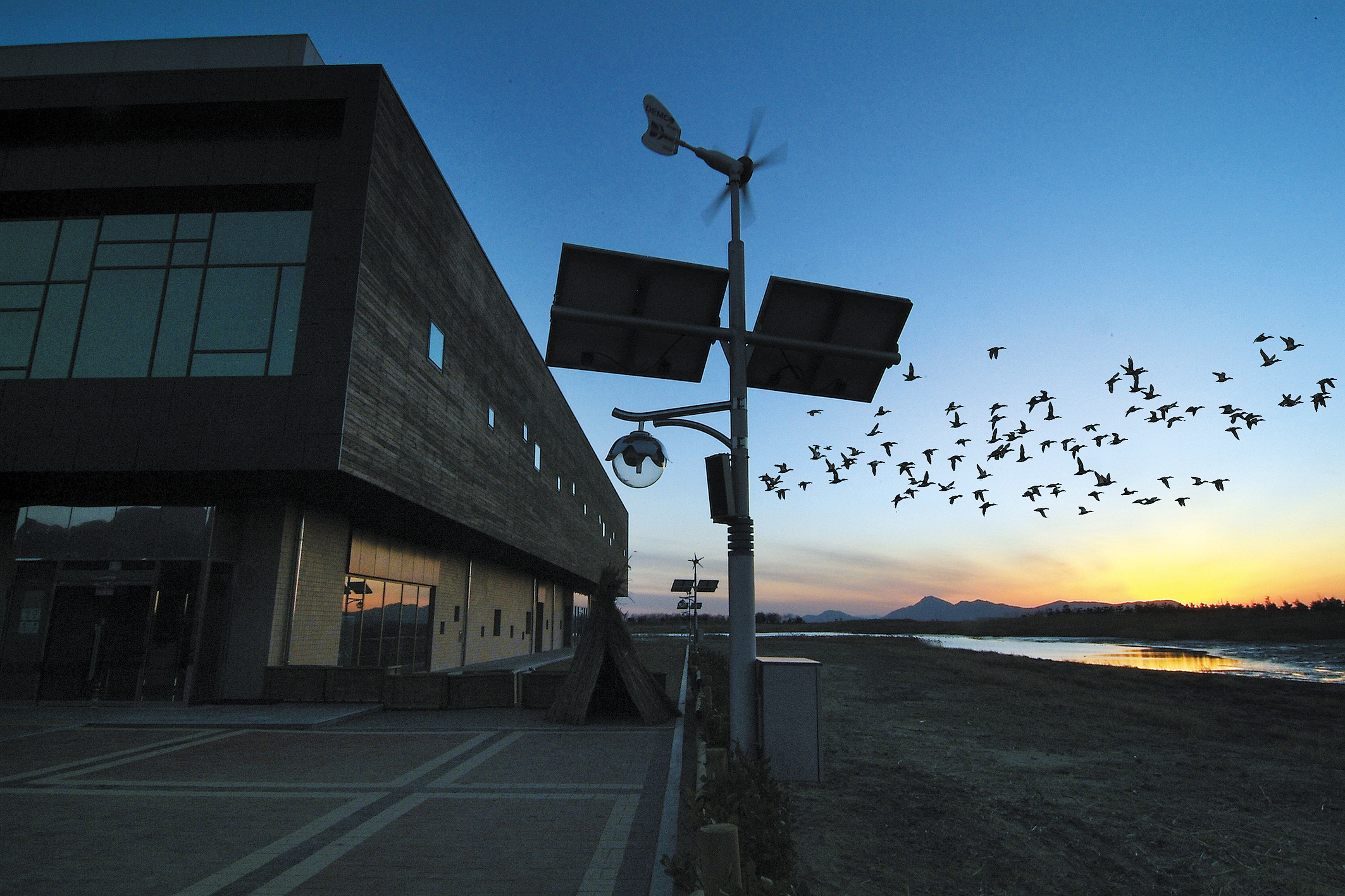 ​Eulsukdo Island, located where the Nakdonggang River meets the South Sea, is a haven for migratory birds. Moon Jinwoo
​
​
​Haeundae, Busan's top tourist destination
No trip to Busan would be complete without spending time in Busan's most famous neighborhood. Be sure to visit these attractions.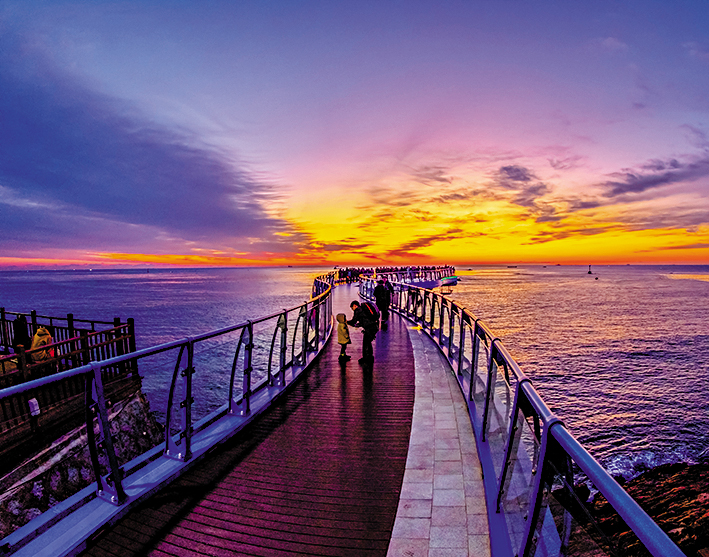 Cheongsapo Daritdol Observatory. (photo: Visit Busan)
The Haeundae Beach Train takes passengers to the Cheongsapo Daritdol Observatory, a marine skywalk stretching 20 meters above the sea. Visitors can see the ocean under their feet through the transparent glass floor.
Hours: Open daily from 9 a.m. to 6 p.m. Open until 8 p.m. from June to August.
​
​Busan X the Sky. (photo: Busan X the Sky)
Busan X the Sky offers unparalleled panoramic views of the city. The 411-meter high observatory is located along Haeundae Beach.
Hours: Open from 10 a.m. to 9 p.m. on weekdays, weekends and holidays.
How to get there: Jungdong Station (metro line 2) exit 7. Walk for about 12 minutes.
​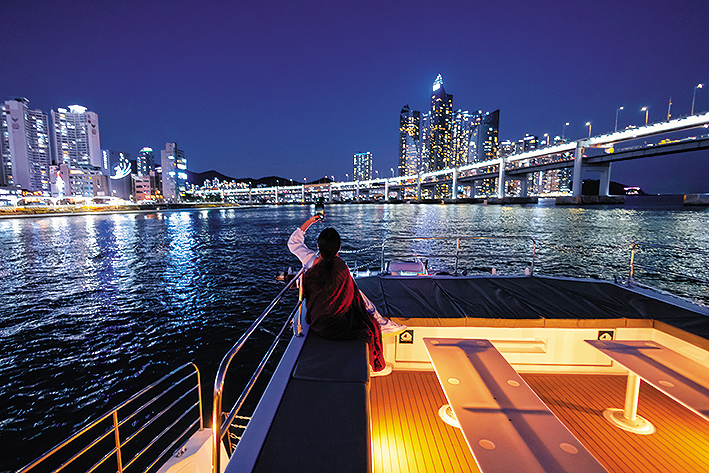 Haeundae River Cruise. (photo: Visit Busan)
The Haeundae River Cruise departs from the APEC Naru Park dock on the Suyeonggang River. The 50-minute course travels along the Suyeonggang River, passing Millak Riverside Park to Gwangandaegyo Bridge. Passengers can enjoy a stunning night view of Centum City and Gwangandaegyo Bridge.
Hours: Open from 10 a.m. to 9 p.m. on weekdays, weekends and holidays.
How to get there: Centum City Station (metro line 2) exit 12. Walk for about 5 minutes.
​
​
​
​
Busan travel essentials

◎ 1-Day Metro Pass: For only 5,000 won, users can take unlimited trips on metro lines 1 to 4.
The pass does not include trips on the Donghae Line or the Busan-Gimhae Light Rail Transit.
Passes can be purchased at any metro station.
​
◎ Visit Busan Pass: Exclusive tour pass for foreigners.
Pass holders gain free admission to more than 30 paid tourist attractions around the city.
The pass also provides exclusive discounts on shopping, transportation and dining facilities.
It costs 49,000 won for a 24-hour pass and 69,000 won for a 48-hour pass.
<Visit Busan Pass QR Code>
​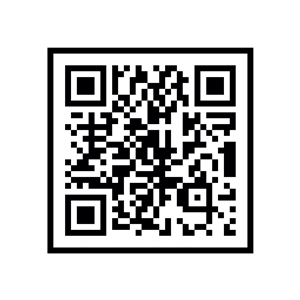 Scan the QR code to get yours today​
​