Daily Busan
Music is in the air for all of Busan to enjoy
Within the next few years, two major civics projects are set to enrich Busan's cultural landscape: The Busan Opera House at North Port and the Busan International Art Center at Busan Citizens Park. Both landmark buildings are expected to reaffirm Busan's status as a cultural powerhouse in the region and nation at large.
To celebrate the construction of these two projects, the city is hosting several classical music programs this spring. The Pride of Busan, a series of chamber music concerts, will take place from May 26 to 28 at the Central Theater of the Busan Cultural Center.
On May 26 at 7:30 p.m., the Busan Virtuoso Chamber Orchestra will present "The Eight Seasons of Busan." The performance will combine renditions of Vivaldi's "Four Seasons" with the "Four Seasons of Buenos Aires" by Argentine composer Astor Piazzolla.
On May 27 at 5 p.m., the Busan Chamber Music Society will perform masterpieces by Handel, Brahms and Dvorak.
On May 28 at 5 p.m., Classic Virtuosi will present Schumann's Piano Quartet No. 1 Op. 47 and Dohnányi's Sextet in C Major Op.37.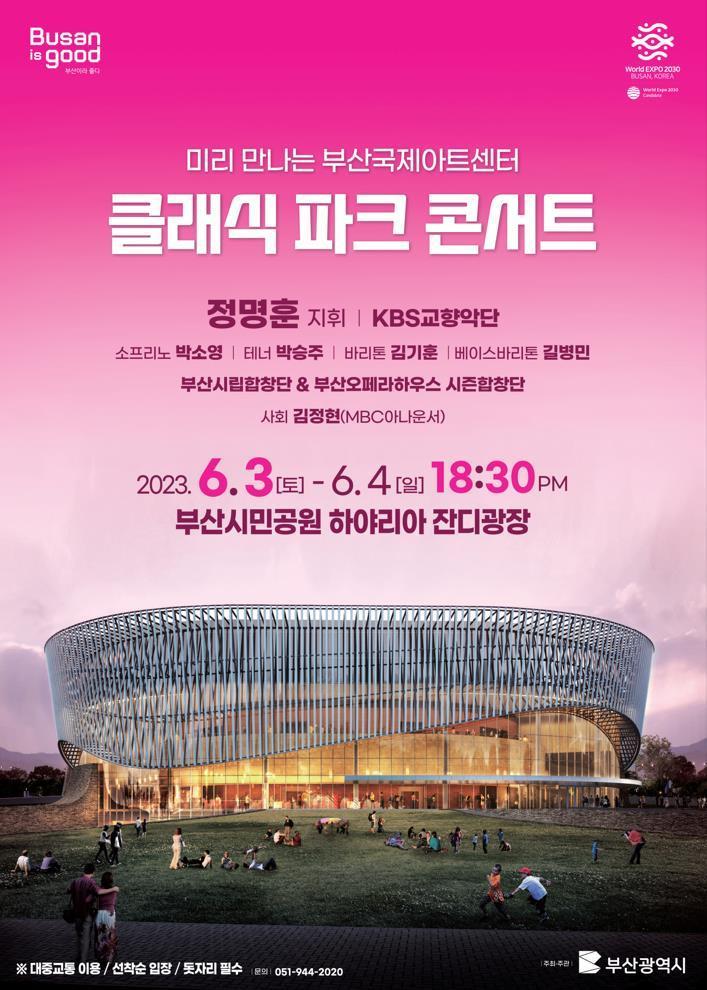 'Classic Park Concert' poster.
Then in June, the city will host the Classic Park Concert, outdoor performances held at the Hialeah Lawn Plaza at Busan Citizens Park.
On June 3 at 6:30 p.m., world-class performers will take the stage to present various opera arias. Renowned conductor Chung Myung-whun will lead the KBS Symphony Orchestra. They will be joined by some of Korea's greatest singers: Soprano Park So Young, tenor Park Seung-joo, baritone Kim Gihoon, and bass-baritone Gil Beyong Min. The Busan Metropolitan Chorus and the seasonal choir of the Busan Opera House will also perform.
Finally, on June 4 at 6:30 p.m., the Busan Philharmonic Orchestra and conductor Choi Soo-Yeoul will present various classical music pieces. The highlight of the night will be a joint performance of Beethoven's "Piano Trios" with cellist Young Song, pianist Kim Taehyung and violinist Lee Jihye.
All concerts are free to attend. For the concerts at the Busan Cultural Center, interested individuals may make reservations by calling 051-510-1747. People can also visit the venue on the day of the performance and take walk-in seating.
For the outdoor concerts at Busan Citizens Park, interested individuals can secure their spot on the lawn on a first-come-first-served basis. Busanites of all ages can feel like they are transported to New York City's Central Park SummerStage without leaving the confines of our lovely city.
※Inquiries:
Pride of Busan: 051-510-1747
Classic Park Concert: 051-888-5725