Views
Many stories, traditions within Busan gateway
Daytripping in Busan 8: Choryang-dong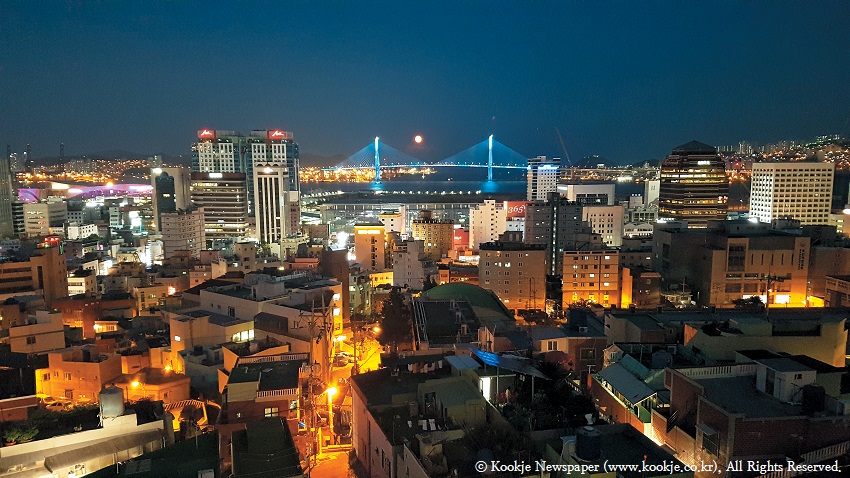 Ibagu-gil is not only great on its own, it offers an incredible nighttime view of Busan Port, as well.

Busan's gateway is located in Choryang-dong (neighborhood), home to Busan Station, the Busan Port International Passenger Terminal and a lot of history. Come along with Dynamic Busan on a lovely daytrip through this interesting and important area.
Ibagu-gil (Story Road)
Here is a quick Korean language factoid to impress your friends: "iyagi (이야기)" means "story" and can be seen in copious amounts around the country, but "ibagu (이바구)" is how it's said in the Busan dialect.
Ibagu-gil begins at Busan Station and continues to Sanbokdoro (mountainside road). Baekje Hospital, Busan's first western-style hospital built in 1920, was reborn as the Brown Hands cafe. Choryang Church, which was Korea's first church south of the Han River, offers old photographs on its outside walls pointing to Busan's rich history.
One of the avenue's biggest (and most athletic) highlights is 168 Stairs. Follow along the wall of Choryang Church to reach this shortcut toward Busan Port. The 168 Stairs will give eyes a feast as they take in a beautiful view of Busan Port.
-How to get there: Busan Station (Metro line 1), exit 7. Pass one block and turn left down the alley near Aritaum, then walk a couple more minutes. (https://goo.gl/maps/xBt216iCRSL2)
■ Local dining recommendations
▷168 Dosirak-guk
This restaurant, located at the bottom of the 168 Stairs, is run by several lovely local older women. Its interior is simple and full of unique antique atmosphere with its wooden tables and old-fashioned heater. Simple dosirak (lunchboxes) for 4,000 won are packed with rice, fried eggs, ham and more.
-Address: 191, Yeongcho-gil, Dong-gu (https://goo.gl/maps/VVUMwWu4Rbp)
-Hours: 10 a.m. to 7 p.m., daily
▷625 Makgeolli
Climbing 168 steep stairs is thirsty work. Fortunately, there's 625 Makgeolli, serving delicious fermented rice wine. Haemul pajeon (seafood pancake), ojingoh muchim (seasoned squid salad) and fresh tofu paired with stir fried kimchi are among the tasty sides available to pair with refreshing 5,000 won bowls of either makgeolli or dongdongju, liquor that is skimmed from fermented makgeolli.
-Address: 21, Yeongchowit-gil, Dong-gu (https://goo.gl/maps/6i9Nx7ssg2T2)
-Hours: 2 to 9 p.m., daily
China Town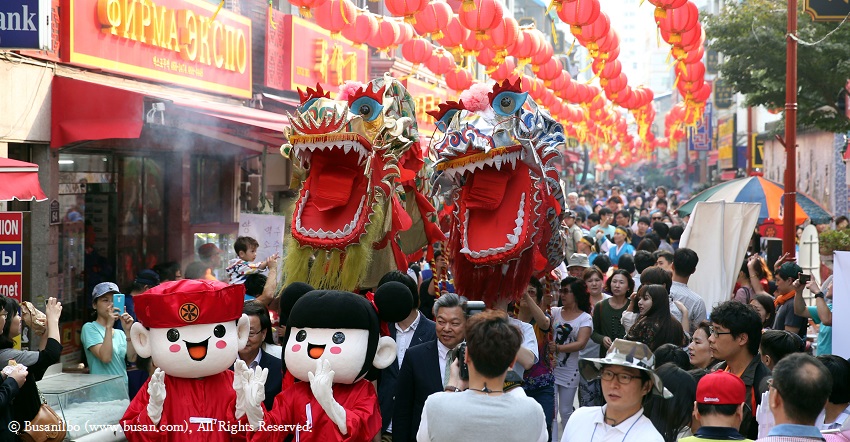 Located across from Busan Station, Busan's China Town formed in 1884 as the port was taking shape. Chinese citizens moved to the area over time, resulting in the city's largest concentrated Chinese population today.
Not only do Chinese businesses operate here these days. Foreign interests from Russia, the Philippines and more call the China Town area home. Several Chinese-run restaurants can be enjoyed, including Shinbalwon, Sahaebang and Hongseongbang. Dumplings, bean soups and more are cooked in proper Chinese style at these fine dining establishments.
Additionally, visitors to the China Town Festival, held every October, can enjoy diverse cultural experiences like a dragon parade, Beijing opera, a Chinese Shamanistic theater, acrobat performances, chinese clothing and more.
-How to get there: Busan Station (Metro line 1), exit 1. (https://goo.gl/maps/doF82An2cz62)
Choryang traditional market and galbi alley
Choryang Market, located between Busan and Choryang stations, was formed amid the opening of Busan Port in the late 19th Century. Today, a wide variety of products like agricultural and marine products, clothing, cosmetics, food and much more are available here for purchase.
There is also an alley within the market filled with the addictive scents of pork galbi (ribs), as a concentration of pork galbi restaurants have made their homes there. It was here during the 1960s and 70s, a time when international trade was exploding and Busan Port was at the center, that local laborers from the port could were often found here enjoying lunch while resting up their tired, work-weary bodies. It remains a popular lunch spot for local workers as well as visitors today.
-Location: For Choryang traditional Market, https://goo.gl/maps/riaRG2EaV6s ; for Galbi (marinated pork ribs) alley, https://goo.gl/maps/srBDVuw8Wzo.
-How to get there: Choryang Station (Metro line 1), exit 1. Walk one block and enter an alley where a sign on jangseung (Korean traditional totem pole) is found. Walk straight until finding the market. Turn right at KEB Hana Bank to find pork galbi alley. (