News
Busan International Comedy Festival laughs again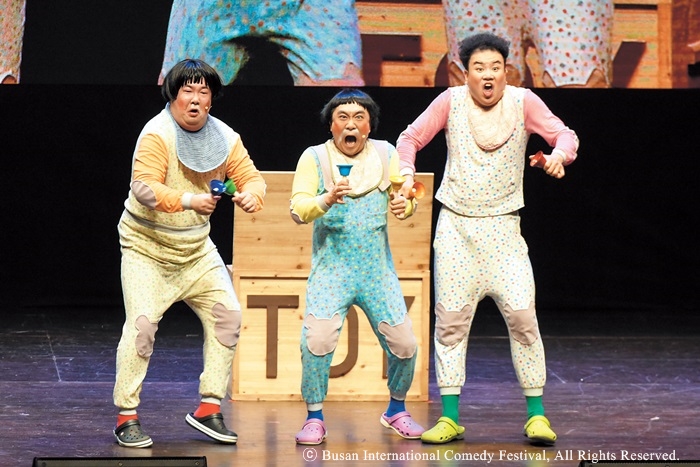 Hot or cold, rain or shine, it's never a bad time for a good laugh. So, if the heat has you feeling exhausted, the Busan Comedy Festival could be just what you need.
The seventh Busan International Comedy Festival will hold its opening ceremony at 7 p.m. on Aug. 23, at the outdoor theater of the Busan Cinema Center. Performances will be held in Centum and other parts of the city. The festival is the oldest international comedy festival in Asia and continues to grow. The event, which will be held for 10 days, released its lineup and includes 15 teams of Korean comedians and four international teams of globally-known comedic artists who will seek to provide audiences with a lot of laughs.
The most popular comedians in Korea are set to fill the stage with their acts of hilarity. Names like Park Misun, Kim Sungeun and Kwon Jinyeong, with themes of the stress of motherhood, childcare and housekeeping will be on hand. Korea's comedy godfather Jeon Yuseong will headline the festival at the closing ceremony. Jeon's comedy shows have proven to be highly popular among fans and have been seen all over the nation.
There will also be comedians coming to the event from around the world. Japanese artists like former "America's Got Talent" contestant Wes-P (also known as Mr. Uekusa) will be taking part in the festival. Wes-P is known for performing dangerous tablecloth tricks, such as pulling out a cloth from under a stack of blocks that is carrying a full glass. Wes-P's style of comedy is one example of something that can be enjoyed without knowledge of the language. Akira Continental Fever, a Japanese comedian based in Indonesia, will also perform in the festival. Akira won the exclusive Golden Buzzer award and participated in the second season of "Asia's Got Talent."
"Swamp Juice," performed by acclaimed Canadian puppeteer Jeff Achtem, is a non-verbal shadow puppet show that uses Achtem's hands, as well as recycled garbage. Achtem has taken his performance around the world to places like Beijing, Berlin, Dubai, Edinburgh, London and New York. Achtem was performing magic shows for his family when he was five years old and has been active since 1999. He has also won numerous awards in festivals from Oceania to Europe, including the 2010 Edinburgh Fringe New Artist Award.
One of the festival's biggest attractions should be Tape Face. Originated by New Zealand comedian Sam Wills, his appearance on "America's Got Talent" in 2016 drew a lot of attention online. A non-verbal show, Tape Face is a clown characterized with a piece of tape covering his mouth. He uses props and audience members throughout his act.
Tickets can be booked at Interpark for 10,000 to 20,000 won. There will also be numerous free performances that people can enjoy on Comedy Street, which will be on Gunam-ro (street) in Haeundae throughout the festival's run from 5 to 8:30 p.m., including comedy and magic shows and instrumental and art performances.
▶ Information: bicf.co.kr
▶ Tickets: ticket.interpark.com