News
Blossoms transform city of blue into sea of yellow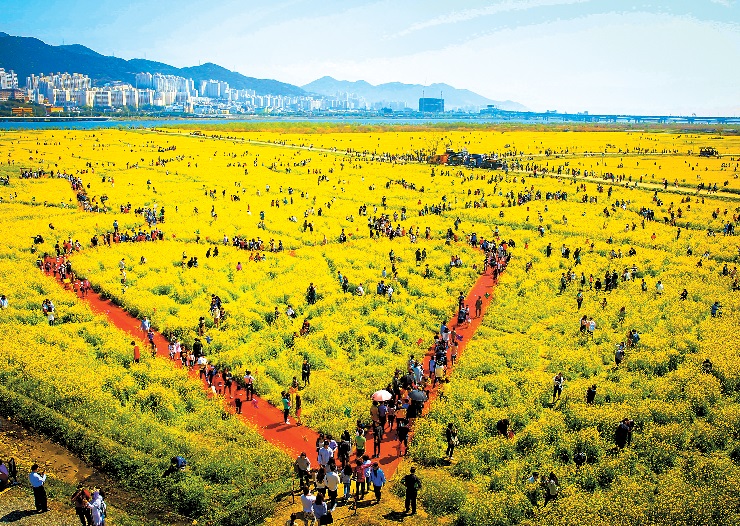 - 출처 및 제공 : (박영자)사랑의유채밭
The Nakdong River Rape Blossom Festival is one of the city's most popular annual events.
Known for its seas of blue, mountains of green and cherry blossoms of pink, no one can say that Busan is not a city of stunning colors.
Unfortunately, these cherry blossoms disappear in April, but their departure does not spell the end of spring flowers. Everyone can appreciate the beauty of Daejeo Ecological Park's yellow flowers during the 8th Busan Nakdong River Rape Blossom Festival. This year's festival will be held from April 6 to April 14.
Daejeo Ecological Park is located at the western end of Busan and extends over 750,000 square meters. All this space provides room enough for what is the largest rape blossom garden in Korea. With winding pathways, an endless array of gorgeous yellow flowers and romantic photo opportunities, the festival is one of Busan's most highly anticipated.
Festivities will open with a group wedding of 10 married couples who did not or were unable to have ceremonies of their own. Visitors to the festival will subsequently become wedding guests, and the lovebirds will finally be able to celebrate their unions in style.
The festival will also host many activities to check out. There will be a photo zone, and citizens, foreign residents and tourists alike will be able to wear hanbok (Korean traditional clothing). There will also be a rice-planting event, as well as chances to ride donkeys. Visitors walking the paths between flowers will be able to dig into food carts, should their stomachs begin to growl.
There will be some changes from last year. Night hours will continue, but the festival will add one more hour to its overall operation. Now, the night hours will go from 6 to 11 p.m. Also, the festival organizer plans to set up colored lighting around nearby Gupo Bridge, in order to create a romantic atmospher.
How to get there: Gangseo-gu Office Station (metro line 3), exits 1 or 3. Walk about 10 minutes towards the riverside.
Information: www.bfo.co.kr; 051-501-6051