Life
⁠⁠Art access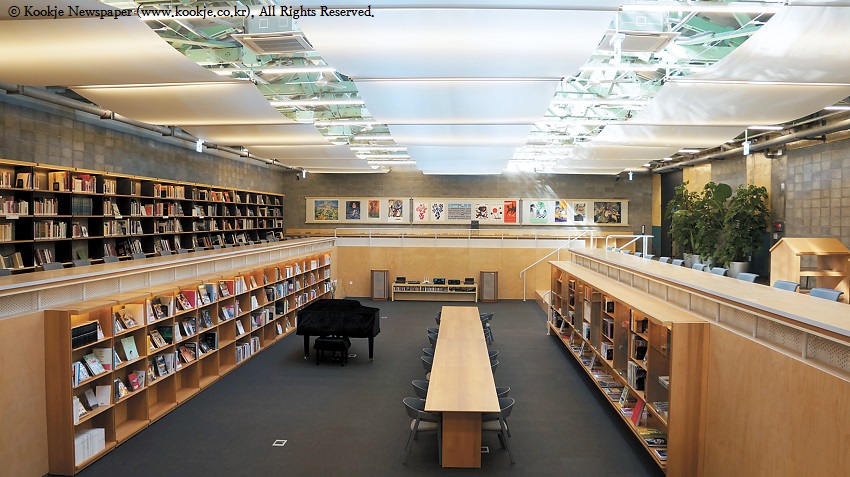 The F1963 library is bursting with art-related books.
Art aficionados, pay attention. The F1963 arts center in Mangmi-dong (neighborhood) is offering the general public access to its special membership-only library through the end of the month.
The center plans to provide a place where visitors can engage in the arts through books by providing a comfortable space in which to enjoy them. The F1963 library has an impressive collection of about 10,000 books (and growing) related to the arts from Korea and beyond. These include books about art, architecture, photography, music and design, among other artistic endeavors.
The F1963 library is packed to bursting with some very rare art books that are difficult to access in general bookstores or libraries else-where, in Korea or from other countries. It is this access to rare material that is sure to entice art enthu-siasts.
Does this sound like something you would be interested in checking out? The general public is welcome to thoroughly explore the F1963 arts library from 2 to 8 p.m. every Wednesday and Saturday until March 29. At that time, the F1963 arts library officials plan to begin operating the library as a membership-only venture. Please note that books cannot be borrowed from the library. Instead, visitors are encouraged to enjoy the comfortable space provided and read through your fill.
-Hours: 2 to 8 p.m. Wednesdays and Saturdays until March 27.
-How to get there: Mangmi Station (Metro line 3), exit 1. Take mini bus 2 and get off at the Sanjeong Apartment bus stop. Or, Suyeong Station (Metro lines 2 and 3), exit 5. Take bus 54 at the nearby Suyeong Intersection bus stop, also get off at the Sanjeong Apartment bus stop. Go uphill until you reach F1963.
-Information: f1963.org/en, click "directory," then "F1963 Art Library."
>